Jokes on Wedding
Enjoy our team's carefully selected Wedding Jokes. Laugh yourself and share the funniest jokes with your friends!
---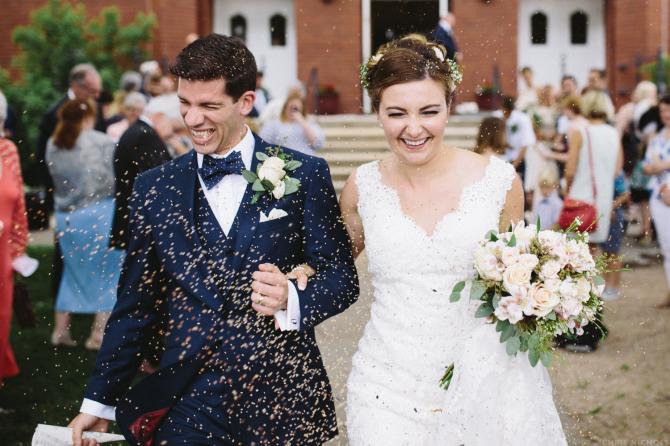 Student: "Teacher, is it true that if you get married on Friday the 13th, you will be unhappy?"
Teacher: "Of course. Why should that day be an exception?"
😄 😄 😄
Me and my childhood crush are marrying next year.
Hers is in February and mine in July.
😄 😄 😄
Jacob, age 92, and Rebecca, age 89, living in Devon, are all excited about their decision to get married. They go for a stroll to discuss the wedding, and on the way, they pass a pharmacy. Jacob suggests they go in.
Jacob addresses the man behind the counter, "Are you the owner?"
The Pharmacist answers, "Yes."
Jacob: "We're about to get married. Do you sell heart medication?"
Pharmacist: "Of course we do."
Jacob: "Medicine for rheumatism?"
Pharmacist: "Definitely."
Jacob: "Medicine for memory problems, arthritis and Alzheimer's?"
Pharmacist: "Yes, a large variety. The works."
Jacob: "What about vitamins, sleeping pills, Geritol, antidotes for Parkinson's disease?"
Pharmacist: "Absolutely."
Jacob: "Everything for heartburn and indigestion?"
Pharmacist: "We sure do."
Jacob: "You sell wheelchairs and walkers and canes?"
Pharmacist: "All speeds and sizes."
Jacob: "In that case, we'd like to use this store for our wedding presents list."
😄 😄 😄
What did the girl say to Bald Bill when they were engaged?
She said, "God was generous to you. He gave you a lovely face and room for one more."
😄 😄 😄
You're so short you would need a lift to kiss your bride.
😄 😄 😄
My boyfriend and I broke up.
He wanted to get married... I didn't want him to.
😄 😄 😄
Why do brides cry at the wedding?
Because they never marry the best man.
😄 😄 😄
A little boy asked his father, "Daddy, how much does it cost to get married?"
And the father replied, "I don't know, son, I'm still paying for it."
😄 😄 😄
What's the best way to get your husband to remember your anniversary?
Get married on his birthday!
😄 😄 😄
My friend was telling me about a wedding he is going to next year.
He said he'll be wearing the same kilt as the groom.
I love the idea, but I'm really not sure how they're both going to fit into it.
😄 😄 😄
I asked my wife, "Where do you want to go for our anniversary?"
She said, "Somewhere I have never been!"
I told her, "How about the kitchen?"
😄 😄 😄
On the first night of their honeymoon, the husband isn't sure how to tell his bride about his stinky feet and smelly socks, while the wife is wondering how to break the news to him about her awful breath, which so far, she's been able to cover up. After some soul-searching, the husband gathers his nerve and says, "I have a confession."
She draws closer, peers into his eyes, and says, "Darling, so do I."
Recoiling, he says, "Don't tell me—you've eaten my socks."
😄 😄 😄
A married couple is celebrating their 50th wedding anniversary.
They celebrate it in the same hotel where they spent their honeymoon 50 years ago.
The next morning at breakfast the man says to his wife, "Isn't it unbelievable that we have been together for 50 years?"
The wife replies saying, "Yes it is, we are even sitting at the same table as we did 50 years ago, only back then we were sitting here without clothes," with a naughty voice.
Both don't doubt for a moment and they take off their clothes. They sit back down at the table giggling.
The wife says, "You know honey, even my mamillae are just as hot as 50 years ago."
"No wonder," the man replies, "one of them is hanging in your tea and the other one in your soup!"
😄 😄 😄
A little girl finally got to attend a wedding for the first time.
While in the church, the girl asked her mother, "Why is the bride dressed in white?"
The mother replied to the girl, "Because white is the color of happiness and it's the happiest day of her life today."
After a little bit, the girl looks up at her mother and says, "But, then why is the groom wearing black?"
😄 😄 😄
Before you marry a person, you should first make them use a computer with a slow Internet connection to see who they really are.
😄 😄 😄
---