Jokes Birthday: Funny and Hilarious!
Enjoy our team's carefully selected Birthday Jokes . Laugh yourself and share the funniest jokes with your friends!
---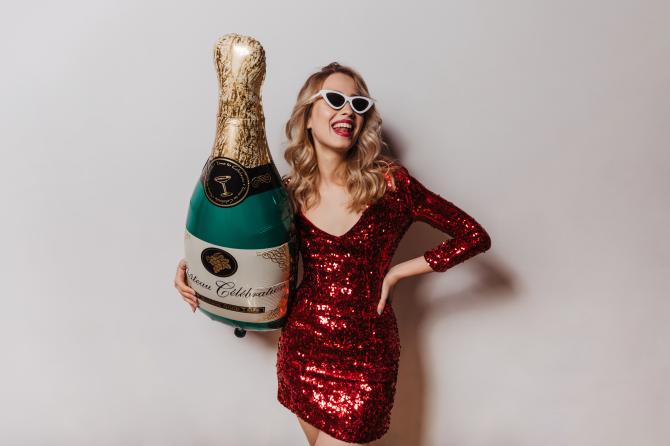 If you add the two numbers in your chronological age, you get your true age.
So you're 5 now, and you can't really argue the similarities. Five-year-olds have a tough time tying their shoes, can barely spell their own name, and need help reading!
😄 😄 😄
"It's your birthday? How old are you?" asks the man's friend.
"I'm seven and one-seventh," replies the man.
"How's that, you look about 50 to me?" asks the friend.
"Every time I chat up a nice lady she calls me an old dog, so I figure I get to count age in dog years now!"
😄 😄 😄
Why can you trust your friends more after turning 50?
Because you can't even remember each other's names, let alone your deepest secrets!
😄 😄 😄
You know you're 50 when that come hither look you used to have in your eyes just doesn't look as enticing through your bifocals.
😄 😄 😄
You know you're 50 when you're thankful when someone tells you that you have lipstick on your teeth because it means you still have teeth.
😄 😄 😄
You know you're 50 when your face has more wrinkles than an elephant's backside.
😄 😄 😄
You know you're 50 when you and your teeth have decided that a separation is the best thing for your relationship.
😄 😄 😄
You know you're 50 when you have to use your GPS to locate your feet because you can't see over your belly.
😄 😄 😄
You know you're 50 when you now have more hair on your knuckles than you do on your head.
😄 😄 😄
Why did the Minion give Gru two banana skins for his birthday?
Because he asked for a pair of slippers.
😄 😄 😄
Her: "When's your birthday?"
Me: "January first."
Her: "What year?"
Me: "Every year."
😄 😄 😄
I'd hate to be a dragon.
I'd get so angry trying to blow out my birthday candles.
😄 😄 😄
On the day my friends were hosting my birthday celebration, I had diarrhea.
I was a party pooper.
😄 😄 😄
Every year on my birthday, I remember...
That I'm one year closer to being back in diapers.
😄 😄 😄
How do you know you're old?
It's your birthday, and there are more candles than cake.
😄 😄 😄
Getting old certainly has its benefits.
Every birthday party is a surprise birthday party when you reach 80 years of age.
😄 😄 😄
You're gourdgeous!
😄 😄 😄
Hot dog, it's your birthday!
Let's be Frank, you're probably planning to party your buns off, so go ahead – don't be a weenie!
Relish every moment of your celebration!
😄 😄 😄
What to give a man who's got everything?
A woman. She'll tell him how everything works.
😄 😄 😄
Why did the teen get a grooming kit for his birthday?
It was his shaventeenth birthday.
😄 😄 😄
On his 16th birthday, I thought my son deserved to know the truth about his being adopted.
So when he got home from school, I said to him, "Steve, do you mind sitting down, I've got something to tell you."
"Dad, guess what?!" he shouted excitedly.
"Steve, this is important." I urged.
"No way, Dad. Listen!"
"Steve. Please. Don't make this hard for me. It's about your mum and me."
"Dad! Shut up! I've just won £250,000 on a scratch card!"
"That's amazing son! Your old Dad's really made up for you!"
😄 😄 😄
It's your birthday; let's donuts!
😄 😄 😄
Yo mama so old her birth certificate says "Expired".
😄 😄 😄
Yo mama so ugly the government decided to move Halloween to her birthday.
😄 😄 😄
Yo mama so fat every time she turns around it's her birthday.
😄 😄 😄
What is a monster's favorite part of a birthday celebration?
I scream.
😄 😄 😄
What did the ice cream say to the grumpy birthday cake?
What's eating you?
😄 😄 😄
Hey shorty, it's sherbet day!
😄 😄 😄
How do you wish an ice cream a happy birthday?
"Hope your birthday is gelato fun!"
😄 😄 😄
How do you wish a mushroom a happy birthday?
Happy birthday to a real fungi!
😄 😄 😄
Why does the mushroom always get invited to birthday parties?
He's a fun-gi.
😄 😄 😄
Not to be Mushy but since it is your birthday I just want to say: I think you are the most Fungiing awesome mom, you are cute as a Button, you put in the fun in Fungus, you have always been there for Morel support, and you are like a Truffle—hard to find and incredibly valuable.
You are the Champion of Moms! I mean I turned out alright, not to toot my own Trumpet.
😄 😄 😄
Man tries to open a bank account.
Teller asks him, "Your name?"
"J-j-jj-hhh-on S-ss-mm-i-tthh."
"Oh, you stutter?"
"No, my dad did, but the person, who did by birth certificate, was a complete moron!"
😄 😄 😄
What's the best way to get your husband to remember your anniversary?
Get married on his birthday!
😄 😄 😄
The housewife answered a knock on the door and found a total stranger standing on the doorstep.
"Excuse me for disturbing you, ma'am," he said politely, "but I pass your house every morning on my way to work, and I've noticed that every day you appear to be hitting your son on the head with a loaf of bread."
"That's right."
"Every day you hit him on the head with a loaf of bread, and yet this morning you were beating him with a chocolate cake."
"Well, today is his birthday."
😄 😄 😄
A man asked his wife, "What would you most like for your birthday?"
She said, "I'd love to be ten again."
On the morning of her birthday, he got her up bright and early and they went to a theme park.
He put her on every ride in the par: the Death Slide, The Screaming Loop, the Wall of Fear. She had a go on every ride there was.
She staggered out of the theme park five hours later, her head reeling and her stomach turning.
Then they were off to a movie theater where they ate popcorn and sweets and drank Cola.
At last, she staggered home with her husband and collapsed into bed.
Her husband leaned over and asked, "Well, dear, what was it like being ten again?" One eye opened and she groaned, "Actually, honey, I meant dress size!"
😄 😄 😄
The best way to remember your wife's birthday is to forget it once.
😄 😄 😄
Statistics show that those who have the most birthdays live the longest!
😄 😄 😄
When I was born I was so surprised I didn't talk for a year and a half.
😄 😄 😄
Why do golfers prefer a birthday donut over a birthday cake?
Because there is a hole in one.
😄 😄 😄
I used to be a boy trapped in a woman's body. But after 9 long months, I was finally born!
😄 😄 😄
Forget about the past, you can't change it.
Forget about the future, you can't predict it.
Forget about the present, I didn't get you one.
😄 😄 😄
Why do some people get heartburn every time they eat a birthday cake?
They always forget to take off the candles.
😄 😄 😄
---