Teacher and Student Jokes
Enjoy our team's carefully selected Teacher Student Jokes. Laugh yourself and share the funniest jokes with your friends!
---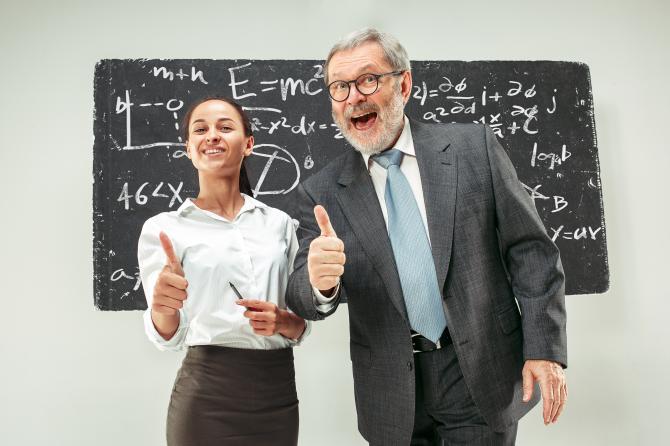 Sunday school teacher: "Tell me, Johnny. Do you say prayers before eating?"
Johnny: "No, ma'am, I don't have to. My mom's a good cook."
😄 😄 😄
The math teacher saw that little Johnny wasn't paying attention in class.
She called on him and said, "Johnny, what are 2 and 4 and 28 and 44?"
Little Johnny quickly replied, "NBC, FOX, ESPN and the Cartoon Network!"
😄 😄 😄
A first-grade teacher can't believe her student isn't hepped up about the Super Bowl.
"It's a huge event. Why aren't you excited?"
"Because I'm not a football fan. My parents love basketball, so I do too," says the student.
"Well, that's a lousy reason," says the teacher. "What if your parents were morons? What would you be then?"
"Then I'd be a football fan."
😄 😄 😄
I am pretty sure that my algebra teacher is secretly a pirate.
He constantly is trying to find X.
😄 😄 😄
How did the teacher find out that Shohag copied Danika's exam paper?
Because when Danika said "I don't know", Shohag said "Me neither".
😄 😄 😄
When a teacher closes his eyes, why should it remind him of an empty classroom?
Because there are no pupils to see!
😄 😄 😄
I said to my teacher, "I don't think I deserved a zero for this exam."
She said, "I agree, but I couldn't give you any less."
😄 😄 😄
Math teacher: "James, what do you get when you subtract 897 from 1824 and add 176 and divide the answer by 3?"
James: "A Headache ma'am."
😄 😄 😄
I complained to my math teacher that it was too cold in the classroom.
He told me to stand in the corner. Because the corner is 90 degrees.
😄 😄 😄
Math teacher: "If I have 5 bottles in one hand and 6 in the other hand, what do I have?"
Student: "A drinking problem."
😄 😄 😄
On the first day of school, the teacher asked a student, "What are your parents' names?"
The student replied, "My father's name is Laughing and my mother's name is Smiling."
The teacher said, "Are you kidding?"
The student said, "No, Kidding is my brother. I am Joking."
😄 😄 😄
Mrs. Lewis, a Sunday school teacher, asked her little children one Easter Sunday, as they were on the way to the church service, "And why is it necessary to be quiet in church?"
Rebecca, a bright little girl piped up, "Because people are sleeping!"
😄 😄 😄
Teacher: "Now class, if you are dumb, please stand up."
No one stands up.
Teacher: "Oh c'mon. I know someone over here is dumb." Waves her finger around the left side of the room.
Little Johnny stands up.
Teacher: "Oh, Johnny, you think you're dumb?"
Little Johnny: "No, I just feel bad you're standing alone."
😄 😄 😄
Little Johnny's teacher is doing her rounds at lunchtime when she sees little Johnny pulling faces at another child.
She starts to talk sternly to Little Johnny and says, "Johnny, when I was a young girl I was told that if I made ugly faces and the wind changed, my face would stay that way."
Little Johnny looks up to her and says, "Well miss, you can't say that you weren't warned."
😄 😄 😄
Teacher: "How far have you gone with your homework, Johnny?"
Little Johnny: "About 8 kilometers miss. I went home with it and came back with it this morning."
😄 😄 😄
A proctologist had been in practice for 20 years and had settled into a very comfortable life with his future very secure. So he decided to fulfill his REAL dream and become an auto mechanic.
Having entered mechanic school, the former physician received the results of his first test back with a score of 200%.
Confused, he asked the teacher why his score was so high.
"Well", said the teacher, "the first part was taking the engine apart and you did that perfectly, so you got 50%. The second was to put it back together again and you did it perfectly and got another 50%. The other 100% was for doing it through the tailpipe."
😄 😄 😄
Little Johnny was sitting in class one day and the teacher was talking about life.
She asks him: "Little Johnny, what do you want your wife to be like?"
He: "Like the moon."
The teacher: "That's such a beautiful answer because it's calm and peaceful".
Little Johnny: "No, because it appears at night and disappears in the morning."
😄 😄 😄
Teacher: "Which book has helped you the most in your life?"
Student: "My father's checkbook."
😄 😄 😄
Student: "503 bricks are on a plane. 1 falls off. How many are left?"
Teacher: "502."
Student: "How do you put an elephant in a fridge?"
Teacher: "No you can't fit an elephant in a fridge!"
Student: "Just open the door, put the elephant in, close the door."
Student: "How do you put a giraffe in the fridge?"
Teacher: "Open the door, put the giraffe in, close the door."
Student: "No! Open the door, take the elephant out, put the giraffe in, close the door."
Student: "The Lion King is having a B-day party. All the animals are there, except one. Which one?"
Teacher: "The lion?"
Student: "No! The giraffe because he's in a fridge."
Student: "Sally has to get across a large river home to many alligators. They are very dangerous, but Sally swims across safely. How?"
Teacher: "Sally stepped on the alligator's mouth?"
Student: "The gators are at the party."
Student: "But Sally dies anyway. Why?"
Teacher: "She drowned?!"
Student: "No! She got hit in the head by a flying brick."
😄 😄 😄
---