Cat Puns and Hilarious Cat Jokes
Enjoy our team's carefully selected Cat Jokes. Laugh yourself and share the funniest jokes with your friends!
---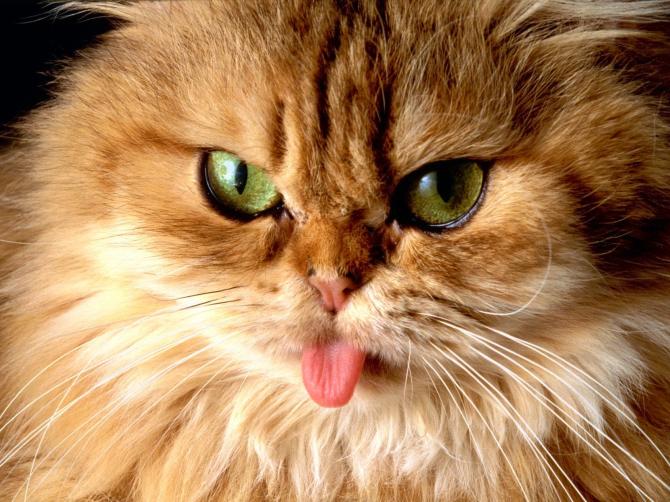 A garden gnome is busy destroying some plants when suddenly a house cat appears.
"What are you?" asks the cat.
"I'm a gnome. I steal food from humans, I kill their plants, and I raise a ruckus at night to drive them crazy. I just love mischief! And what, may I ask, creature are you?"
The cat thinks for a moment and says, "I guess I'm a gnome."
😄 😄 😄
Facebook is a lot like ancient Egypt.
People write on walls, use emojis, and worship cats.
😄 😄 😄
Crush: "Why should I trust you? All the guys I've been dating have been dogs."
Me: "..."
Crush: "Well? Aren't you going to say anything?"
Me: "... meow?"
😄 😄 😄
Bison Theory
A herd of bison can only move as fast as the slowest bison, much like the brain can only operate as fast as the slowest brain cells.
The slowest bison are the sick and weak so they die off first, making it possible for the herd to move at a faster pace. Like the bison, the weak, slow brain cells are the ones that are killed off by excessive beer drinking and socializing, making the brain operate faster.
The moral of the story: Drink more beer, it will make you smarter.
😄 😄 😄
How do bison stay fit?
They do buffalo bells at the gym.
😄 😄 😄
One day, I watched my father grilling burgers.
When they were done, he handed me one telling me it was a bison burger.
He then left, and never came back.
😄 😄 😄
Indian warrior decided to change his name and went to the Registry of BDM (birth, death, marriages).
He approaches the counter and talks to the lady at the counter.
Indian: "Hello miss. I would like to change my name if it is possible."
Lady: "Of course, sir, but why would you do that?"
Indian: "Well you see my name is Sharp Arrow Flying Across the Field at Great Speed Hitting the Bison and Bison Falls Down Dead. As you see it is too long and I'm tired of pronouncing it, I would like to change it to something shorter."
Lady: "Alright, sir, so what is the name that you would like to change to?"
Indian (makes sound with mouth): "Pew."
😄 😄 😄
What do you call a bison that is good at telling lies?
Bluffalo.
😄 😄 😄
What do you call a 200-year-old Buffalo?
A bison-tennial.
😄 😄 😄
I had a bison steak at a restaurant recently.
When I finished, I asked the waiter for the buffalo bill.
😄 😄 😄
What did the buffalo say to his son just before he passed away?
Bison.
😄 😄 😄
A kid in school hands in a blank piece of paper for his art homework.
The teacher says, "What's this?"
The kid says, "A picture of a cow eating grass."
The teacher asks, "Where's the grass?"
The kid says, "The cow ate it all."
"Ok, then where's the cow?"
"It left because there was no more grass."
😄 😄 😄
What's a cow's favorite TV drama?
Graze Anatomy.
😄 😄 😄
What do you call a cow with three legs?
Tri-tip.
What do you call a cow with no legs?
Ground Beef.
What do you call a cow with two legs?
Your mom!
😄 😄 😄
A man has gone on a month-long vacation, leaving his friend to take care of his grandmother, his cat, and the avocado tree in his backyard.
A few days into the vacation, the man gets a call from his friend, who says, "Your cat got run over by a car and died."
The man, understandably, is horrified and says that it was too sudden. He tells his friend that what he should do is first, tell him that his cat ran away, then the next day, tell him that his cat got stuck at the top of the avocado tree, and the third day tell him that his cat died.
His friend thinks that this is a reasonable request.
A week later, the man gets another phone call from his friend.
"What?" he asks.
His friend replies, "Your grandmother is stuck at the top of the avocado tree."
😄 😄 😄
A guy is sitting outside on a bench eating a burger when a woman comes out of a Subway store with a salad bowl.
She walks over to the guy and angrily says to him, "You know, a cow died somewhere, so you could enjoy that burger. What do you think of that, hmm?"
As quick as a flash, he looks up at her and replies, "It's a shame for sure, but maybe if you weren't eating its food, that cow might have lived."
😄 😄 😄
What do you get when you put a chicken, a cow, and a pig together?
A hot dog.
😄 😄 😄
Why did the cow jump over the Harvest Moon?
Because the farmer had cold hands!
😄 😄 😄
It's so hot the cows are producing evaporated milk.
😄 😄 😄
Why did the blonde buy a brown cow?
To get chocolate milk.
😄 😄 😄
When the cow jumped over the moon...
Never have the steaks been so high.
😄 😄 😄
What was the first animal in space?
The cow that jumped over the moon!
😄 😄 😄
What do you call a rampaging cow under the full moon?
Udder lunacy.
😄 😄 😄
Why were there bones on the moon?
Because the cow didn't make it.
😄 😄 😄
Which way did the cow jump over the moon?
The Milky Way!
😄 😄 😄
Guess what horses, donkeys, cows, goats, and sheep all have in common?
They're all very stable animals.
😄 😄 😄
What do you get from an Alaskan cow?
Ice Cream.
😄 😄 😄
How did Garfield stop the rooster from waking him on Monday morning?
He ate him on Sunday night!
😄 😄 😄
Three women escape from prison—a blonde and two brunettes—and to get away from the cops they hide in an abandoned farmhouse.
Inside the house, there are three sacks that the escapees crawl into when the police search the building.
One of the cops sees the sacks and yells, "There are just three burlap sacks in here!"
To which his partner replies, "Then kick them just to be sure it's not them hiding".
The officer goes and kicks one with a brunette in it and she yells, "MEEEYYOWW!"
The officer says, "Oh, it's just a stupid cat in there."
So he kicks the one with the other brunette in it and she yells, "RUUFFF RUFFF!"
The officer says, "Oh, it's just a stupid dog!"
Then he kicks the sack with the blonde in it and she yells, "POTATOES!"
😄 😄 😄
One hot summer afternoon a police officer pulls into a yard.
The police officer then gets out of the car, and asks an old gentleman, "Who owns the property?"
The old man tells the officer that he does, and asks what he can do for him.
The officer says, "I'm here to inspect your property for illegally grown drugs."
The old gentleman says, "Well, you go right ahead, but whatever you do, don't go into that field over yonder," pointing out a fenced parcel of land.
The officer says, "Mister, I'm a law enforcement officer authorized by the federal government of our nation."
Reaching into his pocket, he removes his badge and shoves it right in the old boy's face, "You see my badge, buddy? This badge means that I'm allowed to go wherever I wish, anytime I wish. Do you understand me? No questions asked."
The old gentleman nodded his head yes politely, softly apologized, and went about his chores.
A short time later, the old gentleman heard someone screaming in absolute terror, coming from where he'd told the officer not to go.
He looked over at the pasture and saw the officer running for his life, chased by a very angry bull.
With every step, the bull was gaining ground on the officer, and it appeared likely that the policeman would be gored by the bull's horns before he could reach safety.
Realizing the horrible danger that the policeman was in, the old gentleman ran to the field's fence as fast as he could, determined to do whatever he could to help.
Reaching the edge of the pasture, the old gentleman quickly climbed to the top of the fence, waving his arms frantically and screamed at the very top of his voice, "Your badge, officer, show him your BADGE!"
😄 😄 😄
One day little Johnny was digging a hole in his backyard.
The next-door neighbor spotted him and decided to investigate.
"Hello Johnny, what are you up to?" he asked.
"My goldfish died and I'm gonna bury him," Johnny replied.
"That's a really big hole for a goldfish, isn't it?" asked the neighbor.
"That's because he's inside your cat!"
😄 😄 😄
If cows laughed, milk would come out of their noses.
I guess that's why they moo.
😄 😄 😄
A policeman stops a man in a car with a lynx in the passenger seat.
"What are you doing with a lynx? You should take him to the zoo!" The policeman says.
The next week he stops the same car to see that the man still has the lynx, "I thought you were going to take the cat to the zoo." He says.
"I did! We had such a good time we are going to the beach this weekend!"
😄 😄 😄
A man feels terrible after running over a cat, he walks up to an old lady's door.
She answers and he says, "I'm so sorry, I ran over your cat. I'd like to replace it."
The old woman says, "Okay, how good are you at catching mice?"
😄 😄 😄
What did one flea say to the other?
"Shall we walk or take the cat?"
😄 😄 😄
What's the difference between an orchestra and a bull?
On the bull the horns are in the front and the asshole is in the back.
😄 😄 😄
What do you call a sleeping bull?
A bulldozer.
😄 😄 😄
Knock! Knock!
"Who's there?"
"Interrupting cow."
"Interrup..."
"Moooooooo!"
😄 😄 😄
When is it bad luck to be followed by a black cat?
When you're a mouse.
😄 😄 😄
Why did the cat like eating lemons?
Because he was a sourpuss.
😄 😄 😄
Why are cats better than babies?
Because you only have to change a litter box once a day.
😄 😄 😄
What does a cat have that no other animal has?
Kittens.
😄 😄 😄
Why do cats always win video games?
Because they have nine lives!
😄 😄 😄
Why do cats hate laptops?
They don't have a mouse.
😄 😄 😄
A blonde and a redhead have a ranch. They have just lost their bull.
The women need to, buy another, but only have $500.
The redhead tells the blonde, "I will go to the market and see if I can find one for under that amount. If I can, I will send you a telegram."
She goes to the market and finds one for $499.
Having only one dollar left, she goes to the telegraph office and finds out that it costs one dollar per word. She is stumped on how to tell the blonde to bring the truck and trailer.
Finally, she tells the telegraph operator to send the word "comfortable".
Skeptical, the operator asks, "How will she know to come with the trailer from just that word?"
The redhead replies, "She's a blonde so she reads slow: 'Come for ta bull'."
😄 😄 😄
What do you call a cow in an earthquake?
A milkshake!
😄 😄 😄
---