Lil Johnny Jokes
Enjoy our team's carefully selected Little Johnny Jokes. Laugh yourself and share the funniest jokes with your friends!
---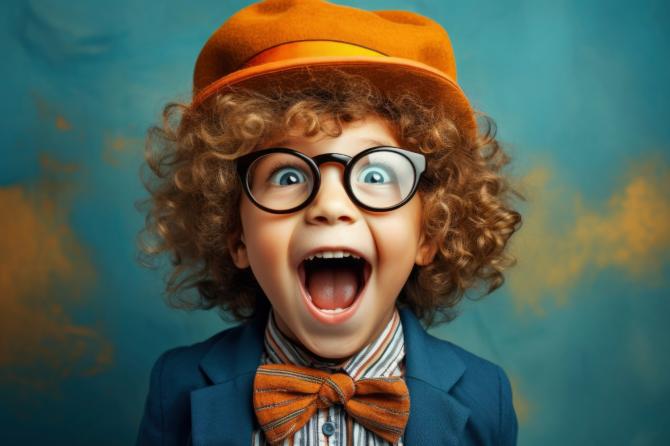 Teaching an English lesson, the teacher wrote on the board, fully aware of the grammar errors: I ain't had no fun in months.
"Now, how should I correct this sentence?" asks the teacher.
"Get a new boyfriend," said Little Johnny.
😄 😄 😄
Teacher: "Little Johnny, give me a sentence using the word 'geometry'."
Little Johnny: "A little acorn grew and grew until it finally awoke one day and said, 'Gee, I'm a tree!'."
😄 😄 😄
Little Johnny was sitting on a park bench, eating six bars of chocolate.
A man walked up and noticed Johnny devouring the sweets.
"Son," said the man, "eating too much candy isn't good for you."
"My grandfather lived to be 100," Johnny replies.
"Did he eat six chocolate bars a day, too?" the man asks.
"No," said Johnny, "He minded his own damn business!"
😄 😄 😄
Sunday school teacher: "Tell me, Johnny. Do you say prayers before eating?"
Johnny: "No, ma'am, I don't have to. My mom's a good cook."
😄 😄 😄
The math teacher saw that little Johnny wasn't paying attention in class.
She called on him and said, "Johnny, what are 2 and 4 and 28 and 44?"
Little Johnny quickly replied, "NBC, FOX, ESPN and the Cartoon Network!"
😄 😄 😄
Little Johnny yells upstairs: "Dad, there's a salesman here with a mustache."
"Tell him I've got one."
😄 😄 😄
Little Johnny's kindergarten class was on a field trip to their local police station where they saw pictures tacked to a bulletin board of the 10 most wanted criminals.
One of the youngsters pointed to a picture and asked if it really was the photo of a wanted person.
"Yes," said the policeman.
"The detectives want very badly to capture him."
Little Johnny asked, "Why didn't you keep him when you took his picture?"
😄 😄 😄
If Johnny buys seventeen donuts every Monday and eats twelve of them each Wednesday, what is Johnny left with at the end of the year?
Diabetes.
😄 😄 😄
Little Johnny had finished his summer vacation and gone back to school.
Two days later his teacher phoned his mother to tell her that he was misbehaving.
"Wait a minute," she said. "I had Johnny with me for three months and I never called you once when he misbehaved."
😄 😄 😄
Why did Johnny take a ruler to bed?
Because he wanted to see how long he slept!
😄 😄 😄
One day little Johnny was digging a hole in his backyard.
The next-door neighbor spotted him and decided to investigate.
"Hello Johnny, what are you up to?" he asked.
"My goldfish died and I'm gonna bury him," Johnny replied.
"That's a really big hole for a goldfish, isn't it?" asked the neighbor.
"That's because he's inside your cat!"
😄 😄 😄
Teacher: "Now class, if you are dumb, please stand up."
No one stands up.
Teacher: "Oh c'mon. I know someone over here is dumb." Waves her finger around the left side of the room.
Little Johnny stands up.
Teacher: "Oh, Johnny, you think you're dumb?"
Little Johnny: "No, I just feel bad you're standing alone."
😄 😄 😄
At school, Little Johnny's classmate tells him that most adults are hiding at least one dark secret, so it's very easy to blackmail them by saying "I know the whole truth".
Little Johnny decides to go home and try it out.
Johnny's mother greets him at home, and he tells her, "I know the whole truth."
His mother quickly hands him $20 and says, "Just don't tell your father."
Quite pleased, the boy waits for his father to get home from work, and greets him with, "I know the whole truth."
The father promptly hands him $40 and says, "Please don't say a word to your mother."
Very pleased, the boy is on his way to school the next day when he sees the mailman at his front door.
The boy greets him by saying, "I know the whole truth."
The mailman immediately drops the mail, opens his arms, and says, "Then come give your Daddy a great big hug!"
😄 😄 😄
Johnny tried to buy a toy car with monopoly money at the store.
The cashier said, "There's no way I can take this. It's fake."
Johnny said, "Well, the car's not real either."
😄 😄 😄
Daisy: "Why do you have two different colored socks on? One's blue, but the other is green."
Little Johnny: "I'm not sure. It's weird. There was another pair exactly like this one at home."
😄 😄 😄
Little Johnny's teacher is doing her rounds at lunchtime when she sees little Johnny pulling faces at another child.
She starts to talk sternly to Little Johnny and says, "Johnny, when I was a young girl I was told that if I made ugly faces and the wind changed, my face would stay that way."
Little Johnny looks up to her and says, "Well miss, you can't say that you weren't warned."
😄 😄 😄
Teacher: "How far have you gone with your homework, Johnny?"
Little Johnny: "About 8 kilometers miss. I went home with it and came back with it this morning."
😄 😄 😄
Little Johnny was sitting in class one day and the teacher was talking about life.
She asks him: "Little Johnny, what do you want your wife to be like?"
He: "Like the moon."
The teacher: "That's such a beautiful answer because it's calm and peaceful".
Little Johnny: "No, because it appears at night and disappears in the morning."
😄 😄 😄
---