Teachers' Day Jokes
Enjoy our team's carefully selected Teachers' Day Jokes. Laugh yourself and share the funniest jokes with your friends!
---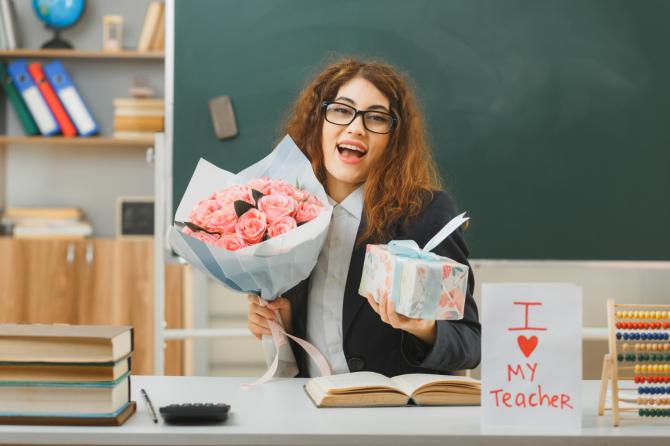 On Teachers' Day, why did the student gift his Maths teacher a flight ticket to New York City?
To visit his favorite spot, Times Square.
😄 😄 😄
A teacher walks into a bar with his friends on Teachers' Day evening and says, "Can I have a beer."
The barman says, "I don't know, can you?"
😄 😄 😄
Where did the vampire teacher throw the Teachers' Day party?
In Pencilvania.
😄 😄 😄
On the occasion of Teachers' Day, the teacher was having a casual chat with his students.
Teacher: "Neil, what do you want to be when you grow up?"
Neil: "Sir, I want to be just like you."
Teacher, impressed: "And why is that?"
Neil: "Because even I love doing nothing."
😄 😄 😄
Teacher: "Class! We will have only half a day of school this morning due to Teachers' Day."
Class: "Hooorraaaayyy!"
Teacher: "We will have the other half, this afternoon."
😄 😄 😄
How was the cyclops so effective that she was awarded the best teacher award on Teachers' Day?
She only had one pupil!
😄 😄 😄
An English teacher was getting late for school on Teachers' Day.
Suddenly, a cop pulled him over and asked for papers.
He gladly gave him all of his students' essays to grade and drove off.
😄 😄 😄
How is Teachers' Day, a day of rest?
The rest of the laundry, the rest of the housework, and grading the rest of the papers.
😄 😄 😄
Why did the teacher wear sunglasses on Teachers' Day?
He wanted to show others how bright his class was.
😄 😄 😄
Why was the teacher late for school on Teachers' Day?
She took the Rhombus.
😄 😄 😄
---