Jokes on Sunday
Enjoy our team's carefully selected Sunday Jokes. Laugh yourself and share the funniest jokes with your friends!
---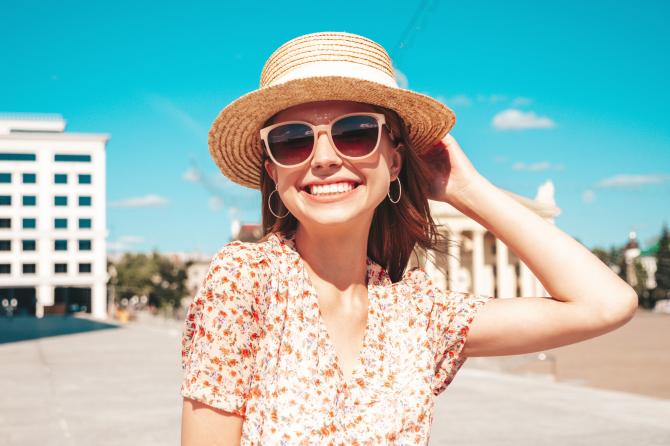 My wife asked me, "Why are there holes in your pants?"
I said, "It's Sunday, right?"
My wife: "Yeah?"
Me: "Well, these are my holy pants."
😄 😄 😄
Sunday school teacher: "Tell me, Johnny. Do you say prayers before eating?"
Johnny: "No, ma'am, I don't have to. My mom's a good cook."
😄 😄 😄
How did Garfield stop the rooster from waking him on Monday morning?
He ate him on Sunday night!
😄 😄 😄
A man walks into a pharmacy and asks the man behind the counter, after dropping off his prescription, "Excuse me, but what time do you close on Sunday?"
He replies, "Oh, we don't close on Sunday."
Pleasantly surprised, the man picks up some other items and leaves.
The next day—Sunday—the man goes to pick up his prescription, only to find a closed sign hanging on the door of the pharmacy. Peeved at the lying pharmacist, he trudges back home and waits Monday.
Monday morning, right as the pharmacist unlocks the door, the man is running up to him, shouting.
"Hey! You said that you never closed on Sundays, but when I came around yesterday, you were closed! What gives?"
The pharmacist looks at the man and says, "Well, we in fact did not close yesterday, because we never even opened!"
😄 😄 😄
A man left for work one Friday morning.
Instead of going home after work, he stayed out the entire weekend hunting with the boys and spending all his wages. When he finally got home on Sunday night, he was confronted by his very angry wife. After a while she stopped nagging and said, "How would you like it if you didn't see me for two or three days?"
"That would be fine with me", he replied.
Monday went by and he didn't see his wife.
Tuesday and Wednesday came and went with the same result.
Thursday, the swelling went down just enough for him to see her a little out of the corner of his left eye.
😄 😄 😄
One Sunday morning George burst into the living room and said, "Dad! Mom! I have some great news for you! I am getting married to the most beautiful girl in town. She lives a block away and her name is Susan."
After dinner, George's dad took him aside, "Son, I have to talk with you. Look at your mother, George. She and I have been married 30 years, she's a wonderful wife and mother, but she has never offered much excitement in the bedroom, so I used to fool around with women a lot."
"Susan is actually your half-sister, and I'm afraid you can't marry her."
George was brokenhearted.
After eight months he eventually started dating girls again.
A year later he came home and very proudly announced, "Diane said yes! We're getting married in June."
Again his father insisted on another private conversation and broke the sad news, "Diane is your half-sister too, George. I'm awfully sorry about this."
George was livid! He finally decided to go to his mother with the news his father had shared.
"Dad has done so much harm. I guess I'm never going to get married," he complained. "Every time I fall in love, Dad tells me the girl is my half-sister."
"Hee hee," his mother chuckled, shaking her head, "Don't pay any attention to what he says. He's not really your father."
😄 😄 😄
Mrs. Lewis, a Sunday school teacher, asked her little children one Easter Sunday, as they were on the way to the church service, "And why is it necessary to be quiet in church?"
Rebecca, a bright little girl piped up, "Because people are sleeping!"
😄 😄 😄
A farmer plays a prank on Easter Sunday.
After the egg hunt, he sneaks into the chicken coop and replaces every white egg with a brightly colored one.
Minutes later, the rooster walks in.
He spots the colored eggs, then storms out and beats up the peacock.
😄 😄 😄
Reverend Clive Morgan was completing his homily in St John's Church about the dangers of alcohol and the need for moderation and temperance.
He announced at the end of the sermon in a loud, clear voice, "If I had all the beer in the world, I'd take it and throw it into the river."  
With even greater emphasis he added, "And if I had all the wine in the world, I'd take it and throw it into the river."
Finally, he intoned in an extremely serious manner, "And if I had all the whiskey in the world, I'd take it and throw it into the river."
The Reverend Morgan then sat down.
Jerry, St John's leading chorister stood up and announced with a smile, "For our closing hymn this Sunday, let us sing together hymn number 109: Shall We Gather at the River."
😄 😄 😄
During a Sunday school lesson, a child learned about how God created human beings.
The child became especially focused when the teacher explained how Eve was created from Adam's ribs.
Later in the week, the boy's mother saw him lying down on the floor, so she asked him what was wrong.
His reply was priceless, "Mom, I have a pain in my side—I think I'm getting a wife."
😄 😄 😄
---