Jokes on Students
Enjoy our team's carefully selected Student Jokes. Laugh yourself and share the funniest jokes with your friends!
---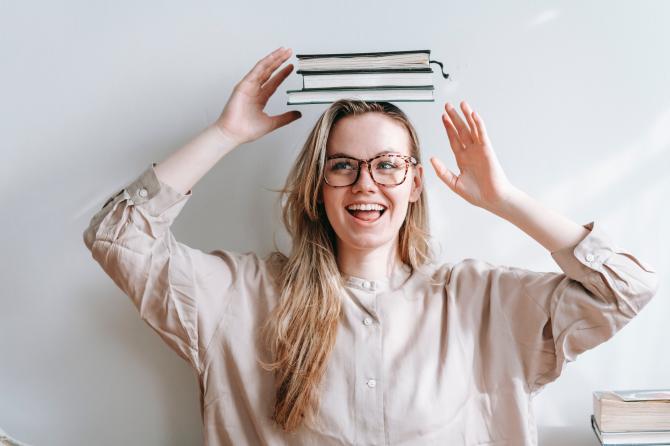 Why do Troy State students have such beautiful noses?
They're hand picked.
😄 😄 😄
The human brain is amazing.
It functions 24 hours a day, everyday since we were born and only stops when taking an exam.
😄 😄 😄
I have an archaeology exam tomorrow.
And it doesn't matter if I pass or fail because either way my future's in ruins.
😄 😄 😄
My calculator stopped working mid-way through my exam.
I can't count on it anymore.
😄 😄 😄
Bit nervous about my maths exam.
Think my chances of passing it are 40-40.
😄 😄 😄
What did the mermaid wear to her math class?
An algae bra.
😄 😄 😄
Why was Harry Potter sent to the office?
Because he was cursing in class.
😄 😄 😄
Dear Father,
university i$ really great. I am making lot$ of friend$ and $tudying very hard.
With all my $tuff, I $imply can't think of anything I need, $o if you would like, you can ju$t $end me a card, a$ I would love to hear from you.
Love, Your $on.
After receiving his son's letter, the father immediately replies by sending a letter back.
Dear David,
I kNOw that astroNOmy, ecoNOmics and oceaNOgraphy are eNOugh to keep even an hoNOr student busy.
Do NOt forget that the pursuit of kNOwledge is a NOble task, and you can never study eNOugh.
Love, Dad
😄 😄 😄
How did the geography student drown?
His grades were below C-level.
😄 😄 😄
Behind every successful student, there is a deactivated Facebook account.
😄 😄 😄
An engineering student designed a robot that would take his exams for him.
The other designed a robot that could cheat off the first robot.
😄 😄 😄
Three engineering students were gathered together discussing the possible designers of the human body.
One said, "It was a mechanical engineer. Just look at all the joints."
Another said, "No, it was an electrical engineer. The nervous system has many thousands of electrical connections."
The last said, "Actually it was a civil engineer. Who else would run a toxic waste pipeline through a recreational area?"
😄 😄 😄
Two engineering students were crossing campus when one asked the other, "Where did you get such a great bike?"
The second engineer replied, "Well, I was walking along yesterday minding my own business when a beautiful woman rode up on this bike. She threw the bike to the ground, took off all her clothes and said, "Take what you want."
The second engineer nodded approvingly, "Good choice, the clothes probably wouldn't have fit you."
😄 😄 😄
I couldn't figure out why my data wasn't coming out like my classmate's, until I realized I dropped a square root in the formula.
I put it back in and re-plotted the data. I saw a radical change.
😄 😄 😄
A teacher told her young class to ask their parents for a family story with a moral at the end of it, and to return the next day to tell their stories.
In the classroom the next day, Joe gave his example first, "My dad is a farmer and we have chickens. One day we were taking lots of eggs to market in a basket on the front seat of the truck when we hit a big bump in the road; the basket fell off the seat and all the eggs broke. The moral of the story is not to put all your eggs in one basket."
"Very good," said the teacher.
Next, Mary said, "We are farmers too. We had twenty eggs waiting to hatch, but when they did we only got ten chicks. The moral of this story is not to count your chickens before they're hatched."
"Very good," said the teacher again, very pleased with the response so far.
Next it was Barney's turn to tell his story, "My dad told me this story about my Aunt Karen. Aunt Karen was a flight engineer in the war and her plane got hit. She had to bail out over enemy territory and all she had was a bottle of whisky, a machine gun and a machete."
"Go on," said the teacher, intrigued.
"Aunt Karen drank the whisky on the way down to prepare herself; then she landed right in the middle of a hundred enemy soldiers. She killed seventy of them with the machine gun until she ran out of bullets. Then she killed twenty more with the machete till the blade broke. And then she killed the last ten with her bare hands."
"Good heavens," said the horrified teacher, "What did your father say was the moral of that frightening story?"
"Stay away from Aunt Karen when she's been drinking."
😄 😄 😄
I don't trust freshmen algebra students.
They're always plotting something.
😄 😄 😄
A somewhat advanced society has figured out how to package basic knowledge in pill form.
A student, needing some learning, goes to the pharmacy and asks what kind of knowledge pills are available.
The pharmacist says, "Here's a pill for English literature."
The student takes the pill and swallows it and has new knowledge about English literature!
"What else do you have?" asks the student.
"Well, I have pills for art history, biology and world history," replies the pharmacist.
The student asks for these, swallows them and has new knowledge about those subjects.
Then the student asks, "Do you have a pill for math?"
The pharmacist says, "Wait just a moment," and goes back into the storeroom and brings back a whopper of a pill and plunks it on the counter.
"I have to take that huge pill for math?" inquires the student.
The pharmacist replied, "Well, you know... math always was a little hard to swallow."
😄 😄 😄
Chocolate is like guns.
If you pull it out in school, then everybody is suddenly your friend.
😄 😄 😄
Yo mama so fat her school pictures were taken by a satellite.
😄 😄 😄
Little Ahmed is doing his biology homework.
He comes upon a question:
What separates the head from the body?
Ahmed answers:
The axe.
😄 😄 😄
I told my dad I couldn't believe I'd failed my biology exam.
He said, "I'm your mum!"
😄 😄 😄
During a biology exam, a student has to list three pros of breast milk.
He's unprepared, but starts looking for common sense answers and writes down:
– Contains all the nutrients a baby needs.
– Doesn't need heating.
But he still needs one more.
And just as the time is about to run out, the student writes:
– Has great packaging.
😄 😄 😄
Why is it impossible for students to sleep 8 hours every day?
Because school is only 6 hours a day!
😄 😄 😄
Why did the student eat his homework?
Because he didn't have a dog.
😄 😄 😄
An accountancy student asks a partner to explain ethics in accountancy.
The partner thinks for a moment and relates the following, "Mr. Jones, one of our clients, came to see me last week and paid me his bill of £1,000 in cash. As he left I counted the notes and they came to £1,100."
The student said, "I see. The ethics question is 'Do I tell the client?'"
"Wrong answer! The question is 'Do I tell my partner?'"
😄 😄 😄
A mugger jumps out in front of a university student and shouts, "Your money or your life!"
The student keeps walking and says, "Sorry mate, I'm a computer science student. I don't have either."
😄 😄 😄
A kid from Mississippi is on Harvard campus for the first time, he stops a student and asks, "Excuse me, can you tell me where the library is at?"
The Harvard student replies, "At Harvard, you don't end a sentence with a preposition."
The kid said, "Sorry about that. Can you tell me where the library is at, asshole?"
😄 😄 😄
Teacher: "Take a seat".
Student: "Where do you want me to take it to?"
😄 😄 😄
What would happen if you took the school bus home?
The police would make you bring it back!
😄 😄 😄
Who should be your best friend at school?
Your princi-pal!
😄 😄 😄
Why did Johnny take a ruler to bed?
Because he wanted to see how long he slept!
😄 😄 😄
Why did the boy eat his homework?
Because his teacher said it was a piece of cake.
😄 😄 😄
My teacher always tells me to follow my dreams, but she won't let me sleep in class.
😄 😄 😄
---