Jokes on Students
Enjoy our team's carefully selected Student Jokes. Laugh yourself and share the funniest jokes with your friends!
---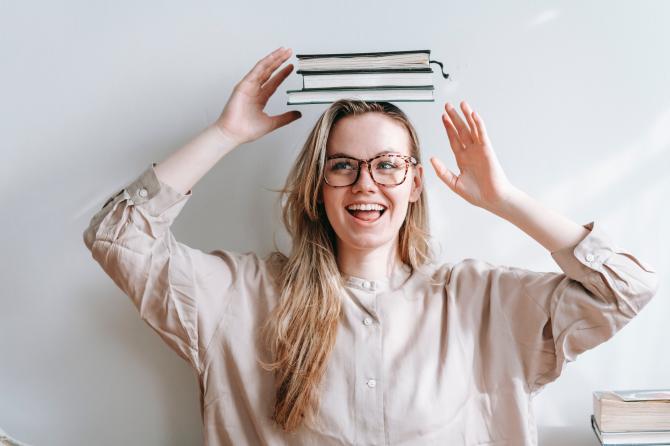 A somewhat advanced society has figured out how to package basic knowledge in pill form.
A student, needing some learning, goes to the pharmacy and asks what kind of knowledge pills are available.
The pharmacist says, "Here's a pill for English literature."
The student takes the pill and swallows it and has new knowledge about English literature!
"What else do you have?" asks the student.
"Well, I have pills for art history, biology and world history," replies the pharmacist.
The student asks for these, swallows them and has new knowledge about those subjects.
Then the student asks, "Do you have a pill for math?"
The pharmacist says, "Wait just a moment," and goes back into the storeroom and brings back a whopper of a pill and plunks it on the counter.
"I have to take that huge pill for math?" inquires the student.
The pharmacist replied, "Well, you know... math always was a little hard to swallow."
😄 😄 😄
Chocolate is like guns.
If you pull it out in school, then everybody is suddenly your friend.
😄 😄 😄
Yo mama so fat, her school pictures were taken by a satellite.
😄 😄 😄
Little Ahmed is doing his biology homework.
He comes upon a question:
What separates the head from the body?
Ahmed answers:
The axe.
😄 😄 😄
I told my dad I couldn't believe I'd failed my biology exam.
He said, "I'm your mum!"
😄 😄 😄
During a biology exam, a student has to list three pros of breast milk.
He's unprepared, but starts looking for common sense answers and writes down:
– Contains all the nutrients a baby needs.
– Doesn't need heating.
But he still needs one more.
And just as the time is about to run out, the student writes:
– Has great packaging.
😄 😄 😄
Why is it impossible for students to sleep 8 hours every day?
Because school is only 6 hours a day!
😄 😄 😄
Why did the student eat his homework?
Because he didn't have a dog.
😄 😄 😄
An accountancy student asks a partner to explain ethics in accountancy.
The partner thinks for a moment and relates the following, "Mr. Jones, one of our clients, came to see me last week and paid me his bill of £1,000 in cash. As he left I counted the notes and they came to £1,100."
The student said, "I see. The ethics question is 'Do I tell the client?'"
"Wrong answer! The question is 'Do I tell my partner?'"
😄 😄 😄
A mugger jumps out in front of a university student and shouts, "Your money or your life!"
The student keeps walking and says, "Sorry mate, I'm a Computer Science student. I don't have either."
😄 😄 😄
A kid from Mississippi is on Harvard campus for the first time, he stops a student and asks, "Excuse me, can you tell me where the library is at?"
The Harvard student replies, "At Harvard, you don't end a sentence with a preposition."
The kid said, "Sorry about that. Can you tell me where the library is at, asshole?"
😄 😄 😄
Teacher: "Take a seat".
Student: "Where do you want me to take it to?"
😄 😄 😄
What would happen if you took the school bus home?
The police would make you bring it back!
😄 😄 😄
Who should be your best friend at school?
Your princi-pal!
😄 😄 😄
Why did Johnny take a ruler to bed?
Because he wanted to see how long he slept!
😄 😄 😄
Why did the boy eat his homework?
Because his teacher said it was a piece of cake.
😄 😄 😄
My teacher always tells me to follow my dreams, but she won't let me sleep in class.
😄 😄 😄
---