Squirrel Jokes
Enjoy our team's carefully selected Squirrel Jokes. Laugh yourself and share the funniest jokes with your friends!
---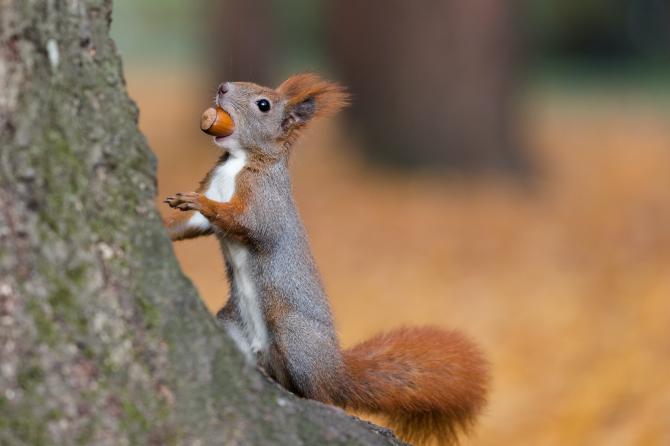 A father and son went hunting together for the first time.
The father said, "Stay here and be very quiet. I'll be across the field."
A few minutes later, the father heard a blood curdling scream and ran back to his son.
"What's wrong?" the father asked. "I told you to be quiet."
The son answered, "Look, I was quiet when the snake slithered across my feet. I was quiet when the bear breathed down my neck. But when the two squirrels crawled up my pant legs and said "Should we eat them here or take them with us?" I guess I just panicked."
😄 😄 😄
What do you get if you cross a squirrel with an elephant?
An animal that remembers where it hid its nuts.
😄 😄 😄
Why don't squirrels have any friends?
Because they drive everyone nuts.
😄 😄 😄
I just saw a squirrel bury a nut in my back yard.
I'm going to dig it up and replace it with a chocolate bar.
That'll blow his mind.
😄 😄 😄
I wanted to catch a squirrel but I didn't know how.
So I decided to climb a tree and act like a nut.
😄 😄 😄
Why do squirrels swim on their backs?
To keep their nuts dry.
😄 😄 😄
What did the squirrel say on Labor Day weekend?
"Time to get nutty!"
😄 😄 😄
It was so cold that the squirrels in the park were throwing themselves at an electric fence!
😄 😄 😄
It's so hot I saw a squirrel picking up nuts with pot holders.
😄 😄 😄
---