Sheep Jokes
Enjoy our team's carefully selected Sheep Jokes. Laugh yourself and share the funniest jokes with your friends!
---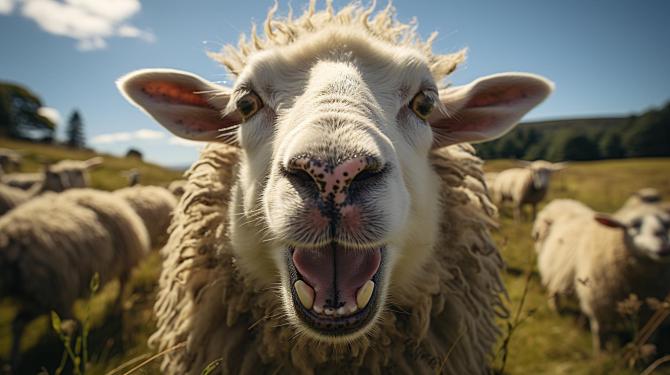 An engineer, a scientist, a mathematician, and a philosopher are hiking through the hills of Scotland, when they see a lone black sheep in a field.
The engineer says, "What do you know, it looks like the sheep around here are black."
The scientist looks at him skeptically and replies, "Well, at least SOME of them are."
The mathematician considers this for a moment and replies, "Well, at least ONE of them is."
Then the philosopher turns to them and says, "Well, at least ON ONE SIDE."
😄 😄 😄
What do you get when you cross a kangaroo with a sheep?
A woolly jumper.
😄 😄 😄
An engineer, a physicist and a mathematicians have to build a fence around a flock of sheep, using as little material as possible.
The engineer forms the flock into a circular shape and constructs a fence around it.
The physicist builds a fence with an infinite diameter and pulls it together until it fits around the flock.
The mathematicians thinks for a while, then builds a fence around himself and defines himself as being outside.
😄 😄 😄
A little-known fact is that Sir Lancelot raised a lot of sheep in his later years to make a living.
But once he got to Egypt he opened his own camel lot.
😄 😄 😄
A shepherd was tending his flock in a remote pasture when suddenly a dust cloud approached at high speed, out of which emerged a shiny silver BMW.
The driver—a young man in an Armani suit, Ferragamo shoes, Cartier sunglasses, and a tightly knotted power tie—poked his head out the window and asked the shepherd, "Hey! If I can tell you how many sheep you have in your flock, will you give me one?"
The shepherd looked at the man, then glanced at his peacefully grazing flock and answered, "Sure."
The driver parked his car, plugged his phone into a laptop and briskly surfed to a GPS satellite navigation system on the Internet and initiated a remote body-heat scan of the area.
While the computer was occupied, he sent some e-mails via his phone and, after a few minutes, nodded solemnly at the responses.
Finally, he printed a 150-page report on the little laser printer in his glove compartment, turned to the shepherd, waving the sheaves of paper, and pronounced, "You have exactly 1,586 sheep."
"Impressive. One of my sheep is yours," said the shepherd.
He watched the young man make his pick and bundle it into his car.
Then the shepherd said, "If I can tell you exactly what your business is, will you give me back my sheep?"
Pleased to meet a fellow sportsman, the young man replied, "You're on."
"You are an auditor," said the shepherd without hesitation.
"That's correct," said the young man, impressed. "However did you guess?"
"It wasn't a guess," replied the shepherd. "You show up completely uninvited. You ask me to pay you for information I already know, answer questions I haven't asked, and you know nothing about my business. Now, please give me my DOG back!"
😄 😄 😄
Guess what horses, donkeys, cows, goats, and sheep all have in common?
They're all very stable animals.
😄 😄 😄
An accountant is having a hard time sleeping and goes to see his doctor.
"Doctor, I just can't get to sleep at night," he says.
"Have you tried counting sheep?" inquires the doctor.
"That's the problem. I make a mistake and then spend three hours trying to find it."
😄 😄 😄
---