Jokes With Punchlines
Enjoy our team's carefully selected Punchline Jokes. Laugh yourself and share the funniest jokes with your friends!
---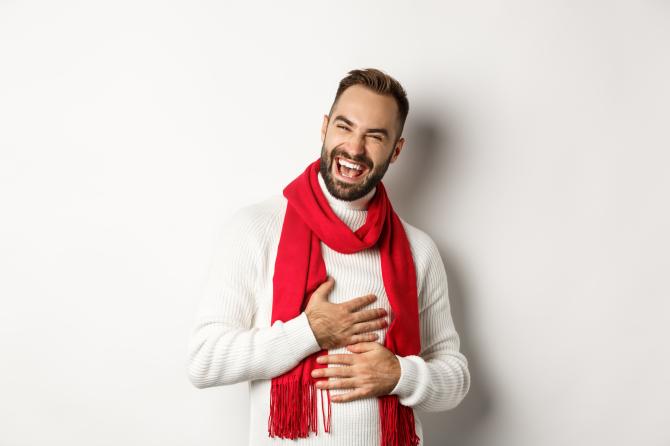 Whenever Autumn comes around, I like to walk around and collect the colorful leaves.
It sounds better than saying I'm a street sweeper.
😄 😄 😄
It's been raining for 3 days without stopping.
My wife is in depression, she is standing and looking through the window.
If the rain doesn't stop tomorrow, I'll have to let her in.
😄 😄 😄
When I was a kid I could go to the store with only $5 and come home with bread, milk, hot dogs and my favorite candy.
You can't do that these days...
Too many damned security cameras.
😄 😄 😄
I haven't spoken a word to my wife in years.
She hates to be interrupted.
😄 😄 😄
It's cleaning day today.
I've already polished off a whole chocolate bar.
😄 😄 😄
It always takes two to create trouble in a marriage.
The wife and the mother-in-law.
😄 😄 😄
My therapist told me the way to achieve true inner peace is to finish what I start.
So far today, I have finished two bags of chips and a chocolate cake.
I feel better already.
😄 😄 😄
When I won the lottery, I decided to share it with my ex-wife.
So I rang her and said, "Guess what, I won the jackpot."
😄 😄 😄
I went to Dunkin' Donuts and ordered 4 blueberry donuts and the cashier asked if I wanna box...
I've been banned for life from that shop.
😄 😄 😄
My boyfriend and I broke up.
He wanted to get married... I didn't want him to.
😄 😄 😄
I like to show my girlfriend who's the boss in our house.
I do this by holding a mirror up to her face.
😄 😄 😄
A family was driving in their car through an Arizona desert.
When they ran into a family of skunks.
They stop the car and get out so that they could check on the family of skunks to make sure they were alright.
They found all of the skunks to be ok except for one little baby skunk.
The wife then asked the husband if they could take the baby skunk to the vet to get it the medical attention that it needed.
They come up at the California border checkpoint and the wife starts freaking out, "There's no way they let us take this skunk across the border, what are we gonna do?"
The husband thinks for a second and says, "Hey I got it! Take the baby skunk and put it under your dress."
The wife replies, "Well what about the smell?"
The husband says, "It'll be alright, just hold its nose."
😄 😄 😄
Pulled out a couple of nose hairs to see if it hurts.
Judging by the reaction of the man asleep next to me on the train, it seems very painful.
😄 😄 😄
A jockey is walking down the road leading a racehorse when he bumps into a friend.
"What are you planning to do with that nag?" the man asks.
"Race it," replies the jockey, surprised.
"Well, by the look of it," the man says, "you'll win!"
😄 😄 😄
I keep trying to get into horse racing, but they're too fast for me.
😄 😄 😄
Patient: "Doctor, doctor! I've broken my arm in three places!"
Doctor: "Well, stop going to those places then."
😄 😄 😄
I tried to pay my taxes to the IRS with a smile.
Turns out they prefer money.
😄 😄 😄
A man was sitting on a park bench eating a hot dog.
A woman with a small dog walked up to sit on another bench across from the man. Almost immediately, the little dog began barking incessantly at the man while he ate.
The man asked, "Would you mind if I throw him a bit?"
"Not at all," the woman replied.
The man picked the dog up and tossed him over a wall.
😄 😄 😄
A man left for work one Friday morning.
Instead of going home after work, he stayed out the entire weekend hunting with the boys and spending all his wages. When he finally got home on Sunday night, he was confronted by his very angry wife. After a while she stopped nagging and said, "How would you like it if you didn't see me for two or three days?"
"That would be fine with me", he replied.
Monday went by and he didn't see his wife.
Tuesday and Wednesday came and went with the same result.
Thursday, the swelling went down just enough for him to see her a little out of the corner of his left eye.
😄 😄 😄
Last night I made fish tacos.
They looked at them and just swam away.
😄 😄 😄
My kids won't eat their tacos for dinner, so I had to throw them out.
Then I ate their tacos.
😄 😄 😄
Today I made a big pot of pasta,
but when I went to dump the pot into the sink, I think I strained something.
😄 😄 😄
I used to play tennis, baseball, basketball and chess, but I stopped after my son broke my PlayStation.
😄 😄 😄
I emailed Netflix and asked if they had Batman Forever.
They said, "No, just until the end of June."
😄 😄 😄
My grandfather worked in a blacksmith shop when he was a boy, and he used to tell me, when I was a little boy myself, how he had toughened himself up so he could stand the rigors of blacksmithing.
One story was how he had developed his arm and shoulder muscles.
He said he would stand outside behind the house and, with a 5-pound potato sack in each hand, extend his arms straight out to his sides and hold them there as long as he could.
After a while he tried 10-pound potato sacks, then 50-pound potato sacks and finally he got to where he could lift a 100-pound potato sack in each hand and hold his arms straight out for more than a full minute.
Next, he started putting potatoes in the sacks.
😄 😄 😄
At one point during a game, the coach called one of his 7-year-old football players aside and asked, "Do you understand what cooperation is? What a team is?"
The little boy nodded in the affirmative.
"Do you understand that what matters is whether we win or lose together as a team?"
The little boy nodded yes.
"So," the coach continued, "I'm sure you know, when a foul is called, you shouldn't argue, curse, or attack the referee. Do you understand all that?"
Again the little boy nodded.
He continued, "And when I take you out of the game so another boy gets a chance to play, it's not good sportsmanship to call your coach "a worthless idiot" is it?" Again the little boy nodded.
"Good," said the coach. "Now go over there and explain all that to your parents."
😄 😄 😄
I burned 2000 calories today. I fell asleep while baking pizza in the oven.
😄 😄 😄
I got a job at a paperless office.
Everything was great until I needed to use the bathroom.
😄 😄 😄
What would happen if you took the school bus home?
The police would make you bring it back!
😄 😄 😄
Teachers deserve a lot of credit.
Of course, if we paid them more, they wouldn't need it.
😄 😄 😄
I was going to buy a pocket calculator.
But then I thought, who cares how many pockets I have.
😄 😄 😄
A racehorse owner takes his horse to the vet.
"Will I be able to race this horse again?" he asks.
The vet replies: "Of course you will, and you'll probably win!"
😄 😄 😄
I was going to go greyhound racing this weekend but decided against it...
They're too fast. I'd never win.
😄 😄 😄
I was in a bar some days ago when a beautiful girl asked me, "What do you do?"
I replied, "I race motorcycles."
She asked further, "Do you usually win many races?"
I said, "No, the bikes are much faster than I am."‬
😄 😄 😄
Diet day 1:
I removed all the fattening food from my house.
It was delicious.
😄 😄 😄
A woman in England gives birth every 30 seconds.
She must be exhausted.
😄 😄 😄
A couple goes to the cinema.
"Two tickets, please," says the man.
"Hobbit?" asks the cashier lady.
"No, that's my wife."
😄 😄 😄
A man in a French restaurant asks the waiter, "Do you have frog legs?"
The waiter looks offended, "No, I've always walked like that!"
😄 😄 😄
A guy had to ask his neighbor for help getting his new sofa inside the flat because it got stuck in the door.
After about twenty minutes of vigorous pushing and maneuvering, the guy pants, "I think we'll have to call it a day. There's no way we're getting it inside."
The neighbor looks at him slowly, "Wait, inside?!"
😄 😄 😄
My neighbors listen to great music.
Whether they like it or not.
😄 😄 😄
My wife and I were happy for twenty years.
Then we met.
😄 😄 😄
---