Pumpkin Puns and Hilarious Pumpkin Jokes
Enjoy our team's carefully selected Pumpkin Jokes. Laugh yourself and share the funniest jokes with your friends!
---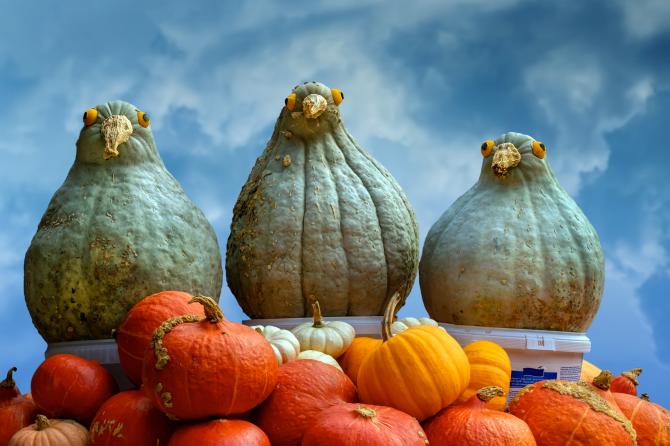 What's my blood type?
Pumpkin spice!
😄 😄 😄
Mrs. Jones was proud of her pumpkin patch, so she was really disappointed when some of the local kids were taking them to make Jack-o-Lanterns.
One evening while Mrs. Jones was soaking in the bath, the answer to the pumpkin thefts came to her.
After supper she went out and put up a sign: "Beware, one of these pumpkins is coated with a special colorless rat poison!"
A day or two later when Mrs. Jones checked out her pumpkin patch she was pleased to see that no more had been stolen.
Then she saw a second sign next to hers which said: "NOW THERE ARE TWO!!"
😄 😄 😄
Farmer Smith was driving his tractor along the road with a trailer load
of fertilizer.
Alex — a little boy of nine — was playing ball in his yard.
He saw the farmer and asked, "What've you got in your trailer?"
"Manure," farmer Smith replied.
"What are you going to do with it?" asked Alex.
"Put it on my pumpkins," answered the farmer.
Alex replied, "You ought to
come and eat with us, we put ice cream on our pumpkin pie."
😄 😄 😄
Remind your kids not to overdo it on the pumpkin pie this time of year.
Or they might get autumn'y ache.
😄 😄 😄
How did the pumpkin feel after being carved?
Gutted.
😄 😄 😄
Why did the pumpkin pie go to the doctor?
It was feeling crummy.
😄 😄 😄
Always a seasonal delight, today we will look at how to make a pumpkin roll:
Step 1. Get a pumpkin.
Step 2. Take your pumpkin to the top of a hill.
Step 3. Give it a little push.
Step 4. Enjoy.
😄 😄 😄
Why don't pumpkins get into arguments?
Because they have no stomach for fighting.
😄 😄 😄
How do you cure someone with a pumpkin spice addiction?
Apply the pumpkin patch.
😄 😄 😄
Oh my gourd, it's already fall.
😄 😄 😄
Life is gourd.
😄 😄 😄
You're gourdgeous!
😄 😄 😄
We got our seasonal bulk in at work today and got Pumpkin Spice Motor Oil.
It's for Autumnmobiles.
😄 😄 😄
What do you call a pumpkin that can slam-dunk a basketball?
Michael Gourdan.
😄 😄 😄
Where do pumpkins hold meetings?
In the gourdroom.
😄 😄 😄
How do you repair a broken jack o' lantern?
Use a pumpkin patch.
😄 😄 😄
How do pumpkins get up to the roof?
They use a jack-o-ladder.
😄 😄 😄
What did the orange pumpkin say to the green pumpkin?
"Are you feeling ill?"
😄 😄 😄
Why do pumpkins do poorly in school?
Because eventually they end up with all their brains scooped out.
😄 😄 😄
---