Jokes About Pharmacy
Enjoy our team's carefully selected Pharmacy Jokes. Laugh yourself and share the funniest jokes with your friends!
---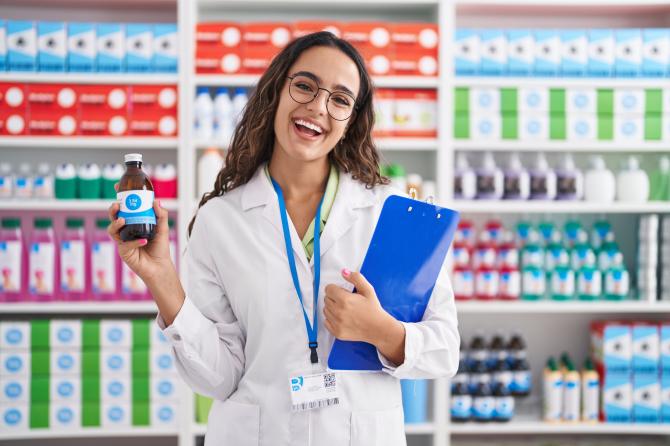 Funniest Pharmacy Jokes
---
For a long time, I was told I should weigh myself naked because it's the most accurate way of measuring my weight.
If that's true, I still don't get why I was kicked out of the pharmacy.
😄 😄 😄
Jacob, age 92, and Rebecca, age 89, living in Devon, are all excited about their decision to get married. They go for a stroll to discuss the wedding, and on the way, they pass a pharmacy. Jacob suggests they go in.
Jacob addresses the man behind the counter, "Are you the owner?"
The Pharmacist answers, "Yes."
Jacob: "We're about to get married. Do you sell heart medication?"
Pharmacist: "Of course we do."
Jacob: "Medicine for rheumatism?"
Pharmacist: "Definitely."
Jacob: "Medicine for memory problems, arthritis and Alzheimer's?"
Pharmacist: "Yes, a large variety. The works."
Jacob: "What about vitamins, sleeping pills, Geritol, antidotes for Parkinson's disease?"
Pharmacist: "Absolutely."
Jacob: "Everything for heartburn and indigestion?"
Pharmacist: "We sure do."
Jacob: "You sell wheelchairs and walkers and canes?"
Pharmacist: "All speeds and sizes."
Jacob: "In that case, we'd like to use this store for our wedding presents list."
😄 😄 😄
Two young boys walked into a pharmacy, picked out a box of
feminine product, and proceeded to the checkout counter.
The man at the counter asked the older boy, "Son, how old are you?"
"Eight," the boy replied.
The man continued, "Do you know what these are used for?"
The boy replied, "Not exactly, but they aren't for me. They're for him. He's my brother. He's four. We saw on TV that if you use these, you will be able to swim and ride a bike. Right now, he can't do either."
😄 😄 😄
A pharmacist is going over the directions on a prescription bottle with an elderly patient.
"Be sure not to take this more often than every 4 hours," the pharmacist says. "Don't worry," replies the patient. "It takes me 4 hours to get the lid off."
😄 😄 😄
A rabbit walks into a pharmacy and asks, "Do you sell carrots?"
The pharmacist, surprised, responds, "No, this is a pharmacy."
The rabbit leaves only to return the next day and ask the same question.
This time, the man responds, "As I said before, no. Go to a grocery store."
Again, the rabbit leaves and returns the following day with the same question.
Annoyed, the pharmacist says, "Look, rabbit, for the last time, we do not sell carrots. If you ask this once more, I swear I will punch you in the face."
On the next day, the rabbit returns and asks, "Do you sell carrots?"
Furious, the pharmacist punches the rabbit so hard that its teeth get completely shattered.
The rabbit leaves... and comes back the next day,
"Do ya seh cahot juys?"
😄 😄 😄
A pharmacist returns to his shop from lunch to find a man leaning against the wall.
"What's wrong with him?" He asks his assistant.
"He came in for some cough syrup," explains the assistant. "But I couldn't find any, so I sold him a bottle of laxatives instead."
"What!" The pharmacist says, horrified. "You can't treat a cough with laxatives!"
"Of course you can," the assistant declares. "Look at him – he's far too scared to cough."
😄 😄 😄
Conversation between a pharmacist and a female customer.
Woman: "I need to buy some arsenic."
Pharmacist: "Why do you need arsenic?"
Woman: "I need arsenic because I want to give it to my husband."
Pharmacist: "WHAT?"
Woman: "You heard me! I want to give it to my husband!"
Pharmacist: "Why on earth would you want to do that?"
Woman: "Because he's having an affair with YOUR wife!!!"
Pharmacist: "Well why didn't you tell me you had a prescription?"
😄 😄 😄
Short Pharmacy Jokes
---
A pharmacist looks out the front of the store and sees a woman holding a bottle jumping up and down in the parking lot.
The pharmacist walks out to the parking lot and asks the woman what's the matter.
She replies, "I saw it said "Shake Well" after I took it."
😄 😄 😄
Lily went to a nearby pharmacy to buy her partner some deodorant.
A sales clerk comes up to her and asks what she's looking for.
"I'm looking for some deodorant for my boyfriend, but I don't know what kind he uses."
"Is it the ball type?"
"No," she replied. "It's for his armpits."
😄 😄 😄
Lady says to pharmacist, "Why does my prescription medication have 40 side effects?"
Pharmacist replies, "Cause that's all we've documented so far."
😄 😄 😄
The customer gets a topical cream.
Direction: Apply locally two times a day.
The customer says to the pharmacist, "I can't apply locally, I'm going overseas."
😄 😄 😄
A guy walks into a pharmacy: "I have extreme headaches, my belly cramps, I feel like I'm about to vomit and my back hurts like something tears the muscles apart. Do you have something?"
Pharmacists: Nope, I feel fine!
😄 😄 😄
Chemist walks into a pharmacy and asks the pharmacist, "Do you have any acetylsalicylic acid?"
"You mean aspirin?" asked the pharmacist.
"That's it! I can never remember that word."
😄 😄 😄
Blonde enters the pharmacy.
"Do you have a pregnancy test?"
"Yes, we do."
"Are questions hard?"
😄 😄 😄
A man goes into a pharmacy and asks the pharmacist if he can give him something for the hiccups.
The pharmacist promptly reaches out and slaps the man's face.
"What did you do that for?" the man asks.
"Well, you don't have the hiccups anymore, do you?"
The man says, "No, but my wife out in the car still does!"
😄 😄 😄
A doctor is giving a talk at a symposium. Like any good public speaker, he wrote his speech out on notecards.
Unfortunately, when he gets up to the podium, he finds that he just can't read his notes.
So, he says to the audience, "Is there a pharmacist in the house?"
😄 😄 😄
Pharmacy Jokes One-Liners
---
My Sister works at a pharmacy.
As a pharmasister.
😄 😄 😄
Pharmacists find their work to be very encapsulating.
😄 😄 😄
I just got a job at a pharmacy. The pay isn't great...
But the percs are amazing!
😄 😄 😄
My pharmacist recently lost his arm.
Now I call him my "phacist".
😄 😄 😄
Today at the pharmacy I saw a woman without a face mask buying a pregnancy test.
She clearly isn't a fan of protection.
😄 😄 😄
Funny Pharmacy Puns
---
Did you hear about the pharmacist who got hit with a bottle of omega 3?
They are okay, the injuries were superfishoil.
😄 😄 😄
Pharmacist: A helper on the farm.
😄 😄 😄
A newborn pony walks into a pharmacy.
He asks the pharmacist, "Do you have any Cepacol lozenges? I'm a little hoarse."
😄 😄 😄
Our local politician just opened a neighborhood pharmacy store.
He is now a piller of the community.
😄 😄 😄
What do you call a pharmacist working at a veterinary drug company?
A FARM-ASSIST.
😄 😄 😄
How many pharmacists does it take to change a light bulb?
Just one, every six hours for the next ten days.
😄 😄 😄
Why should you be quiet inside a pharmacy?
You might wake the sleeping pills.
😄 😄 😄
Medication Jokes One-Liners
---
I was always told you lose a lot of friends after deciding to better yourself.
I never believed it until all of my friends disappeared after I started taking my schizophrenia medication.
😄 😄 😄
The bad news: I took the wrong medication today.
The good news: For the next 3 months I'm protected against heartworms and fleas.
😄 😄 😄
"Alcohol may intensify the effects of this medication"
I never know if this is a warning or a suggestion...
😄 😄 😄
My doctor must be a very visual person.
Whenever I have a cold he holds out my medication and says "vitamins, see".
😄 😄 😄
My wife mentioned that she couldn't remember if she took her anti-anxiety medication.
I asked if she was worried about it.
😄 😄 😄
This is probably one of the most worrisome statistics to emerge in recent years.
25% of the women in this country are on medication for mental illness.
That's scary.
It means 75% are running around untreated.
😄 😄 😄
A miracle drug is one that has now the same price as last year.
😄 😄 😄
Funny Long Pharmacy Jokes
---
Upon arriving home, a husband was met at the door by his sobbing wife.
Tearfully she explained, "It's the druggist. He insulted me terribly this morning, on the phone. I had to call multiple times before he would even answer the phone."
Immediately, the husband drove downtown to confront the druggist & demand an apology.
Before he could say more than a word or two, the druggist told him, "Now, just a minute, listen to my side of it. This morning the alarm failed to go off, so I was late getting up. I went without breakfast & hurried out to the car, just to realize that I'd locked the house with both house and car keys inside and had to break a window to get my keys."
"Then, driving a little too fast, I got a speeding ticket. Later, when I was about three blocks from the store, I had a flat tire."
"When I finally got to the store a bunch of people were waiting for me to open up. I got the store opened and started waiting on these people, all the time the darn phone was ringing off the hook."
He continued, "Then I had to break a roll of nickels against the cash register drawer to make change, and they spilled all over the floor. I had to get down on my hands and knees to pick up the nickels and the phone was still ringing.
"When I came up I cracked my head on the open cash drawer, which made me stagger back against a showcase with a bunch of perfume bottles on it. Half of them hit the floor and broke."
"Meanwhile, the phone is still ringing with no let-up, and I finally got back to answer it. It was your wife. She wanted to know how to use a rectal thermometer. And believe me, mister, as God is my witness, all I did was tell her."
😄 😄 😄
A woman hurried to a pharmacy to pick up the medication.
When she got back to the car, she found her keys locked inside.
The woman found an old rusty coat hanger on the ground.
She looked at it and said, "I don't know how to use this."
She bowed her head and asked God to send her some help.
Within five minutes an old motorcycle pulled up, driven by a bearded man who was wearing an old biker skull rag. He got off his cycle and asked if he could help.
She said, "Yes, my husband is sick. I forgot my keys in the car. Can you use this hanger to unlock my car?"
He said, "Sure."
He walked over to the car, and in less than a minute the car was open.
She hugged the man and through tears said, "Thank you, God, for sending me such a very nice man."
The man heard her little prayer and replied, "Lady, I am not a nice man. I just got out of prison yesterday; I was in prison for car theft."
The woman hugged the man again, sobbing, "Oh, thank you, God! You even sent me a professional!"
😄 😄 😄
One day an Irishman called Seamus went into a pharmacy in Clonmel. He reached into his jacket pocket and took out a bottle of Irish whiskey and a teaspoon.
Seamus proceeded to pour some of the amber liquid into the teaspoon and offered it to the chemist.
"Could you taste this for me, please?" asked Seamus.
The chemist took the teaspoon, put it into his mouth, swilled the liquid around and swallowed it.
"Does that taste sweet to you?" says Seamus.
"No, not at all," says the pharmacist.
"Oh that's a relief," says Seamus. "Doctor Flannigan told me to come here and get my urine tested for sugar."
😄 😄 😄
An elderly woman went into the pharmacy. When the pharmacist asked why she was there, she replied, "I'd like to have some birth control pills."
Taken aback, the pharmacist thought for a minute and then said, "Excuse me, Mrs. Smith, but you're 75 years old. What possible use could you have for birth control pills?"
The woman responded, "They help me sleep better."
The pharmacist thought some more and continued, "How in the world do birth control pills help you to sleep?"
The woman said, "I put them in my granddaughter's orange juice and I sleep better at night."
😄 😄 😄
A man walks into a pharmacy and wanders up and down the aisles.
The salesgirl notices him and asks him if she can help him.
He answers that he is looking for a box of
feminine product for his wife.
She directs him down the correct aisle.
A few minutes later, he deposits a huge bag of cotton balls and a ball of string on the counter.
The sales girl says confused, "Sir, I thought you were looking for some
feminine product for your wife?"
He answers, "You see, it's like this, yesterday I sent my wife to the store to get me a carton of cigarettes, and she came back with a tin of tobacco and some rolling papers; cause it's so much cheaper. So, I figure if I have to roll my own... so does she."
😄 😄 😄
A somewhat advanced society has figured out how to package basic knowledge in pill form.
A student, needing some learning, goes to the pharmacy and asks what kind of knowledge pills are available.
The pharmacist says, "Here's a pill for English literature."
The student takes the pill and swallows it and has new knowledge about English literature!
"What else do you have?" asks the student.
"Well, I have pills for art history, biology and world history," replies the pharmacist.
The student asks for these, swallows them and has new knowledge about those subjects.
Then the student asks, "Do you have a pill for math?"
The pharmacist says, "Wait just a moment," and goes back into the storeroom and brings back a whopper of a pill and plunks it on the counter.
"I have to take that huge pill for math?" inquires the student.
The pharmacist replied, "Well, you know... math always was a little hard to swallow."
😄 😄 😄
A man walks into a pharmacy and asks the man behind the counter, after dropping off his prescription, "Excuse me, but what time do you close on Sunday?"
He replies, "Oh, we don't close on Sunday."
Pleasantly surprised, the man picks up some other items and leaves.
The next day—Sunday—the man goes to pick up his prescription, only to find a closed sign hanging on the door of the pharmacy. Peeved at the lying pharmacist, he trudges back home and waits Monday.
Monday morning, right as the pharmacist unlocks the door, the man is running up to him, shouting.
"Hey! You said that you never closed on Sundays, but when I came around yesterday, you were closed! What gives?"
The pharmacist looks at the man and says, "Well, we in fact did not close yesterday, because we never even opened!"
😄 😄 😄
---