Jokes on Old People
Enjoy our team's carefully selected Old People Jokes. Laugh yourself and share the funniest jokes with your friends!
---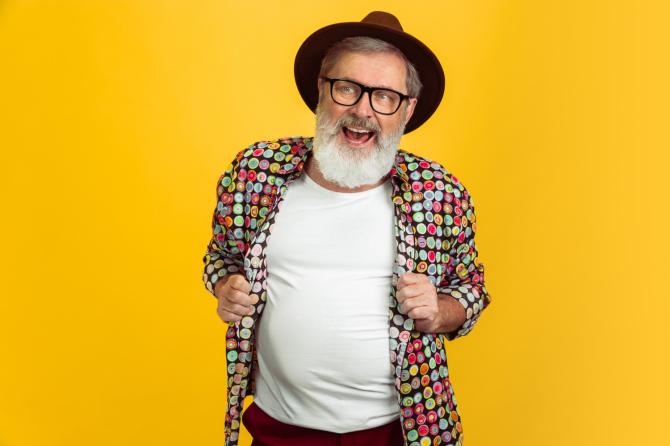 Short Old People Jokes
---
I stopped by grandmother's house and I'm so impressed. She had all the Halloween decorations out. There were cobwebs and bugs in the windows along with a skeleton on the couch.
She's 89 and always does a great job, but there was no answer when I knocked. I guess I'll stop by again in a few months... if I have time.
😄 😄 😄
A pharmacist is going over the directions on a prescription bottle with an elderly patient.
"Be sure not to take this more often than every 4 hours," the pharmacist says. "Don't worry," replies the patient. "It takes me 4 hours to get the lid off."
😄 😄 😄
An older couple is watching TV and the man stands up and says, "I'm going to the kitchen. Do you want anything?"
His wife answers, "Yes, please get me some chocolate ice cream with sprinkles."
The man starts to leave, when his wife says, "Honey, are you sure you don't want to write that down, your doctor said you may need to in order to remember."
"No, no, I'm sure I'll remember what you asked for."
A few minutes later, he returns with fried eggs and toast.
His wife says, "Well, see, you did need to write that down. You completely forgot my bacon!"
😄 😄 😄
A little old man shuffled slowly into an ice cream parlor and pulled himself slowly, painfully, up onto a stool. After catching his breath, he ordered a banana split.
The waitress asked kindly, "Crushed nuts?"
"No," he replied, "arthritis."
😄 😄 😄
Best Jokes on Old Lady
---
An elderly woman went into the pharmacy. When the pharmacist asked why she was there, she replied, "I'd like to have some birth control pills."
Taken aback, the pharmacist thought for a minute and then said, "Excuse me, Mrs. Smith, but you're 75 years old. What possible use could you have for birth control pills?"
The woman responded, "They help me sleep better."
The pharmacist thought some more and continued, "How in the world do birth control pills help you to sleep?"
The woman said, "I put them in my granddaughter's orange juice and I sleep better at night."
😄 😄 😄
An old lady goes to the doctor, super irritated.
She unloads on the doctor, "Doctor, my friends are all being awful people! They're all telling me I fart all the time, and it's just plain rude of them!
"Oh really?" The doctor says.
"YEAH! They're ALL silent so I have no idea why they'd point them out. On top of all that, for them to tell me my gas is enough to gag a maggot. How could your friends say that!!"
"I see," the doctor says.
"YEAH!! I've even felt a few fly out in the office and you've not had a SINGLE problem in this visit."
"Here, take these pills, they should help you out." The doctor says.
It's been a day now, and the doctor's pensively reviewing some charts, when all of a sudden the old lady busts into practice, shouting at the receptionist for the doctor to see her RIGHT AWAY.
She says, "Doctor, what the hell have you done with these pills?! I'm farting ALL THE TIME now and it smells like a landfill!"
After a deep breath, the doctor says, "Now that your nose is fixed, let's work on your gas and ears."
😄 😄 😄
So I was sitting on the bus just reading a book when somebody tapped me on the shoulder.
I turned around and saw an old lady.
She said to me, "Sonny, would you like some nuts? I've got a couple of hazelnuts and almonds if you'd like."
"Sure.", I replied. Then she gave me a handful of nuts and went back to sit with her friends.
"What a nice lady", I thought, while happily munching on the nuts.
A few minutes later, I felt another tap on my shoulder and there she was again, offering some nuts.
I gladly accepted and she went back to her seat.
After about 10 minutes, she tapped me on the shoulder, once again offering some nuts.
I asked her, "Why don't you eat them yourself?"
"Because we've got no teeth," she replied.
"Then why do you buy them?", I asked.
"Oh, because we just love the chocolate around them."
😄 😄 😄
An old lady walked into a pet store, found a parrot, and asked the owner if she could buy it.
The owner said, "Heck no! That parrot has a bad mouth! Trust me, you do not want that parrot!"
She said, "I can teach it good manners."
But, when she got home the parrot said a bad word, so she put it in the freezer for 10 seconds.
She took it out and said, "Did you learn your lesson?"
It said another bad word so she put it back in for 30 seconds.
She took it out and asked if it learned its lesson yet.
The parrot said "Brr... Yes, I learned my lesson, but what did the chicken do?"
😄 😄 😄
Old Person Jokes One-Liners
---
Why do retirees smile all the time?
Because they can't hear a word you're saying!
😄 😄 😄
What do you call someone who's happy on Mondays?
Retired!
😄 😄 😄
It's so cold, your false teeth chatter, and they are still in the glass.
😄 😄 😄
When we were children, we used to refer to our granddad as Spider-Man.
He didn't have any special powers, he just couldn't get out of the bath without any assistance.
😄 😄 😄
Knick-knack paddywhack, guess what that old man gave his dog?
A bone.
😄 😄 😄
Yo mama so old, her birth certificate says, "Expired".
😄 😄 😄
Yo mama so old, her breast milk is powder.
😄 😄 😄
Yo mama so old, her first Christmas was The First Christmas.
😄 😄 😄
Yo mama so old, her first cruise was on Noah's Ark.
😄 😄 😄
Yo mama so old, her first pet was from Jurassic Park.
😄 😄 😄
Yo mama so old, not even the time stone could make her young.
😄 😄 😄
I can't wait to retire so I can get up at 6 o'clock in the morning and go drive around really slow and make everybody late for work.
😄 😄 😄
I love being a grandparent in retirement.
I give my grandkids a lot of sugar and then leave them with their parents to deal with them.
😄 😄 😄
Yo Mama is so old, she's got a Bible autographed by Jesus.
😄 😄 😄
Yo mama so old, she rode dinosaurs to school.
😄 😄 😄
Your mama so old, she farts dust!
😄 😄 😄
Your mama so old, when she was born, the Dead Sea was just getting sick!
😄 😄 😄
Your mama so old, when she was young, rainbows were black and white!
😄 😄 😄
Your mama so old, her driver's license got hieroglyphics on it!
😄 😄 😄
Yo mama so old, she walked out of a museum and the alarm went off.
😄 😄 😄
Yo momma is so old, I slapped her in the back and her boobs fell off.
😄 😄 😄
Yo momma so old, she walked into an antique store and they kept her.
😄 😄 😄
Yo Mama is so old, Adam and Eve were at her graduation ceremony.
😄 😄 😄
Yo mama so old, she knew Burger King when he was just a prince.
😄 😄 😄
Long Funny Old People Jokes
---
After being nearly snowbound for two weeks last winter, a Seattle man departed for his vacation in Miami Beach, where he was to meet his wife the next day at the conclusion of her business trip to Minneapolis. They were looking forward to pleasant weather and a nice time together.
Unfortunately, there was some sort of mix-up at the boarding gate, and the man was told he would have to wait for a later flight. He tried to appeal to a supervisor but was told the airline was not responsible for the problem and that it would do no good to complain.
Upon arrival at the hotel the next day, he discovered that Miami Beach was having a heat wave, and its weather was almost as uncomfortably hot as Seattle's was cold.
The desk clerk gave him a message that his wife would arrive as planned.
He could hardly wait to get to the pool area to cool off, and quickly sent his wife an e-mail, but due to his haste, he made an error in the e-mail address.
His message, therefore, arrived at the home of an elderly preacher's wife whose even older husband had died only the day before.
When the grieving widow opened her e-mail, she took one look at the monitor, let out an anguished scream, and fell to the floor dead.
Her family rushed to her room where they saw this message on the screen:
Dearest wife,
Departed yesterday as you know. Just now got checked in. Some confusion at the gate. Appeal was denied. Received confirmation of your arrival tomorrow.
Your loving husband.
PS. Things are not as we thought. You're going to be surprised at how hot it is down here.
😄 😄 😄
Jesus made his usual rounds in heaven when he noticed a wizened, old man with long white hair and a white beard sitting in a corner looking very disconsolate.
The next week he was disturbed to come across him again, looking equally miserable, and a week later he stopped to talk to him.
"See here, old fellow," said Jesus kindly, "this is heaven. The sun is shining, you've got all you could want to eat, all the instruments you might want to play—you're supposed to be blissfully happy! What's wrong?"
"Well," said the old man, "you see, I was a carpenter on earth, and lost my only, dearly beloved son at an early age. And here, in heaven, I was hoping more than anything to find him."
Tears sprang from Jesus' eyes.
"FATHER!" he cried.
The old man jumped to his feet, bursting into tears, and sobbed, "PINOCCHIO!"
😄 😄 😄
An elderly man in Phoenix calls his son in New York and says, "I hate to ruin your day, but I have to tell you that your mother and I are divorcing; forty-five years of misery is enough."
"Pop, what are you talking about?!" the son screams.
"We can't stand the sight of each other any longer," the old man says.
"We're sick and tired of each other, and I'm sick of talking about this, so you call your sister in Chicago and tell her." And he hangs up.
Frantic, the son calls his sister, who explodes on the phone.
"Like Heck, they're getting a divorce," she shouts. "I'll take care of this."
She calls Phoenix immediately, and screams at the old man, "You are NOT getting divorced! Don't do a single thing until I get there. I'm calling my brother back and we'll both be there tomorrow. Until then don't do a thing, DO YOU HEAR ME?!" And she hangs up.
The old man hangs up his phone, smiles, and turns to his wife.
"They're coming for Easter and paying their own way."
😄 😄 😄
---