Jokes on Old Man
Enjoy our team's carefully selected Old Man Jokes. Laugh yourself and share the funniest jokes with your friends!
---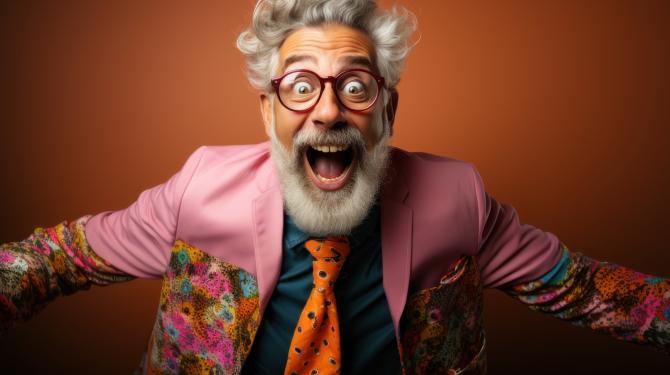 Two men were walking home after a Halloween party and decided to take a shortcut through the cemetery just for laughs.
Right in the middle of the cemetery, they were startled by a tap-tap-tapping noise coming from the misty shadows.
Trembling with fear, they found an old man with a hammer and chisel, chipping away at one of the headstones.
"Holy cow, Mister," one of them said after catching his breath, "You scared us half to death — we thought you were a ghost! What are you doing working here so late at night?"
"Those fools!" the old man grumbled. "They misspelled my name!"
😄 😄 😄
What do you call an old snowman?
Water.
😄 😄 😄
An alien spacecraft lands in a rice paddy in rural Japan and out comes a silver-suited alien, who floats over to an old rice farmer standing in amazement.
"Human creature," the alien bellows, "we last visited your planet a hundred thousand of your earth years ago. Tell us how you have evolved since then."
The old man recovers himself, thinks for a moment and says, "Well, way back a long time ago, we were a crude bunch, no doubt. We'd take any old stick and walk down to the seashore, looking for something to eat. When we saw something, stab out came the stick, right through the fish or crab or urchin or whatever, and we'd eat it right off the stick."
"That is truly a primitive state and in accordance with our records. But how have you evolved?"
"Oh, nowadays we use two sticks."
😄 😄 😄
There was a young pregnant woman. Her dream was for her baby to grow up with perfect manners.
She went to the doctor and asked him how she could make her baby nicer, and he told her to sit down for an hour a day and teach her stomach manners, to prep him or her before the baby is even born.
So every day for the next 9 months, the woman would sit quietly and tell her belly, "Be nice to other people, always put others first, and always say please, and thank you."
She never missed a day in 9 months, and the due date came and went, no baby!
The woman continued to wait for her newborn and continued to teach her belly manners and politeness every day, but as days, weeks, months, and years passed, the baby never came!
Finally, 65 years later when the woman finally passed away in her sleep, the doctors performed an autopsy on her body.
They cut open her belly and found 2 little old men with big long white beards, continually saying to each other:
"You go first!"
"No, you go first!"
😄 😄 😄
A little old man shuffled slowly into an ice cream parlor and pulled himself slowly, painfully, up onto a stool. After catching his breath, he ordered a banana split.
The waitress asked kindly, "Crushed nuts?"
"No," he replied, "arthritis."
😄 😄 😄
One hot summer afternoon a police officer pulls into a yard.
The police officer then gets out of the car, and asks an old gentleman, "Who owns the property?"
The old man tells the officer that he does, and asks what he can do for him.
The officer says, "I'm here to inspect your property for illegally grown drugs."
The old gentleman says, "Well, you go right ahead, but whatever you do, don't go into that field over yonder," pointing out a fenced parcel of land.
The officer says, "Mister, I'm a law enforcement officer authorized by the federal government of our nation."
Reaching into his pocket, he removes his badge and shoves it right in the old boy's face, "You see my badge, buddy? This badge means that I'm allowed to go wherever I wish, anytime I wish. Do you understand me? No questions asked."
The old gentleman nodded his head yes politely, softly apologized, and went about his chores.
A short time later, the old gentleman heard someone screaming in absolute terror, coming from where he'd told the officer not to go.
He looked over at the pasture and saw the officer running for his life, chased by a very angry bull.
With every step, the bull was gaining ground on the officer, and it appeared likely that the policeman would be gored by the bull's horns before he could reach safety.
Realizing the horrible danger that the policeman was in, the old gentleman ran to the field's fence as fast as he could, determined to do whatever he could to help.
Reaching the edge of the pasture, the old gentleman quickly climbed to the top of the fence, waving his arms frantically and screamed at the very top of his voice, "Your badge, officer, show him your BADGE!"
😄 😄 😄
An old cowboy walks into a barbershop for a shave and a haircut.
He tells the barber he can't get all his whiskers off because his cheeks are wrinkled from age.
The barber gets a little wooden ball from a cup on the shelf and tells the old cowboy to put it inside his cheek to spread out the skin.
When he's finished, the old cowboy tells the barber that was the cleanest shave he'd had in years, but he wanted to know what would have happened if he had accidentally swallowed that little ball. The barber replied, "Just bring it back in a couple of days like everyone else does."
😄 😄 😄
Jesus made his usual rounds in heaven when he noticed a wizened, old man with long white hair and a white beard sitting in a corner looking very disconsolate.
The next week he was disturbed to come across him again, looking equally miserable, and a week later he stopped to talk to him.
"See here, old fellow," said Jesus kindly, "this is heaven. The sun is shining, you've got all you could want to eat, all the instruments you might want to play—you're supposed to be blissfully happy! What's wrong?"
"Well," said the old man, "you see, I was a carpenter on earth, and lost my only, dearly beloved son at an early age. And here, in heaven, I was hoping more than anything to find him."
Tears sprang from Jesus' eyes.
"FATHER!" he cried.
The old man jumped to his feet, bursting into tears, and sobbed, "PINOCCHIO!"
😄 😄 😄
An elderly man in Phoenix calls his son in New York and says, "I hate to ruin your day, but I have to tell you that your mother and I are divorcing; forty-five years of misery is enough."
"Pop, what are you talking about?!" the son screams.
"We can't stand the sight of each other any longer," the old man says.
"We're sick and tired of each other, and I'm sick of talking about this, so you call your sister in Chicago and tell her." And he hangs up.
Frantic, the son calls his sister, who explodes on the phone.
"Like Heck, they're getting a divorce," she shouts. "I'll take care of this."
She calls Phoenix immediately, and screams at the old man, "You are NOT getting divorced! Don't do a single thing until I get there. I'm calling my brother back and we'll both be there tomorrow. Until then don't do a thing, DO YOU HEAR ME?!" And she hangs up.
The old man hangs up his phone, smiles, and turns to his wife.
"They're coming for Easter and paying their own way."
😄 😄 😄
I was in my garden when I got the news that my father had fallen from a 20 feet ladder and was in the hospital.
I rushed to the hospital expecting that my father had some major fractures, but he was alright except for some minor cuts.
When I told him that it was a miracle, he disagreed and told me, "Son, I had just fallen from the first step of the ladder."
😄 😄 😄
What would the Terminator be called in his retirement?
The Exterminator.
😄 😄 😄
---