Mother-in-Law Jokes
Enjoy our team's carefully selected Mother-in-Law Jokes. Laugh yourself and share the funniest jokes with your friends!
---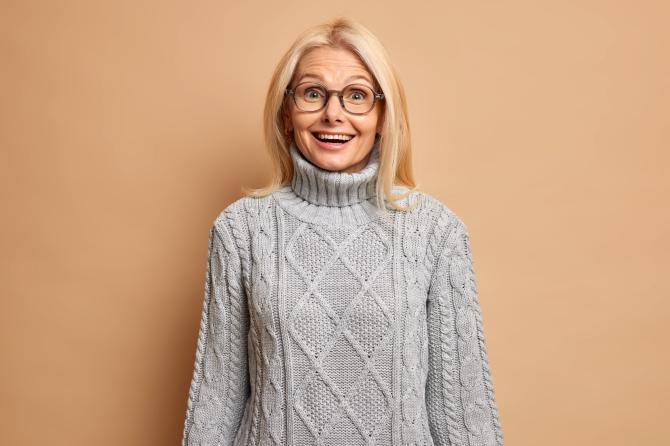 A young girl comes home from a date looking rather sad. Her mother asks her what's wrong.
She says, "Bill proposed to me an hour ago."
Her mother asks, "Why are you so sad then?"
The girl replies, "Because he also told me he was an atheist. Mom, he doesn't even believe there's a hell."
Her mother says, "Marry him anyway. Between the two of us, we'll show him how wrong he is."
😄 😄 😄
Lawyer: "Everybody hates lawyers until they need one."
Architect: "Everybody loves architects until they need one."
😄 😄 😄
I asked my girlfriend if they serve whales at red lobster.
That way next time we go we know if we can bring her mother.
😄 😄 😄
My mother-in-law has a massive case of diarrhea.
She won't find out until she unpacks her luggage.
😄 😄 😄
A man walked into a Florida bar with his crocodile and asked the bartender, "Do you serve lawyers here?"
Bartender: "Sure."
Man: "Good. One beer for me and a lawyer for my crocodile."
😄 😄 😄
A young cricketer was proud of his progress as a batsman and invited his mother-in-law along to watch him play, hoping to impress her.
At the crease, he turned to the wicketkeeper and said, "I'm anxious to do well and really hit this ball. That's my wife's mother over there."
"Don't be silly," said the wicketkeeper. "You'll never hit her from here."
😄 😄 😄
A lawyer tries a case out of town, accompanied by his corporate client.
After the case is given to the jury, the lawyer and his client wait for the verdict, which doesn't come in for days. After the second day, the lawyer the tells his client to go home, and he'll let him know as soon as the verdict comes in.
The client goes home, but pesters the lawyer every hour or so by text message for an update (of which there is none, of course).
Finally, the jury comes back with a verdict in the client's favor.
Still sitting in the courtroom, the lawyer texts his client, "Justice has been served."
The client shoots right back, "Appeal immediately!"
😄 😄 😄
A guy sees his mother-in-law riding a bicycle.
"Where are you going?" he asks.
"To the cemetery," she replies.
Guy: "And who is going to return the bike?"
😄 😄 😄
Employee: "Can I have a day off next week to visit my mother-in-law?"
Boss: "Certainly not."
Employee: "Thank you so much! I knew you would be understanding."
😄 😄 😄
First man: "My mother-in-law is an angel."
Second man: "You're a lucky fella, mine's still alive."
😄 😄 😄
A husband and wife had a fight.
Wife called her mom, "He fought with me again, I am coming to stay with you."
Mom: "No, dear, he must pay for his mistake. I am coming to stay with you!"
😄 😄 😄
A woman was leaving a Cafetaria with her morning coffee when she noticed a most unusual funeral procession approaching the nearby cemetery.
A long black hearse followed by a second long black hearse about 50 feet behind.
Behind the second hearse was a solitary woman walking a pit bull on a leash.
Behind her were 200 women walking single file.
The woman couldn't stand the curiosity.
She respectfully approached the woman walking the dog and said, "I am so sorry for your loss, and I know now is a bad time to disturb you, but I've never seen a funeral like this. Whose funeral is it?"
The woman replied, "Well, that first hearse is for my husband."
"What happened to him?"
The woman replied, "My dog attacked him to death."
She inquired further, "Well, who is in the second hearse?"
The woman answered, "My mother-in-law. She was trying to help my husband when the dog turned on her."
A poignant and thoughtful moment of silence passed between the two women.
"Can I borrow the dog?"
"Get in line!"
😄 😄 😄
It always takes two to create trouble in a marriage.
The wife and the mother-in-law.
😄 😄 😄
What is the 7th pin in bowling called?
Mother-In-Law!
😄 😄 😄
A lawyer, a priest, and an engineer meet each week for a game of golf.
One day, they get stuck behind the slowest group of players they had ever seen. They were hitting the balls all over the place, getting stuck in just about every trap and patch of rough, and missing just about every putt.
Finally, the group gets frustrated and heads to the clubhouse to find the manager.
"What's with that group of players? They're the worst I've ever seen! They're holding up the course!"
The manager looks sheepish, "They're retired firefighters, they lost their eyesight running into a burning orphanage to save the children. They love golf, so I let them play for free for charity."
The priest looks ashamed of himself, "As a man of God, I feel terrible for getting angry at those men. At my next sermon, I'll see if I can get a collection going for their families."
The lawyer likewise looks chagrined, "Same here, I'll check with my firm and see if we can't open a case to get them awarded restitution for their pain and injuries."
The engineer says, "Why can't they play at night?"
😄 😄 😄
A blonde and a lawyer are seated next to each other on a flight from LA to NY.
The lawyer asks if she would like to play a fun game.
The blonde, tired, just wants to take a nap, politely declines and rolls over to the window to catch a few winks.
The lawyer persists and explains that the game is easy and a lot of fun.
He explains, "I ask you a question, and if you don't know the answer, you pay me $5.00, and vice versa."
Again, she declines and tries to get some sleep.
The lawyer, now agitated, says, "Okay, if you don't know the answer you pay me $5.00, and if I don't know the answer, I will pay you $500.00."
This catches the blonde's attention and, figuring there will be no end to this torment unless she plays, agrees to the game.
The lawyer asks the first question. "What's the distance from the earth to the moon?"
The blonde doesn't say a word, reaches into her purse, pulls out a $5.00 bill, and hands it to the lawyer.
"Okay," says the lawyer, "your turn."
She asks the lawyer, "What goes up a hill with three legs and comes down with four legs?"
The lawyer, puzzled, takes out his laptop computer and searches all his references, no answer. He taps into the air phone with his modem and searches the net and the library of congress, no answer. Frustrated, he sends e-mails to all his friends and coworkers, to no avail.
After an hour, he wakes the blonde and hands her $500.00.
The blonde says, "Thank you," and turns back to get some more sleep.
The lawyer, who is more than a little miffed, wakes the blonde and asks, "Well, what's the answer?"
Without a word, the blonde reaches into her purse, hands the lawyer $5.00, and goes back to sleep.
😄 😄 😄
An honest lawyer, a happy Santa and a merry elf find 100 $. How do they split it?
50 dollars to Santa, 50 dollars to the elf, because there is no such thing as an honest lawyer!
😄 😄 😄
A local lawyer was sitting in his office the other morning when in walked a beautiful young lady.
Without any preliminaries, she said she wanted a divorce.
"On what grounds?" asked the lawyer.
"I don't think he is faithful to me," she replied.
"And what makes you think he isn't faithful?" asked the lawyer.
"Well," replied the young lady, "I don't think he is the father of my child."
😄 😄 😄
This guy was sitting in his attorney's office.
His lawyer says, "Do you want the bad news first or the terrible news?"
"Give me the bad news first," he says.
"Your wife found a picture worth a half-million dollars," his lawyer informs him.
"That's the bad news?" asks the man incredulously. "I can't wait to hear the terrible news."
"The terrible news is that it's of you and your secretary."
😄 😄 😄
It's true women do make less money than men. But it's their fault because they choose the lower-paying jobs.
Men, for example, choose higher-paying jobs like doctor or lawyer.
Whereas women choose lower-paying jobs like women doctor and women lawyer.
😄 😄 😄
Someone once told me that taking money out of your savings account is stealing from your future self.
Well luckily for me my future self won't be able to afford a lawyer to press charges against me.
😄 😄 😄
Last Halloween there was a knock on the door.
I looked out of the window and then shouted upstairs to my wife, "Honey there's a witch at the door. What shall I do?"
She shouted back, "Just give her some candy and tell her to get lost."
My mother-in-law hasn't spoken to me since.
😄 😄 😄
---