Monkey Jokes
Enjoy our team's carefully selected Monkey Jokes. Laugh yourself and share the funniest jokes with your friends!
---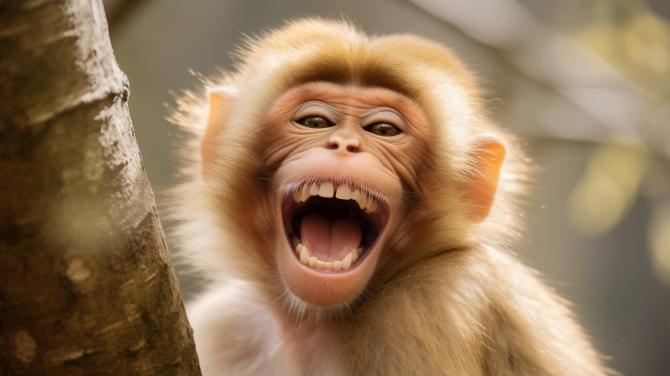 Monkey sees an Elephant climbing a banana tree.
Confused, monkey calls out to elephant, "Hey, elephant, why are you climbing that tree?"
Elephant says, "I'm going to eat me a mango!"
Monkey responds, "But that isn't a mango tree!"
Elephant says, "Don't worry about it, I brought my own."
😄 😄 😄
A guy walked into a bar with a monkey.
The monkey grabbed some olives off the bar and ate them.
Then he grabbed some sliced limes and ate them.
He then jumped onto the pool table and grabbed one of the balls.
To everyone's amazement, he stuck it in his mouth and somehow swallowed it whole.
The bartender looked at the guy and said, "Did you see what your monkey just did?"
"No, what?"
"He just ate the cue ball off my pool table – whole!"
"Yeah, that doesn't surprise me," replied the guy, "He eats everything in sight, don't worry, I'll pay for the cue ball."
The guy finished his drink, paid his bill, paid for the stuff the monkey ate, and left.
Two weeks later the guy came back and had his monkey with him.
He ordered a drink and the monkey started running around the bar.
The monkey found a cherry on the bar.
He grabbed it, stuck it up his butt, pulled it out, and then ate it.
Then the monkey found a peanut and again stuck it up his butt, pulled it out, and ate it.
The bartender asked, "Did you see what that filthy ape just did?"
"No, what?" asked the man.
"Well, he stuck both a cherry and a peanut up his arse, then he pulled them out and ate them."
"Yeah, that doesn't surprise me," replied the guy. "He'll eat anything, but ever since he had to take out that cue ball, he measures everything first."
😄 😄 😄
Two monkeys are sharing an Amazon account, guess what are they called?
Prime mates.
😄 😄 😄
Guess what monkeys eat in space?
Space bananas!
😄 😄 😄
A jockey is talking to the trainer ahead of the race.
"You got to ride him to win," the trainer says, "because I've got a monkey on this horse, and so has my wife."
"Will there be any room for me?" the jockey asks.
😄 😄 😄
A child asked his father, "How were people born?"
So his father said, "Adam and Eve made babies, then their babies became adults and made babies, and so on."
The child then went to his mother, asked her the same question and she told him, "We were monkeys then we evolved to become like we are now."
The child ran back to his father and said, "You lied to me!"
His father replied, "No, your mom was talking about her side of the family."
😄 😄 😄
Why do gorillas have big nostrils?
Because they have big fingers!
😄 😄 😄
---