Medical Jokes
Enjoy our team's carefully selected Medical Jokes. Laugh yourself and share the funniest jokes with your friends!
---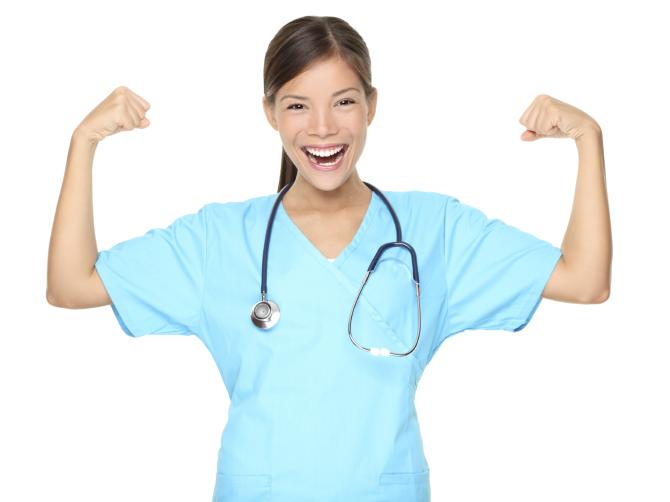 A lawyer was interviewing a doctor about the death of a patient.
"When you examined the patient, did you check his pulse?" asked the lawyer.
"I didn't," said the doctor.
"And did you listen for a heartbeat?" said the lawyer.
"No, I did not," the doctor said.
"So, in other words," the lawyer said, "when you signed the death certificate, you had NOT taken adequate steps to confirm he was dead."
"Well, let me put it this way," said the doctor, "at that point, the man's brain was in a jar on my desk, but for all I know, I guess he could've been out practicing law somewhere!"
😄 😄 😄
Top 10 Funniest Medical Jokes Ever
---
Patient: "Doctor, I think that I've been bitten by a vampire."
Doctor: "Drink this glass of water."
Patient: "Will it make me better?"
Doctor: "No, but I'll be able to see if your neck leaks."
😄 😄 😄
A man walks into a pharmacy and wanders up and down the aisles.
The salesgirl notices him and asks him if she can help him.
He answers that he is looking for a box of
feminine product for his wife.
She directs him down the correct aisle.
A few minutes later, he deposits a huge bag of cotton balls and a ball of string on the counter.
The sales girl says confused, "Sir, I thought you were looking for some
feminine product for your wife?"
He answers, "You see, it's like this, yesterday I sent my wife to the store to get me a carton of cigarettes, and she came back with a tin of tobacco and some rolling papers; cause it's so much cheaper. So, I figure if I have to roll my own... so does she."
😄 😄 😄
Two young boys walked into a pharmacy, picked out a box of
feminine product, and proceeded to the checkout counter.
The man at the counter asked the older boy, "Son, how old are you?"
"Eight," the boy replied.
The man continued, "Do you know what these are used for?"
The boy replied, "Not exactly, but they aren't for me. They're for him. He's my brother. He's four. We saw on TV that if you use these, you will be able to swim and ride a bike. Right now, he can't do either."
😄 😄 😄
A pharmacist is going over the directions on a prescription bottle with an elderly patient.
"Be sure not to take this more often than every 4 hours," the pharmacist says. "Don't worry," replies the patient. "It takes me 4 hours to get the lid off."
😄 😄 😄
The customer gets a topical cream.
Direction: Apply locally two times a day.
The customer says to the pharmacist, "I can't apply locally, I'm going overseas."
😄 😄 😄
Chemist walks into a pharmacy and asks the pharmacist, "Do you have any acetylsalicylic acid?"
"You mean aspirin?" asked the pharmacist.
"That's it! I can never remember that word."
😄 😄 😄
An old lady goes to the doctor, super irritated.
She unloads on the doctor, "Doctor, my friends are all being awful people! They're all telling me I fart all the time, and it's just plain rude of them!
"Oh really?" The doctor says.
"YEAH! They're ALL silent so I have no idea why they'd point them out. On top of all that, for them to tell me my gas is enough to gag a maggot. How could your friends say that!!"
"I see," the doctor says.
"YEAH!! I've even felt a few fly out in the office and you've not had a SINGLE problem in this visit."
"Here, take these pills, they should help you out." The doctor says.
It's been a day now, and the doctor's pensively reviewing some charts, when all of a sudden the old lady busts into practice, shouting at the receptionist for the doctor to see her RIGHT AWAY.
She says, "Doctor, what the hell have you done with these pills?! I'm farting ALL THE TIME now and it smells like a landfill!"
After a deep breath, the doctor says, "Now that your nose is fixed, let's work on your gas and ears."
😄 😄 😄
A cowboy went to a chiropractor complaining of back trouble.
The Doc looked him over and could see he'd suffered some rough life.
"Have you been in any accidents lately?" he asked.
The cowboy thought about it for a moment, "No, no real accidents, I guess. Well, I been kicked by a mule last week, yesterday I got throwed by my mustang and last month a got bit by a snake."
"You don't call those accidents?" said the doctor with incredulity.
"Nah. Pretty sure they meant to do it on purpose."
😄 😄 😄
A rabbit walks into a pharmacy and asks, "Do you sell carrots?"
The pharmacist, surprised, responds, "No, this is a pharmacy."
The rabbit leaves only to return the next day and ask the same question.
This time, the man responds, "As I said before, no. Go to a grocery store."
Again, the rabbit leaves and returns the following day with the same question.
Annoyed, the pharmacist says, "Look, rabbit, for the last time, we do not sell carrots. If you ask this once more, I swear I will punch you in the face."
On the next day, the rabbit returns and asks, "Do you sell carrots?"
Furious, the pharmacist punches the rabbit so hard that its teeth get completely shattered.
The rabbit leaves... and comes back the next day,
"Do ya seh cahot juys?"
😄 😄 😄
Patient: "Doctor, doctor! I've broken my arm in three places!"
Doctor: "Well, stop going to those places then."
😄 😄 😄
Funny Medical Jokes Short
---
The drunken wino was stumbling down the street with one foot on the curb and one foot in the gutter.
A cop pulled up and said, "I've got to take you in, sir. You're obviously drunk."
The wasted wino asked, "Officer, are ya absolutely sure I'm drunk?"
Yeah, buddy, I'm sure," said the copper. "Let's go."
Obviously relieved, the wino said, "That's a relief — I thought I was a cripple."
😄 😄 😄
A man worked for a road crew. One day he woke up ill with a touch of laryngitis but being a dedicated employee he went to work.
The boss felt sorry for him and didn't want him to do any physical labor although they were repairing a part of the freeway.
He said to the worker, "Why don't you go down the road and tell people to slow down going through the construction?"
The worker is glad for the easy day and does as instructed. He stops the first vehicle that comes along.
"Sir," he whispers, his throat feeling worse, "Please slow down, there's a road crew up ahead."
"Okay," the driver whispers back, "I'll try not to wake them."
😄 😄 😄
Patient: "Doctor, doctor, I keep thinking I'm a snowman!"
Doctor: "Keep cool."
😄 😄 😄
The guy goes into a pub.
He orders 7 pints of beer. He drinks the first pint, the third pint, the 5th and the 7th pint, and gets up to leave.
The barman says, "Why are you not drinking the other three pints?"
He says, "Doctors orders."
"What do you mean by that?" asks the barman."
"I am on medication and my doctor said to me the odd pint is okay."
😄 😄 😄
Lady says to pharmacist, "Why does my prescription medication have 40 side effects?"
Pharmacist replies, "Cause that's all we've documented so far."
😄 😄 😄
A man went to the doctor and said, "I think I am upside down."
When the doctor asked why he felt like that, the man said, "Because my feet smell and my nose runs."
😄 😄 😄
Patient: "Doctor, doctor! I see double!"
Doctor: "Sit on the chair please."
Patient: "Which one?"
😄 😄 😄
A man goes to the doctor and says, "Doctor, doctor! I think I'm going deaf."
And the doctor says, "Can you describe the symptoms."
And he says, "Yes, Homer is fat and Marge has blue hair."
😄 😄 😄
A man goes into a pharmacy and asks the pharmacist if he can give him something for the hiccups.
The pharmacist promptly reaches out and slaps the man's face.
"What did you do that for?" the man asks.
"Well, you don't have the hiccups anymore, do you?"
The man says, "No, but my wife out in the car still does!"
😄 😄 😄
An accountant is having a hard time sleeping and goes to see his doctor.
"Doctor, I just can't get to sleep at night," he says.
"Have you tried counting sheep?" inquires the doctor.
"That's the problem. I make a mistake and then spend three hours trying to find it."
😄 😄 😄
Psychiatrist: "What seems to be the problem?"
Patient: "I think I'm a chicken."
Psychiatrist: "How long has this been going on?"
Patient: "Ever since I came out of my shell."
😄 😄 😄
Short Medical Jokes and Puns for Adults
---
What do dentists hand out at Halloween?
Candy. It's good for business.
😄 😄 😄
Lily went to a nearby pharmacy to buy her partner some deodorant.
A sales clerk comes up to her and asks what she's looking for.
"I'm looking for some deodorant for my boyfriend, but I don't know what kind he uses."
"Is it the ball type?"
"No," she replied. "It's for his armpits."
😄 😄 😄
One day an Irishman called Seamus went into a pharmacy in Clonmel. He reached into his jacket pocket and took out a bottle of Irish whiskey and a teaspoon.
Seamus proceeded to pour some of the amber liquid into the teaspoon and offered it to the chemist.
"Could you taste this for me, please?" asked Seamus.
The chemist took the teaspoon, put it into his mouth, swilled the liquid around and swallowed it.
"Does that taste sweet to you?" says Seamus.
"No, not at all," says the pharmacist.
"Oh that's a relief," says Seamus. "Doctor Flannigan told me to come here and get my urine tested for sugar."
😄 😄 😄
An elderly woman went into the pharmacy. When the pharmacist asked why she was there, she replied, "I'd like to have some birth control pills."
Taken aback, the pharmacist thought for a minute and then said, "Excuse me, Mrs. Smith, but you're 75 years old. What possible use could you have for birth control pills?"
The woman responded, "They help me sleep better."
The pharmacist thought some more and continued, "How in the world do birth control pills help you to sleep?"
The woman said, "I put them in my granddaughter's orange juice and I sleep better at night."
😄 😄 😄
Ever had to force your dog into taking its medication?
It's the worst, right? You try to cover it with peanut butter, even then they know you're up to something.
So it gets kinda physical, have to get in there with both hands and hold them open and push it in with your finger, hoping they don't bite you. Turns into a wrestling match, sometimes.
But as it turns out, the trick was we were just using the wrong peanut butter. Ever since we switched to creamy, those suppositories just pop right in.
😄 😄 😄
My pharmacist recently lost his arm.
Now I call him my "phacist".
😄 😄 😄
I told my Dr. I only smoke once every blue moon...
The problem is my refrigerator is full of them.
😄 😄 😄
A family was driving in their car through an Arizona desert.
When they ran into a family of skunks.
They stop the car and get out so that they could check on the family of skunks to make sure they were alright.
They found all of the skunks to be ok except for one little baby skunk.
The wife then asked the husband if they could take the baby skunk to the vet to get it the medical attention that it needed.
They come up at the California border checkpoint and the wife starts freaking out, "There's no way they let us take this skunk across the border, what are we gonna do?"
The husband thinks for a second and says, "Hey I got it! Take the baby skunk and put it under your dress."
The wife replies, "Well what about the smell?"
The husband says, "It'll be alright, just hold its nose."
😄 😄 😄
Blonde enters the pharmacy.
"Do you have a pregnancy test?"
"Yes, we do."
"Are questions hard?"
😄 😄 😄
Patient: "Doctor, doctor! I've swallowed my money!"
Doctor: "Take this, and we'll see if there's any change in the morning."
😄 😄 😄
A pharmacist returns to his shop from lunch to find a man leaning against the wall.
"What's wrong with him?" He asks his assistant.
"He came in for some cough syrup," explains the assistant. "But I couldn't find any, so I sold him a bottle of laxatives instead."
"What!" The pharmacist says, horrified. "You can't treat a cough with laxatives!"
"Of course you can," the assistant declares. "Look at him – he's far too scared to cough."
😄 😄 😄
Funny Medical Jokes One-Liners
---
My wife mentioned that she couldn't remember if she took her anti-anxiety medication.
I asked if she was worried about it.
😄 😄 😄
A guy walks into a pharmacy: "I have extreme headaches, my belly cramps, I feel like I'm about to vomit and my back hurts like something tears the muscles apart. Do you have something?"
Pharmacists: Nope, I feel fine!
😄 😄 😄
A miracle drug is one that has now the same price as last year.
😄 😄 😄
My therapist told me the way to achieve true inner peace is to finish what I start.
So far today, I have finished two bags of chips and a chocolate cake.
I feel better already.
😄 😄 😄
Guess what the ship had to go to therapy for?
He was a nervous wreck!
😄 😄 😄
If you're working on a desktop or laptop, make sure to put on a mask.
You wouldn't want to catch one of those computer viruses.
😄 😄 😄
Yesterday I went to the doctor with a sinus infection.
But he told me it was all in my head.
😄 😄 😄
Yo momma so hot doctors say her blood type is lava.
😄 😄 😄
Medical One-Liners Jokes for Adults
---
For a long time, I was told I should weigh myself naked because it's the most accurate way of measuring my weight.
If that's true, I still don't get why I was kicked out of the pharmacy.
😄 😄 😄
I was always told you lose a lot of friends after deciding to better yourself.
I never believed it until all of my friends disappeared after I started taking my schizophrenia medication.
😄 😄 😄
The bad news: I took the wrong medication today.
The good news: For the next 3 months I'm protected against heartworms and fleas.
😄 😄 😄
"Alcohol may intensify the effects of this medication"
I never know if this is a warning or a suggestion...
😄 😄 😄
This is probably one of the most worrisome statistics to emerge in recent years.
25% of the women in this country are on medication for mental illness.
That's scary.
It means 75% are running around untreated.
😄 😄 😄
I just got a job at a pharmacy. The pay isn't great...
But the percs are amazing!
😄 😄 😄
Yo mama so stupid she made an appointment with Dr Pepper.
😄 😄 😄
Today at the pharmacy I saw a woman without a face mask buying a pregnancy test.
She clearly isn't a fan of protection.
😄 😄 😄
Short Medical Puns
---
Why did the pumpkin pie go to the doctor?
It was feeling crummy.
😄 😄 😄
My Sister works at a pharmacy.
As a pharmasister.
😄 😄 😄
Pharmacists find their work to be very encapsulating.
😄 😄 😄
Did you hear about the pharmacist who got hit with a bottle of omega 3?
They are okay, the injuries were superfishoil.
😄 😄 😄
Pharmacist: A helper on the farm.
😄 😄 😄
A newborn pony walks into a pharmacy.
He asks the pharmacist, "Do you have any Cepacol lozenges? I'm a little hoarse."
😄 😄 😄
Guess who I bumped into on my way to the eye doctor?
Everybody.
😄 😄 😄
What do you give a dog with a fever?
Mustard because it's the best thing for a hot dog.
😄 😄 😄
What do you call a pharmacist working at a veterinary drug company?
A FARM-ASSIST.
😄 😄 😄
How many pharmacists does it take to change a light bulb?
Just one, every six hours for the next ten days.
😄 😄 😄
Why should you be quiet inside a pharmacy?
You might wake the sleeping pills.
😄 😄 😄
Medical Jokes Clean
---
An older couple is watching TV and the man stands up and says, "I'm going to the kitchen. Do you want anything?"
His wife answers, "Yes, please get me some chocolate ice cream with sprinkles."
The man starts to leave, when his wife says, "Honey, are you sure you don't want to write that down, your doctor said you may need to in order to remember."
"No, no, I'm sure I'll remember what you asked for."
A few minutes later, he returns with fried eggs and toast.
His wife says, "Well, see, you did need to write that down. You completely forgot my bacon!"
😄 😄 😄
A doctor is giving a talk at a symposium. Like any good public speaker, he wrote his speech out on notecards.
Unfortunately, when he gets up to the podium, he finds that he just can't read his notes.
So, he says to the audience, "Is there a pharmacist in the house?"
😄 😄 😄
A guy walks into the doctor's office.
A carrot stuck in one of his ears, a cucumber in the other ear, and a mushroom stuck in one nostril.
The man says, "Doc, this is terrible. What's wrong with me?"
The doctor says, "Well, first of all, you need to eat more sensibly."
😄 😄 😄
Brunette Mary and blonde Liz were talking in the office one day.
Mary: "Wow, that is some cold you have, Liz."
Liz: "Tell me about it. I just cannot get rid of it."
Mary: "Try some Cold-Doc 3. I have a bottle on my desk. Just take 3 tablespoons before you go to bed and you'll be fine. Here ya go."
Liz: "Thanks, I'll give it a try."
The next day Liz was standing by her desk jumping up and down, waving her arms in the air, and kicking her legs out.
Mary: "Liz, It is nice to see you are feeling better. Is that a new dance?"
Liz: "Oh No, I still don't feel that great. I took the medicine you gave me and just realized it said to shake well before using."
😄 😄 😄
A doctor was chatting at a party with a chartered accountant.
He asked, "How do I manage this delicate issue when people even at a party like this ask me about their joint pains and heartburn and gas trouble? Just because I am a doctor. Not fair!"
The CA friend replied coolly, "Just tell them the right things politely, but send them a bill from your clinic the next morning. Only once. Word will soon get around and it will stop immediately."
"Wow! Thanks for the tip," said the doctor.
The next morning the doctor got a bill from his CA friend: "Consulting charges for Business Development".
😄 😄 😄
Medical Love Jokes for Her
---
They say laughter is the best medicine.
I guess your face can cure the world.
😄 😄 😄
Guess what my doctor told me?
Laughter is the best medicine. I guess you bring the smile to my face.
😄 😄 😄
Guess what the doctor just told me?
I need some sunshine so that's why I got you to brighten my day.
😄 😄 😄
I'm sure you could donate blood to me because you're just my type!
😄 😄 😄
I think I am going to need knee surgery.
Every day I am with you, I fall for you all over again.
😄 😄 😄
I think you are suffering...
From a lack of vitamin me.
😄 😄 😄
You are like my asthma.
You just take my breath away.
😄 😄 😄
Call me a dentist, because you are too sweet.
😄 😄 😄
I'm not an organ donor, but I'd be happy to give you my heart.
😄 😄 😄
Long Clean Medical Jokes
---
Jacob, age 92, and Rebecca, age 89, living in Devon, are all excited about their decision to get married. They go for a stroll to discuss the wedding, and on the way, they pass a pharmacy. Jacob suggests they go in.
Jacob addresses the man behind the counter, "Are you the owner?"
The Pharmacist answers, "Yes."
Jacob: "We're about to get married. Do you sell heart medication?"
Pharmacist: "Of course we do."
Jacob: "Medicine for rheumatism?"
Pharmacist: "Definitely."
Jacob: "Medicine for memory problems, arthritis and Alzheimer's?"
Pharmacist: "Yes, a large variety. The works."
Jacob: "What about vitamins, sleeping pills, Geritol, antidotes for Parkinson's disease?"
Pharmacist: "Absolutely."
Jacob: "Everything for heartburn and indigestion?"
Pharmacist: "We sure do."
Jacob: "You sell wheelchairs and walkers and canes?"
Pharmacist: "All speeds and sizes."
Jacob: "In that case, we'd like to use this store for our wedding presents list."
😄 😄 😄
A somewhat advanced society has figured out how to package basic knowledge in pill form.
A student, needing some learning, goes to the pharmacy and asks what kind of knowledge pills are available.
The pharmacist says, "Here's a pill for English literature."
The student takes the pill and swallows it and has new knowledge about English literature!
"What else do you have?" asks the student.
"Well, I have pills for art history, biology and world history," replies the pharmacist.
The student asks for these, swallows them and has new knowledge about those subjects.
Then the student asks, "Do you have a pill for math?"
The pharmacist says, "Wait just a moment," and goes back into the storeroom and brings back a whopper of a pill and plunks it on the counter.
"I have to take that huge pill for math?" inquires the student.
The pharmacist replied, "Well, you know... math always was a little hard to swallow."
😄 😄 😄
There was a young pregnant woman. Her dream was for her baby to grow up with perfect manners.
She went to the doctor and asked him how she could make her baby nicer, and he told her to sit down for an hour a day and teach her stomach manners, to prep him or her before the baby is even born.
So every day for the next 9 months, the woman would sit quietly and tell her belly, "Be nice to other people, always put others first, and always say please, and thank you."
She never missed a day in 9 months, and the due date came and went, no baby!
The woman continued to wait for her newborn and continued to teach her belly manners and politeness every day, but as days, weeks, months, and years passed, the baby never came!
Finally, 65 years later when the woman finally passed away in her sleep, the doctors performed an autopsy on her body.
They cut open her belly and found 2 little old men with big long white beards, continually saying to each other:
"You go first!"
"No, you go first!"
😄 😄 😄
A man walks into a pharmacy and asks the man behind the counter, after dropping off his prescription, "Excuse me, but what time do you close on Sunday?"
He replies, "Oh, we don't close on Sunday."
Pleasantly surprised, the man picks up some other items and leaves.
The next day—Sunday—the man goes to pick up his prescription, only to find a closed sign hanging on the door of the pharmacy. Peeved at the lying pharmacist, he trudges back home and waits Monday.
Monday morning, right as the pharmacist unlocks the door, the man is running up to him, shouting.
"Hey! You said that you never closed on Sundays, but when I came around yesterday, you were closed! What gives?"
The pharmacist looks at the man and says, "Well, we in fact did not close yesterday, because we never even opened!"
😄 😄 😄
A group of country friends from the Wildwood Church wanted to get together on a regular basis, socialize, and play games. The lady of the house was to prepare the meal.
When it came time for Tom and Karen to be the hosts, Karen wanted to outdo all the others. Karen decided to have mushroom-smothered steak. But mushrooms are expensive.
She then told her husband, "No mushrooms. They are too high."
He said, "Why don't you go down in the pasture and pick some of those mushrooms? There are plenty in the creek bed."
She said, "No, some wild mushrooms are poison."
He said, "Well, I see varmints eating them and they're OK."
So Karen decided to give it a try. She picked a bunch, washed, sliced, and diced them for her smothered steak.
Then she went out on the back porch and gave Ol' Spot (the yard dog) a double handful. Ol' Spot ate every bite.
All morning long, Karen watched Ol' Spot and the wild mushrooms didn't seem to affect him, so she decided to use them.
The meal was a great success, and Karen even hired a helper lady from town to help her serve. She had on a white apron and a fancy little cap on her head.
After everyone had finished, they relaxed, socialized, and played 42 and dominoes.
About then, the helper lady from town came in and whispered in Karen's ear.
She said, "Mrs. Grim, Ol' Spot just died."
Karen went into hysterics. After she finally calmed down, she called the doctor and told him what had happened.
The doctor said, "That's bad, but I think we can take care of it. I will call for an ambulance and I will be there as quick as possible. We'll give everyone enemas and we will pump out everyone's stomach. Everything will be fine. Just keep them calm."
Soon they could hear the siren as the ambulance was coming down the road.
The EMTs and the doctor had their suitcases, syringes, and a stomach pump. One by one, they took each person into the bathroom, gave them an enema, and pumped out their stomach.
After the last one was finished, the doctor came out and said, "I think everything will be fine now," and he left.
They were all looking pretty weak sitting around the living room and about this time the helper lady came in and said, "You know, that fellow that ran over Ol'Spot never even stopped."
😄 😄 😄
Long Medical Jokes in English for Adults
---
Upon arriving home, a husband was met at the door by his sobbing wife.
Tearfully she explained, "It's the druggist. He insulted me terribly this morning, on the phone. I had to call multiple times before he would even answer the phone."
Immediately, the husband drove downtown to confront the druggist & demand an apology.
Before he could say more than a word or two, the druggist told him, "Now, just a minute, listen to my side of it. This morning the alarm failed to go off, so I was late getting up. I went without breakfast & hurried out to the car, just to realize that I'd locked the house with both house and car keys inside and had to break a window to get my keys."
"Then, driving a little too fast, I got a speeding ticket. Later, when I was about three blocks from the store, I had a flat tire."
"When I finally got to the store a bunch of people were waiting for me to open up. I got the store opened and started waiting on these people, all the time the darn phone was ringing off the hook."
He continued, "Then I had to break a roll of nickels against the cash register drawer to make change, and they spilled all over the floor. I had to get down on my hands and knees to pick up the nickels and the phone was still ringing.
"When I came up I cracked my head on the open cash drawer, which made me stagger back against a showcase with a bunch of perfume bottles on it. Half of them hit the floor and broke."
"Meanwhile, the phone is still ringing with no let-up, and I finally got back to answer it. It was your wife. She wanted to know how to use a rectal thermometer. And believe me, mister, as God is my witness, all I did was tell her."
😄 😄 😄
Two guys were working at a sawmill one day when one of the guys got too close to the blade and cut off his arm.
His buddy put the severed arm in a plastic bag and rushed it down to the hospital to get re-attached.
The next day he goes to see his chum and finds him playing tennis.
"Incredible!," says his friend.
"Medical science is amazing!"
Another month goes by and the same two guys are again at the sawmill working when the same guy gets too close to the spinning blade and this time his leg gets cut off.
Again his buddy takes the leg, puts it in a plastic bag and takes it to the hospital to get re-attached.
The next day, he goes down to see his chum and finds him outside playing football.
"Incredible!," says his friend.
"Medical science is amazing!"
Well, another month goes by and again the same two friends are at the mill cutting wood when suddenly the same guy bends down too close to the blade and off comes his head.
Well, his friend takes the head, puts it in a plastic bag, and heads to the hospital to get it re-attached.
The next day he goes to see his friend but can't find him.
He sees the doctor walking down the hall and says, "Doc, where is my friend? I brought him in yesterday."
The doctor thinks for a minute and says, "Oh yeah, some idiot put his head in a plastic bag and he suffocated."
😄 😄 😄
---