Jokes About Math Teachers
Enjoy our team's carefully selected Math Teacher Jokes. Laugh yourself and share the funniest jokes with your friends!
---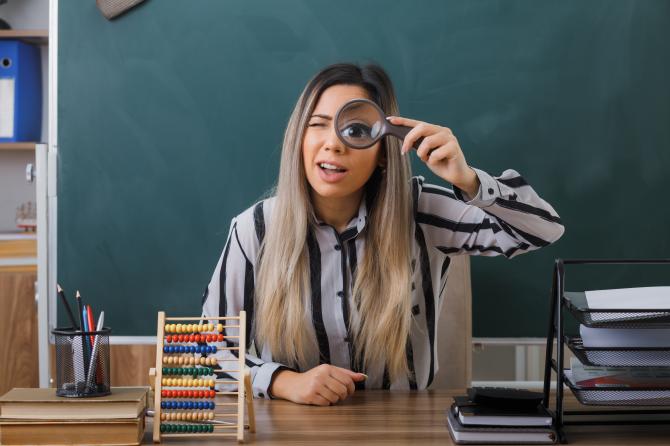 Why did the woman with the bad knee go to the mathematician?
Because her knees were giving her problems she couldn't solve.
😄 😄 😄
What do the Backstreet Boys and algebra teachers have in common?
They both want you to tell them Y.
😄 😄 😄
A math teacher welcomed a new French exchange student into her class and then started teaching a lesson on fractions.
The French exchange student raised his hand and said, "Excuse me, Madam, but I don't know how to say fractions. How do you say those?"
"Easy," said the teacher, "you just say the top number and then the bottom number is read as an ordinal number. For example, 2/3 is two-thirds, 3/4 is three-fourths, and 2/5 is two-fifths."
"Thanks, I understand," said the exchange student.
"Good," said the teacher, and then asked the French student, "so how do you say 4/8?"
"Should I reduce?" asked the boy.
"That would be best," said the teacher.
"One-second," said the boy.
"Take as long as you need," said the teacher.
😄 😄 😄
What is a math teacher's favorite sum?
Summer!
😄 😄 😄
What kind of snake does your math teacher probably own?
A pi-thon.
😄 😄 😄
What does a hungry math teacher like to eat?
A square meal.
😄 😄 😄
What state has the most math teachers?
Math-achusetts.
😄 😄 😄
What is a math teacher's favorite tree?
Geometry.
😄 😄 😄
The math teacher saw that little Johnny wasn't paying attention in class.
She called on him and said, "Johnny, what are 2 and 4 and 28 and 44?"
Little Johnny quickly replied, "NBC, FOX, ESPN and the Cartoon Network!"
😄 😄 😄
I am pretty sure that my algebra teacher is secretly a pirate.
He constantly is trying to find X.
😄 😄 😄
Math teacher: "James, what do you get when you subtract 897 from 1824 and add 176 and divide the answer by 3?"
James: "A Headache ma'am."
😄 😄 😄
I complained to my math teacher that it was too cold in the classroom.
He told me to stand in the corner. Because the corner is 90 degrees.
😄 😄 😄
Never fight a math teacher. You'll always be outnumbered.
😄 😄 😄
Math teacher: "If I have 5 bottles in one hand and 6 in the other hand, what do I have?"
Student: "A drinking problem."
😄 😄 😄
---