Funny Long Jokes
Enjoy our team's carefully selected Long Jokes. Laugh yourself and share the funniest jokes with your friends!
---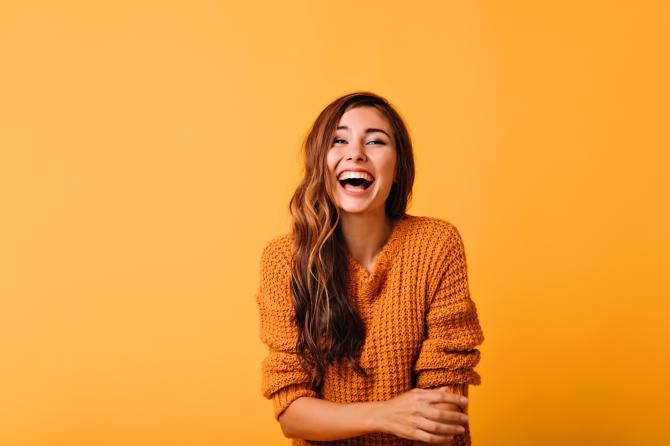 Two 90-year-old women, Rose and Barb, had been friends all of their lives.
When it was clear that Rose was dying, Barb visited her every day.
One day Barb said, "Rose, we both loved barrel racing all our lives, and we rode until we could hardly walk. Please do me one favor... When you get to Heaven, somehow you must let me know if there's barrel racing there."
Rose looked up at Barb from her deathbed, "Barb, you've been my best friend for many years. If it's at all possible, I'll do this favor for you."
Shortly after that, Rose passed on.
At midnight a couple of nights later, Barb was awakened from a sound sleep by a blinding flash of white light and a voice calling out to her, "Barb, Barb."
"Who is it?" asked Barb, sitting up suddenly. "Who is it?"
"Barb, it's me, Rose."
"You're not Rose. Rose just died."
"I'm telling you, it's me, Rose," insisted the voice.
"Rose! Where are you?"
"In Heaven," replied Rose. "I have some really good news and a little bad news."
"Tell me the good news first," said Barb.
"The good news," Rose said, "is that there's barrel racing in Heaven. Better yet, all of our horses who died before us are here, too. Better than that, we're all young again. Better still, it's always summer, and it never rains or snows. And best of all, we can ride all we want, and our horses never get tired."
"That's fantastic," said Barb. "It's beyond my wildest dreams! So what's the bad news?"
"You're up here in the slack on Friday."
😄 😄 😄
A champion jockey is about to enter an important race on a new horse.
The horse's trainer meets him before the race and says, "All you have to remember with this horse is that every time you approach a jump, you have to shout, "ALLLLEEE OOOP!" really loudly in the horse's ear. Providing you do that, you'll be fine."
The jockey thinks the trainer is mad but promises to shout the command.
The race begins and they approach the first hurdle.
The jockey ignores the trainer's ridiculous advice and the horse crashes straight through the centre of the jump.
They carry on and approach the second hurdle.
The jockey, somewhat embarrassed, whispers "Aleeee ooop" in the horse's ear.
The same thing happens: the horse crashes straight through the centre of the jump.
At the third hurdle, the jockey thinks, "It's no good, I'll have to do it." And yells, "ALLLEEE OOOP!" really loudly.
Sure enough, the horse sails over the jump with no problems.
This continues for the rest of the race, but due to the earlier problems the horse only finishes third.
The trainer is fuming and asks the jockey what went wrong.
The jockey replies, "Nothing is wrong with me. It's this bloody horse. What is he — deaf or something?"
The trainer replies, "Deaf?? DEAF?? He's not deaf — he' blind!!!"
😄 😄 😄
A Preacher wanted to raise money for his church and, being told there were fortunes in race horses, he decided to purchase one and enter it in the races.
However, at the local auction, the going price for horses was so steep he ended up buying a donkey instead.
He figured that since he had it, he might as well go ahead and enter it in the races, and to his surprise the donkey came in third.
The next day the racing sheets carried the headlines "Preacher's Ass shows".
The Preacher was so pleased with the donkey that he entered it in the races again and this time he won!
The papers said "Preacher's Ass out in Front". The Bishop was so upset with this kind of publicity that he ordered the Preacher not to enter the donkey in another race.
The newspaper printed this headline "Bishop Scratches Preacher's Ass". This was just too much for the Bishop and he ordered the Preacher to get rid of the animal.
The Preacher decided to give it to a Nun in a nearby convent.
The headlines the next day read "Nun has the Best Ass in Town". The Bishop fainted.
He informed the Nun that she would have to dispose of the donkey and she finally found a farmer who was willing to buy it for $10.00.
The paper states "Nun Peddles Ass for Ten Bucks". They buried the Bishop the next day.
😄 😄 😄
A wealthy racehorse owner gets very attached to his champion horse.
It has a very successful racing career and is then retired to stud duties, where it is again very successful. Earning a fortune in stud duties.
Sadly one day the champion dies and the owner decides to give it a proper burial.
He approaches the local Anglican minister who tells him that he is only interested in saving human souls.
He then approaches the Catholic priest who tells him the same thing.
As a last resort he asks a Rabbi who gives him the same sermon. As he is about to leave he says that he was going to donate $100,000 to the Synagogue.
"Hold on", says the Rabbi, "you never told me it was a Jewish horse."
😄 😄 😄
A wife is frying eggs for her husband in the morning.
Suddenly the husband appears behind the wife's back and says:
"Careful, CAREFUL, put more fat in the pan! You're frying too many at a time. TOO MANY! Flip them! FLIP THEM! Come on!
Put more fat in there. Oh dear lord. How are you gonna make space for the fat now, look, they're sticking to the pan! Careful!
Careful now! You never listen to me when I cook! NEVER! Flip them over already. HURRY! ARE YOU CRAZY? Take it easy! EASY! Nooo, don't forget the salt. Put salt on them, SALT!"
The wife stares at her husband:
"What's wrong with you?! You think I can't fry a few eggs?!"
The husband answers calmly:
"I just wanted to show you what it feels like when I'm driving."
😄 😄 😄
Three pregnant women are chatting in a cafe.
Heather says, "I got my ultrasound done yesterday. I'm pregnant with triplets!"
"I got mine done yesterday too," says Linda. "I'm pregnant with septuplets!"
"I think I'll get my ultrasound done next week," says Martha.
The three women chat some more.
Finally, Heather says, "I got Disney+ last month. The first movie I watched on it was 'The Three Little Pigs'."
"I got Disney+ last month too," says Linda. "The first movie I watched on it was 'Snow White and the Seven Dwarfs'." When Martha hears this, she instantly goes pale.
"It's okay if you don't have Disney+," says Heather.
"I do have it," says Martha. "It's just that the first movie I watched on it was '101 Dalmatians'."
😄 😄 😄
A man walks into a pharmacy and asks the man behind the counter, after dropping off his prescription, "Excuse me, but what time do you close on Sunday?"
He replies, "Oh, we don't close on Sunday."
Pleasantly surprised, the man picks up some other items and leaves.
The next day — Sunday — the man goes to pick up his prescription, only to find a closed sign hanging on the door of the pharmacy. Peeved at the lying pharmacist, he trudges back home and waits Monday.
Monday morning, right as the pharmacist unlocks the door, the man is running up to him, shouting.
"Hey! You said that you never closed on Sundays, but when I came around yesterday, you were closed! What gives?"
The pharmacist looks at the man and says, "Well, we in fact did not close yesterday, because we never even opened!"
😄 😄 😄
One Christmas Eve, many decades ago, Santa Claus announced to his elves, "I'm supposed to begin my annual flight in one hour. But there are still some toys that need to be made and put into my sack. I need all seven of my elite toymakers to finish the toys on time."
"I'm so sorry, Mr. Kringle," said the elf in charge of the workshop. "One of the elite toymakers is on vacation, and two are sick. I'm afraid we only have four elites tonight."
"So be it," said Santa.
It took two hours for the elves to finish making the toys. By the time they were done, Santa was one hour overdue.
Finally, the sack was full. Santa dragged the heavy sack out of the workshop and to his sleigh. But the sleigh, of course, was very old, and some of the wood was rotting. So when Santa put the sack into the sleigh, it went right through the wood.
He hoisted the sack out of the hole, rushed to the barn, and came back with a hammer, nails, a ruler, a saw, and several planks of fresh wood.
It took two hours for Santa to fix the sleigh. By the time he was done, he was three hours overdue.
Finally, the hole in the sleigh had been patched. Santa went back to the barn to put away the hammer, the ruler, and the saw, and also to fetch his eight tiny reindeer. But when he got there, he found that he had left the door open.
"Oh no!" he said. "Some of the reindeer may have escaped!"
Indeed, when Santa entered the barn, he found that Dasher, Dancer, and Donner had run away. To make matters worse, Comet and Cupid were giving birth to fawns. Only three of the regular reindeer could pull the sleigh that year.
Santa immediately ordered some of his elves to look for the missing reindeer, and others to help Comet and Cupid give birth. Then he hitched Prancer, Vixen, and Blitzen to the sleigh without any problems. Now he needed to find five replacement reindeer. He eventually settled on Basher, Flasher, Smasher, Rudolph (this was before his nose started glowing), and Fred.
But those reindeer had never pulled a sleigh before, and it took two hours for Santa to hitch them. By the time he was done, he was five hours overdue.
Finally, a very stressed Santa Claus sat in his sleigh, ready to begin his flight. Just then, an angel walked by with a Christmas tree she had cut down.
"Good evening, Santa," said the angel. "Where do you want me to put this?"
And so began the tradition of putting the angel at the top of the tree.
😄 😄 😄
One night, Sally was saying goodnight to her parents and grandparents.
"Good night Mom, good night Dad, good night Grandma, goodbye Grandpa."
Her dad asked her, "Why goodbye?"
"Oh, I dunno, I just felt like it."
The very next day, her grandpa died.
That evening, Sally was saying goodnight again.
"Good night Mom, good night Dad, goodbye Grandma.
Her dad was very suspicious, but said nothing.
The very next day, Sally's grandma died.
That night, when Sally said "Good night Mom, goodbye Dad", Sally's dad began to panic. He knew this couldn't just be a coincidence.
So early the very next day, he went to work, locked his office door, and hid under his desk until late in the afternoon.
Eventually, he decided he should probably go home, or his wife might get worried.
He managed to arrive home safely, and asked his wife how her day had been.
"Oh, it was just awful!" she replied. "The Milkman died!"
😄 😄 😄
A priest and a nun are having a tennis match.
The priest is very competitive, but can't seem to bring his A-game to the nun who is clearly better.
After a volley from the nun, the priest misses and yells: "Goddamn it! I missed!", startling the nun.
She let it slip by and the match continues.
But alas, after a fierce back-hand from the nun, the priest misses and again yells: "Goddamn it! I missed!"
"Stop it!" yells the nun. "You can't use the Lords name in vain like that!"
The priest apologizes, "I'm sorry, sister. I swear to you, if I do it again, may God smite me with all his might."
"Fair enough," grumbles the nun.
The match continues. It's going really well, but as fate may have it, the priest misses and slips another "Goddamn it! I missed!"
Suddenly thick, dark clouds gather in the sky and with roaring thunder, a lightning bolt shoots down to the earth and vaporizes the nun into ashes...
A thundering voice emits from the skies, "Damn it! I missed!"
😄 😄 😄
Two guys were working at a sawmill one day when one of the guys got too close to the blade and cut off his arm.
His buddy put the severed arm in a plastic bag and rushed it down to the hospital to get re-attached.
The next day he goes to see his chum, and finds him playing tennis.
"Incredible!," says his friend.
"Medical science is amazing!"
Another month goes by and the same two guys are again at the sawmill working when the same guy gets too close to the spinning blade and this time his leg gets cut off.
Again his buddy takes the leg, puts it in a plastic bag and takes it to the hospital to get re-attached.
The next day, he goes down to see his chum and finds him outside playing football.
"Incredible!," says his friend.
"Medical science is amazing!"
Well another month goes by and again the same two friends are at the mill cutting wood when suddenly the same guy bends down too close to the blade and off comes his head.
Well his friend takes the head, puts it in a plastic bag, and heads to the hospital to get it re-attached.
The next day he goes to see his friend but can't find him.
He sees the doctor walking down the hall and says, "Doc, where is my friend? I brought him in yesterday."
The doctor thinks for a minute and says, "Oh yeah, some idiot put his head in a plastic bag and he suffocated."
😄 😄 😄
So I was sitting on the bus just reading a book when somebody tapped me on the shoulder.
I turned around and saw an old lady.
She said to me, "Sonny, would you like some nuts? I've got a couple hazelnuts and almonds if you'd like."
"Sure.", I replied. Then she gave me a handful of nuts and went back to sit with her friends.
"What a nice lady", I thought, while happily munching on the nuts.
A few minutes later, I felt another tap on my shoulder and there she was again, offering some nuts.
I gladly accepted and she went back to her seat.
After about 10 minutes, she tapped me on the shoulder, once again offering some nuts.
I asked her, "Why don't you eat them yourself?"
"Because we've got no teeth", she replied.
"Then why do you buy them?", I asked.
"Oh, because we just love the chocolate around them."
😄 😄 😄
There was a guy on the beach with about 25 gorgeous chicks swarming all around him.
Seeing this, a second guy strolls on up to him and asks, "What's your secret?" The guy whispers, "All you gotta do is stick a pickle in your pants."
In a flourish, the second guy runs off and stuffs a pickle in his pants.
But when he returns to the shore, he soon discovers that every single girl that looks his way, runs off screaming in bloody terror.
Confused, he hurries over to the first guy and desperately asks, "Why are all the girls running away from me?"
The first guy looks up and replies, "The pickle's on the wrong side."
😄 😄 😄
A hot dog vendor brings a homeless man to court for standing near the stand and enjoying the smell of the meat as he ate his bread.
The judge is quite exasperated.
Judge to the homeless man: "Do you deny this?"
Homeless man: "No, your honor."
Judge: "Do you have any coins?"
Homeless man: "Just a few quarters, your Honor."
Judge: "Give them here."
Homeless man: "Your Honor, they're all I have!"
Judge: "That may be so, but please just give me those coins."
Homeless man: "Very well." Hands over the coins.
Judge to the stand owner: "Pay close attention." Drops coins on the table. "Did you hear that?"
Stand owner: "Yes, your Honor."
Judge: "Excellent. Now you take the sound of those coins as payment for the smell of the meat."
😄 😄 😄
Two immigrants have just arrived in the United States and one says to the other, "I hear that the people of this country actually eat dogs."
"Odd," her companion replies, "but if we shall live in America, we might as well do as the Americans do."
Nodding emphatically, one of the immigrants points to a hot dog vendor and they both walk toward the cart.
"Two dogs, please," she says.
The vendor is only too pleased to oblige, wraps both hot dogs in foil and hands them over the counter.
Excited, the companions hurry to a bench and begin to unwrap their "dogs".
One of them opens the foil and begins to blush.
Staring at it for a moment, she turns to her friend and whispers cautiously, "What part did you get?"
😄 😄 😄
A man left for work one Friday morning.
Instead of going home after work, he stayed out the entire weekend hunting with the boys and spending all his wages. When he finally got home on Sunday night, he was confronted by his very angry wife. After a while she stopped nagging and said, "How would you like it if you didn't see me for two or three days?"
"That would be fine with me", he replied.
Monday went by and he didn't see his wife.
Tuesday and Wednesday came and went with the same result.
Thursday, the swelling went down just enough for him to see her a little out of the corner of his left eye.
😄 😄 😄
One Sunday morning George burst into the living room and said, "Dad! Mom! I have some great news for you! I am getting married to the most beautiful girl in town. She lives a block away and her name is Susan."
After dinner, George's dad took him aside, "Son, I have to talk with you. Look at your mother, George. She and I have been married 30 years, she's a wonderful wife and mother, but, she has never offered much excitement in the bedroom, so I used to fool around with women a lot."
"Susan is actually your half sister, and I'm afraid you can't marry her."
George was brokenhearted.
After eight months he eventually started dating girls again.
A year later he came home and very proudly announced, "Diane said yes! We're getting married in June."
Again his father insisted on another private conversation and broke the sad news, "Diane is your half sister too, George. I'm awfully sorry about this."
George was livid! He finally decided to go to his mother with the news his father had shared.
"Dad has done so much harm. I guess I'm never going to get married," he complained. "Every time I fall in love, Dad tells me the girl is my half sister."
"Hee hee," his mother chuckled, shaking her head, "Don't pay any attention to what he says. He's not really your father."
😄 😄 😄
An American goes to the train station so he can start his big trip.
He notices there a machine with the indication: "Put A Dollar in the Slot and the Machine will Tell you who you are!"
Curious, he puts the dollar inside the slot and he waits.
The machine suddenly sounds:
"You're John Bull from New York, an Accountant, 5.9 feet tall and 90 kilos. You're about to take the 2.30 train to Chicago."
The man blacked out with the machine's ability.
So, he decided to trick the machine.
He wore a fake mustache and putted another dollar inside the slot.
"You're John Bull from New York, an Accountant, 5.9 feet tall and 90 kilos. You're about to take the 2.30 train to Chicago," says the machine.
"But it's impossible!" screamed the man, acquiring a maniac need to trick the machine.
He ran to the toilet and disguised as an Arab.
Then, he did the same routine.
"You're John Bull from New York, an Accountant, 5.9 feet tall and 90 kilos. You're about to take the 2.30 train to Chicago."
Furious then, he disguises as a woman and puts the dollar as usual in the slot.
"You're John Bull, an Accountant, 5.9 feet tall, 90 kilos and with your bullshits you... lost the train!"
😄 😄 😄
A seaman meets a pirate in a bar, and talk turns to their adventures on the sea.
The seaman notes that the pirate has a peg leg, a hook, and an eye patch.
The seaman asks, "So, how did you end up with the peg-leg?"
The pirate replies, "We were in a storm at sea, and I was swept overboard into a school of sharks. Just as my men were pulling me out, a shark bit my leg off."
"Wow!" said the seaman.
"What about your hook?"
"Well," replied the pirate, "we were boarding an enemy ship and were battling the other sailors with swords. One of the enemies cut my hand off."
"Incredible!" remarked the seaman.
"How did you get the eye patch?"
"A seagull dropping fell into my eye," replied the pirate.
"You lost your eye to a seagull dropping?" the sailor asked incredulously.
"Well," said the pirate, "it was my first day with my hook..."
😄 😄 😄
A soldier ran up to a nun.
Out of breath he asked, "Please, may I hide under your skirt. I'll explain later."
The nun agreed.
A moment later two Military Police ran up and asked, "Sister, have you seen a soldier?"
The nun replied, "He went that way."
After the MPs ran off, the soldier crawled out from under her skirt and said, "I can't thank you enough, sister. You see, I don't want to go to Iraq."
The nun said, "I understand completely."
The soldier added, "I hope I'm not rude, but you have a great pair of legs!"
The nun replied, "If you had looked a little higher, you would have seen a great pair of balls... I don't want to go to Iraq either...
😄 😄 😄
A group of country friends from the Wildwood Church wanted to get together on a regular basis, socialize, and play games. The lady of the house was to prepare the meal.
When it came time for Tom and Karen to be the hosts, Karen wanted to outdo all the others. Karen decided to have mushroom-smothered steak. But mushrooms are expensive.
She then told her husband, "No mushrooms. They are too high."
He said, "Why don't you go down in the pasture and pick some of those mushrooms? There are plenty in the creek bed."
She said, "No, some wild mushrooms are poison."
He said, "Well, I see varmints eating them and they're OK."
So Karen decided to give it a try. She picked a bunch, washed, sliced, and diced them for her smothered steak.
Then she went out on the back porch and gave Ol' Spot (the yard dog) a double handful. Ol' Spot ate every bite.
All morning long, Karen watched Ol' Spot and the wild mushrooms didn't seem to affect him, so she decided to use them.
The meal was a great success, and Karen even hired a helper lady from town to help her serve. She had on a white apron and a fancy little cap on her head.
After everyone had finished, they relaxed, socialized, and played 42 and dominoes.
About then, the helper lady from town came in and whispered in Karen's ear.
She said, "Mrs. Grim, Ol' Spot just died."
Karen went into hysterics. After she finally calmed down, she called the doctor and told him what had happened.
The doctor said, "That's bad, but I think we can take care of it. I will call for an ambulance and I will be there as quick as possible. We'll give everyone enemas and we will pump out everyone's stomach. Everything will be fine. Just keep them calm."
Soon they could hear the siren as the ambulance was coming down the road.
The EMTs and the doctor had their suitcases, syringes, and a stomach pump.One by one, they took each person into the bathroom, gave them an enema, and pumped out their stomach.
After the last one was finished, the doctor came out and said, "I think everything will be fine now," and he left.
They were all looking pretty weak sitting around the living room and about this time the helper lady came in and said, "You know, that fellow that ran over Ol'Spot never even stopped."
😄 😄 😄
My grandfather worked in a blacksmith shop when he was a boy, and he used to tell me, when I was a little boy myself, how he had toughened himself up so he could stand the rigors of blacksmithing.
One story was how he had developed his arm and shoulder muscles.
He said he would stand outside behind the house and, with a 5 pound potato sack in each hand, extend his arms straight out to his sides and hold them there as long as he could.
After awhile he tried 10 pound potato sacks, then 50 pound potato sacks and finally he got to where he could lift a 100 pound potato sack in each hand and hold his arms straight out for more than a full minute.
Next, he started putting potatoes in the sacks.
😄 😄 😄
Three women escape from prison — a blonde and two brunettes — and to get away from the cops they hide in an abandoned farm house.
Inside the house there are three sacks that the escapees crawl into when the police search the building.
One of the cops sees the sacks and yells, "There's just three burlap sacks in here!"
To which his partner replies, "Then kick them just to be sure it's not them hiding".
The officer goes and kicks one with a brunette in it and she yells, "MEEEYYOWW!"
The officer says, "Oh, its just a stupid cat in there."
So he kicks the one with the other brunette in it and she yells, "RUUFFF RUFFF!"
The officer says, "Oh, it's just a stupid dog!"
Then he kicks the sack with the blonde in it and she yells, "POTATOES!"
😄 😄 😄
The hurricane came unexpectedly.
The ship went down and was lost.
The man found himself swept up on the shore of an island with no other people, no supplies, nothing to do. Only bananas and coconuts.
So for the next four months he ate bananas, drank coconut juice and longed for his old life.
He fixed his gaze on the sea, hoping to spot a rescue ship.
One day, as he was lying on the beach, he spotted movement out of the corner of his eye.
It was a rowboat, and in it was the most gorgeous woman he had ever seen. She rowed up to him.
In disbelief, he asked her, "Where did you come from? How did you get here?"
"I rowed from the other side of the island," she said. "I landed here when my cruise ship sank."
"Amazing," he said. "I didn't know anyone else survived. How many are there? You were lucky to have a rowboat wash up with you."
"Its only me," she said, "and the rowboat didn't wash up, nothing did."
He was confused, "Then how did you get the rowboat?"
"Oh, simple," replied the woman. "I made the rowboat out of materials that I found on the island.
The oars were whittled from Gum tree branches. I wove the bottom from palm branches and the sides and stern came from a Eucalyptus tree."
"B-B-But that's impossible," stuttered the man. "You had no tools or hardware. How did you manage?"
"Oh, that was no problem," replied the woman. "On the other side of the island there is a very unusual rock formation exposed. I found that if I fired it to a certain temperature in my kiln, it melted into iron. I used that for tools, and used the tools to make the hardware." "But enough of that," she said. "Where do you live?"
Sheepishly, he confessed that he had been sleeping on the beach the whole time.
"Well, let's row over to my place, then." she said.
After a few minutes of rowing she docked the boat at a small wharf.
As the man looked to the shore, he nearly fell out of the boat. Before him was a stone walk leading to an exquisite bungalow painted in blue and white.
While the woman tied up the rowboat with an expertly woven hemp rope, the man could only stare ahead, dumbstruck.
As they walked into the house, she said casually, "It's not much, but I call it home. Sit down, please. Would you like a drink?"
"No, no thank you," he said, still dazed. "I can't take any more coconut juice."
"It's not coconut juice," the woman replied. "I have a still. How about a Pina Colada?"
Trying to hide his amazement, the man accepted, and they sat down on her couch to talk.
After they had exchanged their stories, the woman announced, "I'm going to slip into something comfortable. Would you like to take a shower and shave? There is a razor upstairs in the bathroom."
No longer questioning anything, the man went into the bathroom. There in the cabinet was a razor made from a bone handle. Two shells honed to a hollow ground edge were fastened onto it's end.
"This woman is amazing," he thought. "What next?"
When he returned, she greeted him wearing nothing but vines and smelling faintly of gardenias.
She beckoned for him to sit down next to her.
"Tell me," she began, suggestively, slithering closer to him, "we've been out here for a very long time. You've been lonely. There's something I'm sure you really feel like doing right now, something you've been longing for all these months. You know..." She stared into his eyes.
He couldn't believe what he was hearing.
"You mean..." he replied, "I can check my Facebook from here?!"
😄 😄 😄
At one point during a game, the coach called one of his 7-year-old football players aside and asked, "Do you understand what cooperation is? What a team is?"
The little boy nodded in the affirmative.
"Do you understand that what matters is whether we win or lose together as a team?"
The little boy nodded yes.
"So," the coach continued, "I'm sure you know, when a foul is called, you shouldn't argue, curse, or attack the referee. Do you understand all that?"
Again the little boy nodded.
He continued, "And when I take you out of the game so another boy gets a chance to play, it's not good sportsmanship to call your coach "a worthless idiot" is it?" Again the little boy nodded.
"Good," said the coach. "Now go over there and explain all that to your parents."
😄 😄 😄
A young boy had just gotten his driving permit.
He asked his father, who was a minister, if they could discuss his use of the car.
His father said to him, "I'll make a deal with you. You bring your grades up, study your Bible a little, and get your hair cut, then we will talk about it."
A month later the boy came back and again asked his father if they could discuss his use of the car.
His father said, "Son, I'm real proud of you. You have brought your grades up, you've studied your Bible diligently, but you didn't get hair cut!"
The young man waited a moment and replied, "You know Dad, I've been thinking about that. You know Samson had long hair, Moses had long hair, Noah had long hair, and even Jesus had long hair."
His father replied, "Yes son, and they walked everywhere they went!"
😄 😄 😄
A company, feeling it was time for a shakeup, hired a new CEO. The new boss was determined to rid the company of all slackers.
On a tour of the facilities, the CEO noticed a guy leaning against a wall and idly picking his teeth. The room was full of workers and he wanted to let them know that he meant business.
He asked the guy, "How much money do you make a week?"
A little surprised, the young man looked at him and said, "I make a little over $400 dollars a week, why?"
The CEO said, "Wait right here."
He walked back to his office, came back in two minutes, and handed the guy $1,600 in cash and said, "Here's four weeks' pay. Now GET OUT and don't come back."
Feeling pretty good about himself the CEO looked around the room and asked, "Does anyone want to tell me what that goof-ball did here?"
From across the room a voice said, "Sure, he was the Pizza delivery guy from Domino's and was just waiting to collect the money."
😄 😄 😄
A brunette, a redhead, and a blonde worked as office assistants for Mrs. Jessell.
They realized that Mrs. Jessell was leaving work early every day, so one day they decided that when she left early, they'd sneak out a few minutes later.
Minutes after Mrs. Jessell left, they all did the same.
The brunette took a nap.
The redhead got ready for a date.
The blonde went over to her boyfriends house. When she walked in, she saw Mrs. Jessell and her boyfriend smooching on the couch. She backed out the door without them noticing her, feeling very shaky.
The next afternoon, after Mrs. Jessell left work early, the brunette and redhead said they were going to go home as well. But the still shaky blond decided to stay behind.
"Why?" they asked her.
"Because," she replied, "yesterday I almost got caught!"
😄 😄 😄
Brunette Mary and blonde Liz were talking in the office one day.
Mary: "Wow, that is some cold you have, Liz."
Liz: "Tell me about it. I just cannot get rid of it."
Mary: "Try some Cold-Doc 3. I have a bottle in my desk. Just take 3 tablespoons before you go to bed and you'll be fine. Here ya go."
Liz: "Thanks, I'll give it a try."
Next Day Liz was standing by her desk jumping up and down, waving her arms in the air and kicking her legs out.
Mary: "Liz, It is nice to see you are feeling better. Is that a new dance?"
Liz: "Oh No, I still don't feel that great. I took the medicine you gave me and just realized it said to shake well before using."
😄 😄 😄
A woman walks into the Social Worker's office, trailed by 15 kids.
"WOW!" the social worker exclaims, "Are they ALL yours?"
"Yeah, they're all mine," the flustered mother sighs, having heard that question a thousand times before.
She says, "Sit down Terry." All the children rush to find seats.
"Well," says the social worker, "then you must be here to sign up. I'll need all your children's names."
"This one's my oldest – he is Terry."
"OK, and who's next?"
"Well, this one he is Terry, also."
The social worker raises an eyebrow, but continues. One by one, through the oldest four, all boys, all named Terry.
Then she is introduced to the eldest girl, named Terri.
"All right," says the caseworker, "I'm seeing a pattern here. Are they ALL named Terri?"
Their Mother replied, "Well, yes, it makes it easier. When it is time to get them out of bed and ready for school, I yell "Terry!", an' when it's time for dinner, I just yell "Terry!", an' they all come a runnin.
An' if I need to stop the kid who's running into the street, I just yell Terry and all of them stop. It's the smartest idea I ever had, naming' them all Terry."
The social worker thinks this over for a bit, then wrinkles her forehead and says tentatively, "But what if you just want ONE kid to come, and not the whole bunch?"
"I call them by their surnames."
😄 😄 😄
One hot summer afternoon a police officer pulls into a yard.
The police officer then gets out of the car, and asks an old gentleman, "Who owns the property?"
The old man tells the officer that he does, and asks what he can do for him.
The officer, "I'm here to inspect your property for illegally grown drugs."
The old gentleman says, "Well, you go right ahead, but whatever you do, don't go into that field over yonder," pointing out a fenced parcel of land.
The officer, "Mister, I'm a law enforcement officer authorized by the federal government of our nation."
Reaching into his pocket, he removes his badge and shoves it right in the old boy's face, "You see my badge, buddy? This badge means that I'm allowed to go wherever I wish, anytime I wish. Do you understand me? No questions asked."
The old gentleman nodded his head yes politely, softly apologized, and went about his chores.
A short time later, the old gentleman heard someone screaming in absolute terror, coming from where he'd told the officer not to go.
He looked over at the pasture and saw the officer running for his life, chased by a very angry bull.
With every step the bull was gaining ground on the officer, and it appeared likely that the policeman would be gored by the bull's horns before he could reach safety.
Realizing the horrible danger that the policeman was in, the old gentleman ran to the field's fence as fast as he could, determined to do whatever he could to help.
Reaching the edge of the pasture, the old gentleman quickly climbed to the top of the fence, waving his arms frantically and screamed at the very top of his voice, "Your badge, officer, show him your BADGE!"
😄 😄 😄
A young accountant spends a week at his new office with the retiring accountant he is replacing.
Each and every morning as the more experienced accountant begins the day, he opens his desk drawer, takes out a worn envelope, removes a yellowing sheet of paper, reads it, nods his head, looks around the room with renewed vigor, returns the envelope to the drawer, and then begins his day's work.
After he retires, the new accountant can hardly wait to read for himself the message contained in the envelope in the drawer, particularly since he feels so inadequate in replacing the far wiser and more highly esteemed accountant.
Surely, he thinks to himself, it must contain the great secret to his success, a wondrous treasure of inspiration and motivation.
His fingers tremble anxiously as he removes the mysterious envelope from the drawer and reads the following message:
"Debits in the column toward the file cabinet.
Credits in the column toward the window."
😄 😄 😄
A Doctor was chatting at a party with a Chartered Accountant.
He asked, "How do I manage this delicate issue when people even at a party like this ask me about their joint pains and heartburn and gas trouble. Just because I am a doctor. Not fair!"
The CA friend replied coolly, "Just tell them the right things politely, but send them a bill from your clinic the next morning. Only once. Word will soon get around and it will stop immediately."
"Wow! Thanks for the tip," said the doctor.
Next morning the doctor got a bill from his CA friend: "Consulting charges for Business Development".
😄 😄 😄
On the first night of their honeymoon, the husband isn't sure how to tell his bride about his stinky feet and smelly socks, while the wife is wondering how to break the news to him about her awful breath, which so far, she's been able to cover up. After some soul-searching, the husband gathers his nerve and says, "I have a confession."
She draws closer, peers into his eyes, and says, "Darling, so do I."
Recoiling, he says, "Don't tell me—you've eaten my socks."
😄 😄 😄
A married couple is celebrating their 50th wedding anniversary.
They celebrate it in the same hotel as where they spent their honeymoon 50 years ago.
The next morning at breakfast the man says to his wife, "Isn't it unbelievable that we have been together for 50 years?"
The wife replies saying, "Yes it is, we are even sitting at the same table as we did 50 years ago, only back then we were sitting here naked," with a naughty voice.
Both don't doubt for a moment an they take off their clothes. They sit back down on the table giggling.
The wife says, "You know honey, even my nipples are just as hot as 50 years ago."
"No wonder," the man replies, "one of them is hanging in your tea and the other one in your soup!"
😄 😄 😄
A woman is approaching a very small Bistro.
She calls the barkeeper and when he is standing in front of her she asks him in a very seductive way to come nearer.
Then she bends over the desk and starts to caress his beard.
"Are you the boss of this Bistro?" she asks and touches tenderly his cheek.
"Ehhh. No. Not at all!" the barkeeper replies.
"Would you please call him here?" the lady asks and gently touches his hair.
"Oh, I'm very sorry, but no. Impossible!" the barkeeper sighs who has fun with this situation.
"Would you then please do me a great favour?" the lady asks and follows gently the line of his lips.
"Of course. What ever you wish!" the barkeeper moans.
"I want to leave a message for the boss," she says and let first one, then two fingers slip into his mouth which he gently sucks on.
"What message?" the barkeeper asks with the two fingers in his mouth.
"Please tell him that there is no paper, nor soap, nor towel on the lady's toilet."
😄 😄 😄
Two men went bear hunting.
While one stayed in the cabin, the other went out looking for a bear.
He soon found a huge bear, shot at it but only wounded it.
The enraged bear charged toward him, he dropped his rifle and started running for the cabin as fast as he could.
He ran pretty fast but the bear was just a little faster and gained on him with every step.
Just as he reached the open cabin door, he tripped and fell flat.
Too close behind to stop, the bear tripped over him and went rolling into the cabin.
The man jumped up, closed the cabin door and yelled to his friend inside, "You skin this one while I go and get another one!"
😄 😄 😄
A newcomer observes the inmates telling political jokes.
All the jokes are by now so deeply familiar that they simply refer to them by number.
"Forty three," says one. General hilarity.
"Two hundred and three", says a second. Appreciative chuckles.
"Three hundred and twenty nine," says a third.
The newcomer decides to try his hand.
"Ninety-one", he ventures. Total silence.
He tries again, "Three hundred and one." Not a titter.
"Forty two." A deadly hush.
Puzzled, he asks his neighbor what he did wrong.
"Nothing," he says. "It's just the way you tell them."
😄 😄 😄
A blonde buys two horses and she can't tell them apart.
So she asks the farmer next door what to do. He says to cut one of their tails off.
So she does. But then the other horse's tail gets caught in a bush and rips off.
So she can't tell them apart again.
She asks the farmer for advice a second time. He tells her to cut one of the horses ears.
So she does. But then the other horse gets its ear ripped in a barbed wire fence. She is still confused.
She asks the farmer what to do. He tells her to measure them.
She comes back and says, "The white horse is 2 inches taller than the black horse!"
😄 😄 😄
Reaching the end of a job interview, the Human Resources Officer asks a young engineer fresh out of the Massachusetts Institute of Technology, "And what starting salary are you looking for?"
The engineer replies, "In the region of $125,000 a year, depending on the benefits package."
The interviewer inquires, "Well, what would you say to a package of five weeks vacation, 14 paid holidays, full medical and dental, company matching retirement fund to 50% of salary, and a company car leased every two years, say, a red Corvette?"
The engineer sits up straight and says, "Wow! Are you kidding?"
The interviewer replies, "Yeah, but you started it."
😄 😄 😄
Two factory workers are talking.
The woman says, "I can make the boss give me the day off."
The man replies, "And how would you do that?"
The woman says, "Just wait and see."
She then hangs upside down from the ceiling.
The boss comes in and says, "What are you doing?"
The woman replies, "I'm a light bulb."
The boss then says, "You've been working so much that you've gone crazy. I think you need to take the day off."
The man starts to follow her and the boss says, "Where are you going?"
The man says, "I'm going home, too. I can't work in the dark."
😄 😄 😄
A local priest and a pastor were fishing on the side of the road.
They thoughtfully made a sign saying "The End is Near! Turn yourself around now before it's too late!" and showed it to each passing car.
One driver who drove by didn't appreciate the sign and shouted at them, "Leave us alone, you religious nuts!"
All of a sudden they heard a big splash, looked at each other, and the priest said to the pastor, "You think maybe we should have just said "Bridge Out instead?"
😄 😄 😄
A blonde wanted to go ice fishing, so after getting all of the right tools, she headed toward the nearest frozen lake.
After getting comfy on her stool she started to cut a circular hole in the ice.
Then from the heavens a voice boomed, "THERE ARE NO FISH UNDER THE ICE!"
Startled, the blonde moved further down the ice, poured a thermos of hot chocolate and started to cut yet another hole in the ice.
The voice boomed, "THERE ARE NO FISH UNDER THE ICE!"
This time quite scared, the blonde moved to the far end of the ice.
Then she started another hole and once again the voice said, "THERE ARE NO FISH UNDER THE ICE!"
The very scared blonde raised her head and said, "Is that you, Lord?"
The voice answered, "NO, IT IS THE MANAGER OF THE ICE RINK!"
😄 😄 😄
An old cowboy walks into a barbershop for a shave and a haircut.
He tells the barber he can't get all his whiskers off because his cheeks are wrinkled from age.
The barber gets a little wooden ball from a cup on the shelf and tells the old cowboy to put it inside his cheek to spread out the skin.
When he's finished, the old cowboy tells the barber that was the cleanest shave he'd had in years, but he wanted to know what would have happened if he had accidentally swallowed that little ball. The barber replied, "Just bring it back in a couple of days like everyone else does."
😄 😄 😄
A balding man was getting a haircut.
The man's barber said, "Do you know what they say if you're bald in the front?"
Man: "No."
Barber: "They say you're a thinker."
Man: "Oh?!"
Barber: "Do you know what they say if you're bald in the back?"
Man: "No."
Barber: "They say you're a lover."
The man perked up.
Man: "What do they say if you're bald in the front and the back?"
Barber: "That you only think you're a lover."
😄 😄 😄
Patty was quietly minding her own business, eating her soup alone in her booth at a local eatery, when a voice startled her from behind.
It was the guy in the booth behind her.
"Not so loud!" he said.
"What?" she questioned, as she took another spoonful of soup.
"I said not so loud!" was his muffled reply.
Embarrassed at being told she was slurping her soup, she pushed away her bowl and started her grilled cheese sandwich.
"How was your day?" questioned the man from behind once again.
"Pretty good," responded Patty, confused that this stranger would care.
"Did you pass the exam?" came the next question from behind.
"I don't know, I didn't get my grade yet," replied a thoroughly bewildered Patty.
"I'll have to call you back when I'm out of here", came the voice from behind once again, "some nut job is answering every question I ask you!"
😄 😄 😄
Roland, an Englishman went to Spain on a fishing trip.
While there, Roland hired a Spanish guide to help him find the best fishing spots. Since Roland was learning Spanish, he asked the guide to speak to him in Spanish and to correct any mistakes of usage.
Together they were hiking on a mountain trail when a very large, purple and blue fly crossed their path.
The Englishmen pointed at the insect with his fishing rod, and announced, "Mira el mosca."
The guide, sensing a teaching opportunity to teach Roland, replied, "No, senor, "la mosca", es feminina."
Roland looked at him in amazement, then back at the fly, and then said, "Good heavens... you must have incredibly good eyesight."
😄 😄 😄
Jesus made his usual rounds in heaven when he noticed a wizened, white-haired old man sitting in a corner looking very disconsolate.
The next week he was disturbed to come across him again, looking equally miserable, and a week later he stopped to talk to him.
"See here, old fellow," said Jesus kindly, "this is heaven. The sun is shining, you've got all you could want to eat, all the instruments you might want to play — you're supposed to be blissfully happy! What's wrong?"
"Well," said the old man, "you see, I was a carpenter on earth, and lost my only, dearly beloved son at an early age. And here in heaven I was hoping more than anything to find him."
Tears sprang from Jesus' eyes.
"FATHER!" he cried.
The old man jumped to his feet, bursting into tears, and sobbed, "PINOCCHIO!"
😄 😄 😄
An elderly man in Phoenix calls his son in New York and says, "I hate to ruin your day, but I have to tell you that your mother and I are divorcing; forty-five years of misery is enough."
"Pop, what are you talking about?!" the son screams.
"We can't stand the sight of each other any longer," the old man says.
"We're sick and tired of each other, and I'm sick of talking about this, so you call your sister in Chicago and tell her." And he hangs up.
Frantic, the son calls his sister, who explodes on the phone.
"Like Heck they're getting a divorce," she shouts. "I'll take care of this."
She calls Phoenix immediately, and screams at the old man, "You are NOT getting divorced! Don't do a single thing until I get there. I'm calling my brother back and we'll both be there tomorrow. Until then don't do a thing, DO YOU HEAR ME?!" And she hangs up.
The old man hangs up his phone, smiles and turns to his wife.
"They're coming for Easter and paying their own way."
😄 😄 😄
Every Friday a guy would walk into a bar and order 3 beers.
Then he'd sit at a table, drinks each one by himself and leaves.
He does this every Friday for a few weeks, until the bartender becomes so curious he has to ask the guy about this routine.
"Well, you see I have two buddies and we always would have a beer with each other when we were together. But now they've both moved to different parts of the country.
We still keep up the tradition, where we're at, and have just one beer for each of us on Friday nights."
His curiosity satisfied the bartender goes back to serving his other customers.
This goes on for several months until one day the guy comes in and orders only 2 beers.
Seeing how sad the fellow is the bartender brings him his 2 beers and offer condolences for his loss.
Confused the guy asks why the bartender was offering condolences?
"It's just that since you normally order 3 beers, but tonight you only ordered 2, I just figured something must have happened to one of your buddies."
"Oh no, we're all just fine. It's just that it's Lent and I gave up drinking till Easter."
😄 😄 😄
Stephen Sondheim, John Madden, and Betty White walk up to the Pearly Gates and St. Peter says, "We're pretty full, so we're making people pass additional tests.
I know this is going to sound weird, but God has been hanging out with Chuck Yeager this week, and he's only letting in people who have a connection to Jets."
All three sets of eyes light up.
Sondheim steps up and says, "I wrote the definitive American musical, and it was all about a gang called the Jets."
St. Peter waves him through.
John Madden says, "I coached in a classic NFL game, where my Raiders beat the Jets on a last second touchdown."
Also gets waived through.
St. Peter says, "OK, Betty, what about you?"
She smiles and says, "If he's really omniscient, he knows what I do in hot tubs..."
😄 😄 😄
A man asked his wife, "What would you most like for your birthday?"
She said, "I'd love to be ten again."
On the morning of her birthday, he got her up bright and early and they went to a theme park.
He put her on every ride in the par: the Death Slide, The Screaming Loop, the Wall of Fear. She had a go on every ride there was.
She staggered out of the theme park five hours later, her head reeling and her stomach turning.
Then they were off to a movie theater where they ate popcorn and sweets and drank Cola.
At last she staggered home with her husband and collapsed into bed.
Her husband leaned over and asked, "Well, dear, what was it like being ten again?" One eye opened and she groaned, "Actually, honey, I meant dress size!"
😄 😄 😄
An old lady walked into a pet store, found a parrot, and asked the owner if she could buy it.
The owner said, "Heck no! That parrot has a bad mouth! Trust me, you do not want that parrot!"
She said, "I can teach it good manners."
But, when she got home the parrot said a bad word, so she put it in the freezer for 10 seconds.
She took it out and said, "Did you learn your lesson?"
It said another bad word so she put it back in for 30 seconds.
She took it out and asked if it learned its lesson yet.
The parrot said "Brr... Yes, I learned my lesson, but what did the chicken do?"
😄 😄 😄
Three guy are in the woods: a really smart guy, an average and a really dumb guy.
They are bored so the smart guy decides to go hunting.
A little while later he comes back with a deer.
The average guy asks, "How did you do that?"
The really smart guy says, "I see deer tracks, I follow deer tracks, I see deer and I shoot deer."
The average guy says, "I think I understand," and leaves.
A little bit later he comes back with a raccoon.
He really dumb goes gasp, "How did you do that!?"
And the average looks at him funny and says, "Well I see raccoon tracks, I follow raccoon tracks, I see raccoon and I shoot raccoon.
The super dumb guy thinks for a second and says, "Oooohh ok, I think I can do that…," and leaves.
Hours pass and the guy finally returns hurt, bloody and horribly mingled. They run to help him.
Finally one of the guys asked him what happened.
This is what he said, "I see train tracks, I follow train tracks, I see train and I shoot train, but train keep coming.
😄 😄 😄
The Pope goes to New York, and gets picked up at the airport by a limousine.
He looks at the beautiful car and says to the driver, "You know, I hardly ever get to drive. Would you please let me?"
The driver is understandably hesitant and says, "I'm sorry, but I don't think I'm supposed to do that."
But the Pope persists, "Please?"
The driver finally lets up, "Oh, alright, I can't really say no to the Pope."
So the Pope takes the wheel, and boy, is he a speed demon! He hits the gas and goes around 100 mph in a 45 zone.
A policeman notices and pulls him over. The cop walks up and asks the Pope to wind the window down.
Startled and surprised, the young officer asks the Pope to wait a minute. He goes back to his patrol car and radios the chief.
Cop: "Chief, I have a problem."
Chief: "What sort of problem?"
Cop: "Well, you see, I pulled over this guy for driving way over the speed limit, but it's someone really important."
Chief: "Important like the mayor?"
Cop: "No, no, much more important than that."
Chief: "Important like the governor?"
Cop: "Way more important than that."
Chief: "Like the president?"
Cop: "Much more important."
Chief: "Who's more important than the president?"
Cop: "I don't know but he has the Pope DRIVING for him!"
😄 😄 😄
Two Jewish guys are walking when one notices a sign on a Catholic church that says "Convert to Christianity and we'll give you $100."
The one says to the other, "Should we do it?"
The other says "No! Are you crazy?"
The first guy replies "Hey, a hundred dollars is a hundred dollars... I'm gonna do it."
So he walks into the church, and little while later, he walks back out.
The friend says "Well, did you get the money?"
He replies "Oh that's all you people think about, isn't it?"
😄 😄 😄
A recently ordained priest, Father Henry, was to hold his first ever graveside burial service at a pauper's cemetery for a destitute man with no family or friends.
Father Henry, not knowing where the cemetery was, made several wrong turns and got lost.
He eventually arrived an hour late, the hearse was nowhere in sight, the spade was next to the open hole, and the workmen were sitting under a tree eating lunch.
Father Henry, being a reliable young priest went to the open grave and found the vault lid already in place.
Feeling guilty because of his lateness, he preached an impassioned and lengthy service, sending the deceased to the great beyond in considerable style.
As the good Father returned to his car, he overheard one of the workmen say to the other, "Do you know, fancy that, I've been putting in septic tanks for twenty five years and I ain't never seen anything like that."
😄 😄 😄
Reverend Clive Morgan was completing his homily in St John's Church about the dangers of alcohol and the need for moderation and temperance.
He announced at the end of the sermon in a loud, clear voice, "If I had all the beer in the world, I'd take it and throw it into the river."  
With even greater emphasis he added, "And if I had all the wine in the world, I'd take it and throw it into the river."
Finally, he intoned in an extremely serious manner, "And if I had all the whiskey in the world, I'd take it and throw it into the river."
The Reverend Morgan then sat down.
Jerry, St John's leading chorister stood up and announced with a smile, "For our closing hymn this Sunday, let us sing together hymn number 109: Shall We Gather at the River."
😄 😄 😄
A mom visits her son for dinner who lives with a girl as a roommate.
During his meal, his mother couldn't help but notice how pretty his roommate was. She had long been suspicious of a relationship between the two and this had only made her more curious.
Over the course of the evening while watching the two interact, she started to wonder if there's more between him and his roommate.
Reading his mom's thought, his son volunteered, "I know what you must be thinking, but I assure you, we are just roommates."
About a week later, his roommate came to him saying, "Ever since your mother came to dinner, I've been unable to find the silver plate. You don't suppose your mother took it, do you?"
He said, "Well I doubt it, but l'll email her just to be sure!"
He sat down and wrote:
Dear mom,
After you visited me, the silver plate has been missing. I'm not saying that you did take the silver plate from my house, and I'm not saying that you don't take it, but the fact remains that it has been missing ever since you were here for dinner.
Love
Your son
Several days later, he received an email from his mother which read:
Dear Son,
I'm not saying that you do sleep with your roommate, and I'm not saying that you don't sleep with her, but the fact remains that if she was sleeping in her OWN bed, she would have found the silver plate by now, under her pillow.
Love
Mom
😄 😄 😄
A young boy enters a barber shop and the barber whispers to his customer, "This is the dumbest kid in the world. Watch while I prove it to you."
The barber puts a dollar bill in one hand and two quarters in the other, then calls the boy over and asks, "Which do you want, son?"
The boy takes the quarters and leaves.
"What did I tell you?", said the barber. "That kid never learns!"
Later, when the customer leaves, he sees the same young boy coming out of the ice cream store.
"Hey, son! May I ask you a question? Why did you take the quarters instead of the dollar bill?"
The boy licked his cone and replied, "Because the day I take the dollar, the game is over!"
😄 😄 😄
A guy asks a girl to go to a dance. She agrees, and he decides to rent a suit.
The rental has a long line, so he waits and waits, and finally he gets his suit.
He decides to buy flowers, so he goes to the flower shop.
The flower shop has a long line, so he waits and waits, until he finally buys flowers.
He picks up the girl and they go to the dance.
There is a long line into the dance, so they wait and wait.
Finally, they get into the dance, and the guy offers to get the girl a drink.
She asks for punch, so he goes to the drink table, and there is no punch line.
😄 😄 😄
An engineer who was unemployed for a long time decided to open a medical clinic.
He puts a sign outside the clinic "A cure for your ailment guaranteed at $500, we'll pay you $1,000 if we fail".
A Doctor thinks this is a good opportunity to earn $1,000 and goes to his clinic.
Doctor: "I have lost my sense of taste."
Engineer: "Nurse, please bring the medicine from box 22 and put 3 drops in the patient's mouth."
Doctor: "This is Gasoline!"
Engineer: "Congratulations! You've got your taste back. That will be $500."
The Doctor gets annoyed and goes back after a couple of days later to recover his money.
Doctor: "I have lost my memory, I cannot remember anything."
Engineer: "Nurse, please bring the medicine from box 22 and put 3 drops in the patient's mouth."
Doctor: "But that is Gasoline!"
Engineer: "Congratulations! You've got your memory back. That will be $500."
The Doctor leaves angrily and comes back after several days, more determined than ever to make his money back.
Doctor: "My eyesight has become weak."
Engineer: "Nurse, please bring the medicine from box 11 and put 3 drops in the patient's eyes."
The nurse walks in carrying box 22.
Doctor: "Wait, that's the box with the gasoline in it!"
Engineer: "Congratulations! You've got your vision back! That will be $500."
😄 😄 😄
A priest had 3 people at confession.
He went to Guy 1 and asked, "What sin did you commit?"
Guy 1 responded, "I murdered someone."
The priest responded, "Drink this holy water and your sin is forgiven."
He did so and stood back.
The priest asked Guy 2 and asked, "What sin did you commit?"
Guy 2 responded, "I cheated on my wife."
The priest responded, "Drink this holy water and your sin is forgiven."
He did so and stood back as well.
Then it was the 3rd person's turn.
The priest asked him, "So, what sin did you commit?"
Nervously, Guy 3 responded, "Um…well, you see, Father…I peed in the holy water."
😄 😄 😄
A broke guy walks past a pub. He looks at the door longingly, but since he has no money, he walks on.
Just then, he spots a lamp lying in the gutter. He picks it up and rubs it, and a genie emerges.
"I will grant you three wishes," intones the genie.
"Give me a bottomless mug of beer," the guy says.
A mug of beer appears in his hand. He takes a sip, then another. With each chug, the mug magically refills.
"And for your other two wishes?"
Between swallows, the lucky guy shouts, "Give me two more just like this one!"
😄 😄 😄
It's game 7 of the NBA finals and a man makes his way to his seat at center court.
He sits down and notices that the seat next to him is empty.
He leans over and asks his neighbor if someone is sitting there.
He responds, "No, the seat's empty."
The first man exclaims, "What?! Who in their right mind would have a seat like this for the NBA finals and not use it?"
The neighbor responds, "Well the seat is mine, but my wife passed away and this is the first NBA finals we haven't been together."
The first man responds," I'm sorry to hear that. Wasn't there anyone else, a friend or relative, that could've taken that seat?"
The neighbor responds, "No, they're all at the funeral."
😄 😄 😄
At school, Little Johnny's classmate tells him that most adults are hiding at least one dark secret, so it's very easy to blackmail them by saying "I know the whole truth".
Little Johnny decides to go home and try it out.
Johnny's mother greets him at home, and he tells her, "I know the whole truth."
His mother quickly hands him $20 and says, "Just don't tell your father."
Quite pleased, the boy waits for his father to get home from work, and greets him with, "I know the whole truth."
The father promptly hands him $40 and says, "Please don't say a word to your mother."
Very pleased, the boy is on his way to school the next day when he sees the mailman at his front door.
The boy greets him by saying, "I know the whole truth."
The mailman immediately drops the mail, opens his arms, and says, "Then come give your Daddy a great big hug!"
😄 😄 😄
Sherlock Holmes and Dr. Watson decide to go on a camping trip.
After dinner and a bottle of wine, they lay down for the night, and go to sleep.
Some hours later, Holmes awoke and nudged his faithful friend.
"Watson, look up at the sky and tell me what you see."
Watson replied, "I see millions of stars."
"What does that tell you?"
Watson pondered for a minute.
"Astronomically, it tells me that there are millions of galaxies and potentially billions of planets.
Astrologically, I observe that Saturn is in Leo.
Horologically, I deduce that the time is approximately a quarter past three.
Theologically, I can see that God is all powerful and that we are small and insignificant.
Meteorologically, I suspect that we will have a beautiful day tomorrow.
What does it tell you, Holmes?"
Holmes was silent for a minute, then spoke:
"Watson, you idiot! Someone has stolen our tent!"
😄 😄 😄
A proctologist had been in practice for 20 years and had settled into a very comfortable life with his future very secure. So he decided to fulfill his REAL dream and become an auto mechanic.
Having entered mechanic school, the former physician received the results of his first test back with a score of 200%.
Confused, he asked the teacher why his score was so high.
"Well", said the teacher, "the first part was taking the engine apart and you did that perfectly, so you got 50%. The second was to put it back together again and you did it perfectly and got another 50%. The other 100% was for doing it through the tailpipe."
😄 😄 😄
One Sunny afternoon, two blondes walk down the street.
One of them suddenly points at the sun and says: "Look! That's the moon over there!"
The other one says: "No, that's the sun!"
The first one: "No, it's the moon!"
The other one, again: "No, it's the sun!"
After arguing for a while, the "smart" one says: "Let's go to that house over there and ask, what's right!"
They go to the house and ring the doorbell. Another blonde opens the door.
The "smart" one asks: "Excuse us, can you tell us, whether it's the sun or the moon in the sky?"
The blonde looks and says: "I wouldn't know! I've only been living here for two weeks!"
😄 😄 😄
A bus full of ugly people had a head on collision with a truck.
When they died, God granted all of them one wish.
The first person said, "I want to be gorgeous."
God snapped his fingers and it happened.
The second person said the same thing and God did the same thing. This want on and on throughout the group.
God noticed the last man in line was laughing hysterically.
By the time God got to the last ten people, the last man was laughing and rolling on the ground.
When the man's turn came, he laughed and said, "I wish they were all ugly again."
😄 😄 😄
Bula decides it's time to become a businessman, so after reading many chicken jokes, it seems like a chicken farm would be the best idea.
Said and done. First, buy 100 chickens, after the second month another 100, and keep it for a whole year.
After a year, at the New Year's Eve party, he meets Johnny, who used to say the best chicken jokes before.
Johnny: "Well, how's the business going?"
Bula: "Bad brother, sorry about everything!"
Johnny: "Why?"
Bula: "I don't have any chickens anymore!"
Johnny: "Good god, why?"
Bula: "If I know, I think I'm doing something wrong. Either I plant them too deeply or don't water them enough, but one doesn't raise the hen."
😄 😄 😄
A blonde and a redhead have a ranch. They have just lost their bull.
The women need to buy another, but only have $500.
The redhead tells the blonde, "I will go to the market and see if I can find one for under that amount. If I can, I will send you a telegram."
She goes to the market and finds one for $499.
Having only one dollar left, she goes to the telegraph office and finds out that it costs one dollar per word. She is stumped on how to tell the blonde to bring the truck and trailer.
Finally, she tells the telegraph operator to send the word "comfortable".
Skeptical, the operator asks, "How will she know to come with the trailer from just that word?"
The redhead replies, "She's a blonde so she reads slow: 'Come for ta bull'."
😄 😄 😄
Student: "503 bricks are on a plane. 1 falls off. How many are left?"
Teacher: "502."
Student: "How do you put an elephant in a fridge?"
Teacher: "No you can't fit an elephant in a fridge!"
Student: "Just open the door, put the elephant in, close the door."
Student: "How do you put a giraffe in the fridge?"
Teacher: "Open the door, put the giraffe in, close the door."
Student: "No! Open the door, take the elephant out, put the giraffe in, close the door."
Student: "The Lion King is having a B-day party. All the animals are there, except one. Which one?"
Teacher: "The lion?"
Student: "No! The giraffe because he's in a fridge."
Student: "Sally has to get across a large river home to many alligators. They are very dangerous, but Sally swims across safely. How?"
Teacher: "Sally stepped on the alligator's mouth?"
Student: "The gators are at the party."
Student: "But Sally dies anyway. Why?"
Teacher: "She drowned?!"
Student: "No! She got hit in the head by a flying brick."
😄 😄 😄
---