Jokes About Holidays
Enjoy our team's carefully selected Holiday Jokes. Laugh yourself and share the funniest jokes with your friends!
---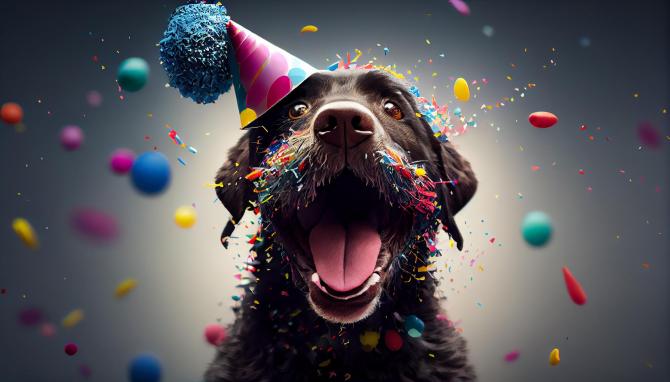 Two men were walking home after a Halloween party and decided to take a shortcut through the cemetery just for laughs.
Right in the middle of the cemetery they were startled by a tap-tap-tapping noise coming from the misty shadows.
Trembling with fear, they found an old man with a hammer and chisel, chipping away at one of the headstones.
"Holy cow, Mister," one of them said after catching his breath, "You scared us half to death — we thought you were a ghost! What are you doing working here so late at night?"
"Those fools!" the old man grumbled. "They misspelled my name!"
😄 😄 😄
I got so sick of trick-or-treaters on Halloween night that I finally turned off all the lights and pretended I wasn't home.
Forget the ships! My lighthouse, my rules!
😄 😄 😄
Why don't mummies ever take a summer vacation?
They're afraid to unwind.
😄 😄 😄
Why did the robot go on vacation?
He needed to recharge his batteries.
😄 😄 😄
Why are mountains the funniest places to go for summer vacation?
Because they are hill-arious!
😄 😄 😄
A man was getting a haircut before a trip to Rome.
He mentioned the trip to his barber who responded, "Rome? Why would anyone want to go there? It's crowded and dirty and full of tourists. You're crazy to go to Rome. So, how are you getting there?"
"We're taking American Airlines," was the reply. "We got a great rate!"
"American Airlines?" exclaimed the barber. "That's a terrible airline. Their planes are old, their flight attendants are ugly and they're always late. So where are you staying in Rome?"
"We'll be at the downtown International Marriott."
"That dump? That's the worst hotel in the city. The rooms are small, the service is surly and they're overpriced.
So whatcha' doing when you get there?"
"We're going to go see the Vatican and we hope to see the Pope."
"That's rich," laughed the barber. "You and a million other people trying to see him. He'll look the size of an ant. Boy, good luck on this lousy trip of yours.
You're going to need it."
A month later, the man again came in for his regular haircut.
The barber asked him about his trip to Rome.
"It was wonderful!" explained the man, "Not only were we on time in one of American Airlines brand new planes, but it was overbooked and they bumped us up to first class. The food and wine were wonderful, and I had a beautiful 28-year-old stewardess who waited on me hand and foot.
And the hotel—it was great! They'd just finished a $25 million remodeling job, and now it's the finest hotel in the city. They, too, were overbooked, so they apologized and gave us the presidential suite at no extra charge!"
"Well," muttered the barber, "I know you didn't get to see the Pope."
"Actually, we were quite lucky, for as we toured the Vatican, a Swiss Guard tapped me on the shoulder and explained that the Pope likes to personally meet some of the visitors, and if I'd be so kind as to step into his private room and wait, the Pope would personally greet me.
Sure enough, five minutes later the Pope walked through the door and shook my hand! I knelt down as he spoke a few words to me."
"Really?" asked the barber. "What'd he say?"
"He said 'Where'd you get the crappy haircut?'"
😄 😄 😄
Where does a beard styling enthusiast go for vacations?
Shave-illa.
😄 😄 😄
Vacationers spend too much time and money at donut shops.
They're torus traps.
😄 😄 😄
Where's a donut's favorite vacation spot?
The Sahara dessert.
😄 😄 😄
Yo mama so old, her first cruise was on Noah's Ark.
😄 😄 😄
My wife and I are going to be Carl and Ellie from Disney's Up for Halloween.
I'll dress up as an old guy and she'll dress up as a tombstone.
😄 😄 😄
One Christmas Eve, many decades ago, Santa Claus announced to his elves, "I'm supposed to begin my annual flight in one hour. But there are still some toys that need to be made and put into my sack. I need all seven of my elite toymakers to finish the toys on time."
"I'm so sorry, Mr. Kringle," said the elf in charge of the workshop. "One of the elite toymakers is on vacation, and two are sick. I'm afraid we only have four elites tonight."
"So be it," said Santa.
It took two hours for the elves to finish making the toys. By the time they were done, Santa was one hour overdue.
Finally, the sack was full. Santa dragged the heavy sack out of the workshop and to his sleigh. But the sleigh, of course, was very old, and some of the wood was rotting. So when Santa put the sack into the sleigh, it went right through the wood.
He hoisted the sack out of the hole, rushed to the barn, and came back with a hammer, nails, a ruler, a saw, and several planks of fresh wood.
It took two hours for Santa to fix the sleigh. By the time he was done, he was three hours overdue.
Finally, the hole in the sleigh had been patched. Santa went back to the barn to put away the hammer, the ruler, and the saw, and also to fetch his eight tiny reindeer. But when he got there, he found that he had left the door open.
"Oh no!" he said. "Some of the reindeer may have escaped!"
Indeed, when Santa entered the barn, he found that Dasher, Dancer, and Donner had run away. To make matters worse, Comet and Cupid were giving birth to fawns. Only three of the regular reindeer could pull the sleigh that year.
Santa immediately ordered some of his elves to look for the missing reindeer, and others to help Comet and Cupid give birth. Then he hitched Prancer, Vixen, and Blitzen to the sleigh without any problems. Now he needed to find five replacement reindeer. He eventually settled on Basher, Flasher, Smasher, Rudolph (this was before his nose started glowing), and Fred.
But those reindeer had never pulled a sleigh before, and it took two hours for Santa to hitch them. By the time he was done, he was five hours overdue.
Finally, a very stressed Santa Claus sat in his sleigh, ready to begin his flight. Just then, an angel walked by with a Christmas tree she had cut down.
"Good evening, Santa," said the angel. "Where do you want me to put this?"
And so began the tradition of putting the angel at the top of the tree.
😄 😄 😄
There was a guy on the beach with about 25 gorgeous chicks swarming all around him.
Seeing this, a second guy strolls on up to him and asks, "What's your secret?" The guy whispers, "All you gotta do is stick a pickle in your pants."
In a flourish, the second guy runs off and stuffs a pickle in his pants.
But when he returns to the shore, he soon discovers that every single girl that looks his way, runs off screaming in bloody terror.
Confused, he hurries over to the first guy and desperately asks, "Why are all the girls running away from me?"
The first guy looks up and replies, "The pickle's on the wrong side."
😄 😄 😄
Two men — one a brunette and the other a blonde — were comparing their luck picking up girls at the beach.
The brunette guy says, "What works for me is this: Go to a grocery store, buy a potato, and put it in your swim trunk."
The blonde guy thanks him and spends the next 5 hours roaming the beach with a potato in his swim trunks – with no luck.
He says to his brunette friend that he did put a potato in his swim trunks and had no luck.
The brunette guy says to the blonde guy, "You dumb! The potato goes in the FRONT of your trunks, not the back!!!"
😄 😄 😄
Two blondes were taking their first train trip to Warsaw on the train.
A vendor came down the corridor selling bananas that they'd never seen before.
Each bought one.
The first one eagerly peeled the banana and bit into it just as the train went into a tunnel.
When the train emerged from the tunnel, she looked across at her friend and said, "I wouldn't eat that if I were you."
"Why not?"
"I took one bite and went blind for half a minute."
😄 😄 😄
The hurricane came unexpectedly.
The ship went down and was lost.
The man found himself swept up on the shore of an island with no other people, no supplies, nothing to do. Only bananas and coconuts.
So for the next four months he ate bananas, drank coconut juice and longed for his old life.
He fixed his gaze on the sea, hoping to spot a rescue ship.
One day, as he was lying on the beach, he spotted movement out of the corner of his eye.
It was a rowboat, and in it was the most gorgeous woman he had ever seen. She rowed up to him.
In disbelief, he asked her, "Where did you come from? How did you get here?"
"I rowed from the other side of the island," she said. "I landed here when my cruise ship sank."
"Amazing," he said. "I didn't know anyone else survived. How many are there? You were lucky to have a rowboat wash up with you."
"Its only me," she said, "and the rowboat didn't wash up, nothing did."
He was confused, "Then how did you get the rowboat?"
"Oh, simple," replied the woman. "I made the rowboat out of materials that I found on the island.
The oars were whittled from Gum tree branches. I wove the bottom from palm branches and the sides and stern came from a Eucalyptus tree."
"B-B-But that's impossible," stuttered the man. "You had no tools or hardware. How did you manage?"
"Oh, that was no problem," replied the woman. "On the other side of the island there is a very unusual rock formation exposed. I found that if I fired it to a certain temperature in my kiln, it melted into iron. I used that for tools, and used the tools to make the hardware." "But enough of that," she said. "Where do you live?"
Sheepishly, he confessed that he had been sleeping on the beach the whole time.
"Well, let's row over to my place, then." she said.
After a few minutes of rowing she docked the boat at a small wharf.
As the man looked to the shore, he nearly fell out of the boat. Before him was a stone walk leading to an exquisite bungalow painted in blue and white.
While the woman tied up the rowboat with an expertly woven hemp rope, the man could only stare ahead, dumbstruck.
As they walked into the house, she said casually, "It's not much, but I call it home. Sit down, please. Would you like a drink?"
"No, no thank you," he said, still dazed. "I can't take any more coconut juice."
"It's not coconut juice," the woman replied. "I have a still. How about a Pina Colada?"
Trying to hide his amazement, the man accepted, and they sat down on her couch to talk.
After they had exchanged their stories, the woman announced, "I'm going to slip into something comfortable. Would you like to take a shower and shave? There is a razor upstairs in the bathroom."
No longer questioning anything, the man went into the bathroom. There in the cabinet was a razor made from a bone handle. Two shells honed to a hollow ground edge were fastened onto it's end.
"This woman is amazing," he thought. "What next?"
When he returned, she greeted him wearing nothing but vines and smelling faintly of gardenias.
She beckoned for him to sit down next to her.
"Tell me," she began, suggestively, slithering closer to him, "we've been out here for a very long time. You've been lonely. There's something I'm sure you really feel like doing right now, something you've been longing for all these months. You know..." She stared into his eyes.
He couldn't believe what he was hearing.
"You mean..." he replied, "I can check my Facebook from here?!"
😄 😄 😄
What do you call a financial controller who always works through lunch, takes two days holiday every two years, is in the office every weekend, and leaves every night after 10 p.m.?
Lazy.
😄 😄 😄
After being nearly snowbound for two weeks last winter, a Seattle man departed for his vacation in Miami Beach, where he was to meet his wife the next day at the conclusion of her business trip to Minneapolis. They were looking forward to pleasant weather and a nice time together.
Unfortunately, there was some sort of mix-up at the boarding gate, and the man was told he would have to wait for a later flight. He tried to appeal to a supervisor but was told the airline was not responsible for the problem and it would do no good to complain.
Upon arrival at the hotel the next day, he discovered that Miami Beach was having a heat wave, and its weather was almost as uncomfortably hot as Seattle's was cold.
The desk clerk gave him a message that his wife would arrive as planned.
He could hardly wait to get to the pool area to cool off, and quickly sent his wife an e-mail, but due to his haste, he made an error in the e-mail address.
His message, therefore, arrived at the home of an elderly preacher's wife whose even older husband had died only the day before.
When the grieving widow opened her e-mail, she took one look at the monitor, let out an anguished scream, and fell to the floor dead.
Her family rushed to her room where they saw this message on the screen:
Dearest wife,
Departed yesterday as you know. Just now got checked in. Some confusion at the gate. Appeal was denied. Received confirmation of your arrival tomorrow.
Your loving husband.
PS. Things are not as we thought. You're going to be surprised at how hot it is down here.
😄 😄 😄
From a passenger ship one can see a bearded man on a small island who is shouting and desperately waving his hands.
"Who is it?" a passenger asks the captain.
"I have no idea. Every year when we pass, he goes mad like that."
😄 😄 😄
A woman called an airline customer-service desk asking if it was possible to fly with her dog on board.
"Sure," the airline agent said, "as long as you provide your own kennel."
She continued to explain that the kennel needed to be large enough for the dog to stand up, sit down, turn around, and roll over.
The customer was perplexed.
"I'll never be able to teach him all of that by tomorrow!"
😄 😄 😄
Why is Christmas just like a day at the office?
You do all the work and the fat guy with the suit gets all the credit.
😄 😄 😄
Roland, an Englishman went to Spain on a fishing trip.
While there, Roland hired a Spanish guide to help him find the best fishing spots. Since Roland was learning Spanish, he asked the guide to speak to him in Spanish and to correct any mistakes of usage.
Together they were hiking on a mountain trail when a very large, purple and blue fly crossed their path.
The Englishmen pointed at the insect with his fishing rod, and announced, "Mira el mosca."
The guide, sensing a teaching opportunity to teach Roland, replied, "No, senor, "la mosca", es feminina."
Roland looked at him in amazement, then back at the fly, and then said, "Good heavens... you must have incredibly good eyesight."
😄 😄 😄
Why shouldn't you tell an egg a joke?
Because it might crack up!
😄 😄 😄
Mrs. Lewis, a Sunday school teacher, asked her little children one Easter Sunday, as they were on the way to the church service, "And why is it necessary to be quiet in church?"
Rebecca, a bright little girl piped up, "Because people are sleeping!"
😄 😄 😄
Why was the Easter egg so scared of his father?
His father was hard-boiled.
😄 😄 😄
Why do we paint Easter eggs?
Because it's easier than trying to wallpaper them!
😄 😄 😄
An elderly man in Phoenix calls his son in New York and says, "I hate to ruin your day, but I have to tell you that your mother and I are divorcing; forty-five years of misery is enough."
"Pop, what are you talking about?!" the son screams.
"We can't stand the sight of each other any longer," the old man says.
"We're sick and tired of each other, and I'm sick of talking about this, so you call your sister in Chicago and tell her." And he hangs up.
Frantic, the son calls his sister, who explodes on the phone.
"Like Heck they're getting a divorce," she shouts. "I'll take care of this."
She calls Phoenix immediately, and screams at the old man, "You are NOT getting divorced! Don't do a single thing until I get there. I'm calling my brother back and we'll both be there tomorrow. Until then don't do a thing, DO YOU HEAR ME?!" And she hangs up.
The old man hangs up his phone, smiles and turns to his wife.
"They're coming for Easter and paying their own way."
😄 😄 😄
Every Friday a guy would walk into a bar and order 3 beers.
Then he'd sit at a table, drinks each one by himself and leaves.
He does this every Friday for a few weeks, until the bartender becomes so curious he has to ask the guy about this routine.
"Well, you see I have two buddies and we always would have a beer with each other when we were together. But now they've both moved to different parts of the country.
We still keep up the tradition, where we're at, and have just one beer for each of us on Friday nights."
His curiosity satisfied the bartender goes back to serving his other customers.
This goes on for several months until one day the guy comes in and orders only 2 beers.
Seeing how sad the fellow is the bartender brings him his 2 beers and offer condolences for his loss.
Confused the guy asks why the bartender was offering condolences?
"It's just that since you normally order 3 beers, but tonight you only ordered 2, I just figured something must have happened to one of your buddies."
"Oh no, we're all just fine. It's just that it's Lent and I gave up drinking till Easter."
😄 😄 😄
A farmer plays a prank on Easter Sunday.
After the egg hunt, he sneaks into the chicken coop and replaces every white egg with a brightly colored one.
Minutes later, the rooster walks in.
He spots the colored eggs, then storms out and beats up the peacock.
😄 😄 😄
Your mama so stupid, I told her Christmas was around the corner and she went looking for it.
😄 😄 😄
Knock! Knock!
"Who's there?"
"Ho, ho."
"Ho ho, who?"
"You know, your Santa impression could use a little work."
😄 😄 😄
Last Halloween there was a knock on the door.
I looked out of the window and then shouted upstairs to my wife, "Honey there's a witch at the door. What shall I do?"
She shouted back, "Just give her some candy and tell her to get lost."
My mother-in-law hasn't spoken to me since.
😄 😄 😄
I'm not saying my wife is ugly... but on Halloween she went to tell the neighbors to turn their TV down and they gave her some candy.
😄 😄 😄
Do zombies eat popcorn with their fingers?
No, they eat the fingers separately.
😄 😄 😄
Before he forgot a gift for Chuck Norris, Santa Claus was real.
😄 😄 😄
The housewife answered a knock on the door and found a total stranger standing on the doorstep.
"Excuse me for disturbing you, ma'am," he said politely, "but I pass your house every morning on my way to work, and I've noticed that every day you appear to be hitting your son on the head with a loaf of bread."
"That's right."
"Every day you hit him on the head with a loaf of bread, and yet this morning you were beating him with a chocolate cake."
"Well, today is his birthday."
😄 😄 😄
A man asked his wife, "What would you most like for your birthday?"
She said, "I'd love to be ten again."
On the morning of her birthday, he got her up bright and early and they went to a theme park.
He put her on every ride in the par: the Death Slide, The Screaming Loop, the Wall of Fear. She had a go on every ride there was.
She staggered out of the theme park five hours later, her head reeling and her stomach turning.
Then they were off to a movie theater where they ate popcorn and sweets and drank Cola.
At last she staggered home with her husband and collapsed into bed.
Her husband leaned over and asked, "Well, dear, what was it like being ten again?" One eye opened and she groaned, "Actually, honey, I meant dress size!"
😄 😄 😄
The best way to remember your wife's birthday is to forget it once.
😄 😄 😄
Statistics show that those who have the most birthdays live the longest!
😄 😄 😄
Your mama so short, she went to see Santa and he told her to get back to work.
😄 😄 😄
At the mall, my five-year-old grandson joined the other children in line waiting to sit on the Easter Bunny's lap.
When it was his turn, Jake didn't move, he just stared.
"Don't you want to sit on the bunny's lap?", I asked.
"No!", he shouted. "There's a man in his mouth!"
😄 😄 😄
Did you hear about the Jewish Santa Claus?
He comes down the chimney, wakes up the children and says, "Hey kids, do you want to buy some toys?"
😄 😄 😄
Not saying I live in a rough area but just bought an advent calendar and half the windows are boarded up!
😄 😄 😄
Why are there gates around cemeteries?
Because people are dying to get in.
😄 😄 😄
Why didn't the skeleton like the Halloween candy?
He didn't have the stomach for it!
😄 😄 😄
What do you call a witch's garage?
A broom closet.
😄 😄 😄
When is it bad luck to be followed by a black cat?
When you're a mouse.
😄 😄 😄
Why are ghosts terrible liars?
You can see right through them!
😄 😄 😄
Why don't mummies have friends?
Because they're too wrapped up in themselves.
😄 😄 😄
Who is never hungry at Christmas?
The turkey—he's always stuffed.
😄 😄 😄
As a little girl climbed onto Santa's lap, Santa asked the usual, "And what would you like for Christmas?"
The child stared at him open mouthed and horrified for a minute, then gasped, "Didn't you get my E-mail?"
😄 😄 😄
Why does the programmer think the Grinch's attitude isn't bad?
He says it's in beta.
😄 😄 😄
Mary-Jo was going to the Christmas office party but needed a new dress.
So she went out shopping and in the clothing store she asked the assistant, "May I try on that dress in the window, please?"
"Certainly not, madam", responded the salesgirl, "You'll have to use the fitting room like everyone else."
😄 😄 😄
What goes "Oh, Oh, Oh"?
Santa walking backwards!
😄 😄 😄
When I was born I was so surprised I didn't talk for a year and a half.
😄 😄 😄
Why do golfers prefer a birthday donut over a birthday cake?
Because there is a hole in one.
😄 😄 😄
I used to be a boy trapped in a woman's body. But after 9 long months, I was finally born!
😄 😄 😄
Forget about the past, you can't change it.
Forget about the future, you can't predict it.
Forget about the present, I didn't get you one.
😄 😄 😄
Why do some people get heartburn every time they eat a birthday cake?
They always forget to take off the candles.
😄 😄 😄
---