Garden Puns and Hilarious Garden Jokes
Enjoy our team's carefully selected Garden Jokes. Laugh yourself and share the funniest jokes with your friends!
---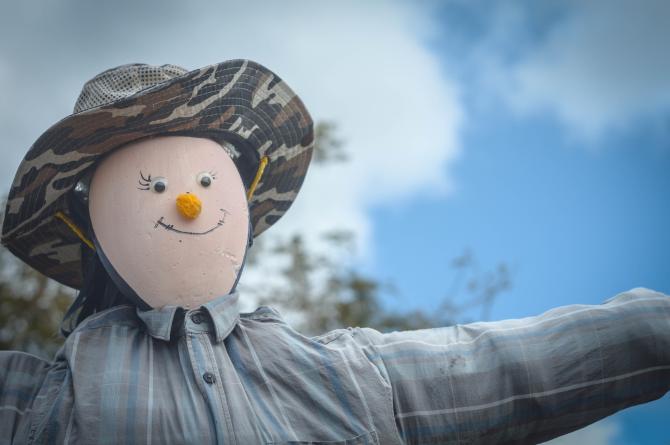 Sherlock was gardening when Watson came over and asked what he was planting.
"A lemon tree, my dear Wat-son."
😄 😄 😄
Has anyone else's gardening skills improved during this quarantine like mine have?
I planted myself on the sofa at the beginning of April and I've grown bigger ever since.
😄 😄 😄
When weeding, the best way to make sure you are removing a weed and not a valuable plant is to pull on it.
If it comes out of the ground easily, it is a valuable plant.
😄 😄 😄
What's the easiest way to stop a dog from digging in the garden?
Take away his shovel!
😄 😄 😄
I put an electric fence around my garden.
My neighbor is dead against it.
😄 😄 😄
Which vegetable betrayed Jesus?
Judas Is-carrot.
😄 😄 😄
What's a Vegetable's favorite martial art?
Carrotee!
😄 😄 😄
What do you get when you mix a broccoli and a melon?
The saddest vegetable known to man—a melonccoli.
😄 😄 😄
Did you hear about Bruce Lee's vegetarian brother?
His name was Brocco Lee.
😄 😄 😄
What kind of socks do you need to plant broccoli?
Garden hose.
😄 😄 😄
Broccoli looks into the trunk of his car.
He sees an extra tire and exclaims, "Oh! I have a-spar-a-gus!"
😄 😄 😄
2 peanuts were walking down the street.
One was assaulted, the other got aroasted.
😄 😄 😄
What do peanuts wear on their feet?
Cashews.
😄 😄 😄
What do you call a single kernel of corn?
A uni-corn.
😄 😄 😄
Two corns in a field were telling each other corny jokes.
They were the laughing stalk of the field.
😄 😄 😄
What vegetable can tie your shoes?
String beans.
😄 😄 😄
Why wasn't the young veggie allowed to start in the game?
He was a green bean.
😄 😄 😄
What did the salad say to the chef? 
Lett-uce go!
😄 😄 😄
What was the snowman doing in the vegetable patch?
Picking his nose!
😄 😄 😄
What should you give a pumpkin who can't quit smoking?
A pumpkin Patch.
😄 😄 😄
Mrs. Jones was proud of her pumpkin patch, so she was really disappointed when some of the local kids were taking them to make Jack-o-Lanterns.
One evening while Mrs. Jones was soaking in the bath, the answer to the pumpkin thefts came to her.
After supper she went out and put up a sign: "Beware, one of these pumpkins is coated with a special colorless rat poison!"
A day or two later when Mrs. Jones checked out her pumpkin patch she was pleased to see that no more had been stolen.
Then she saw a second sign next to hers which said: "NOW THERE ARE TWO!!"
😄 😄 😄
Farmer Smith was driving his tractor along the road with a trailer load
of fertilizer.  
Alex—a little boy of nine—was playing ball in his yard.
He saw the farmer and asked, "What've you got in your trailer?"
"Manure," farmer Smith replied.
"What are you going to do with it?" asked Alex.
"Put it on my pumpkins," answered the farmer.
Alex replied, "You ought to
come and eat with us, we put ice cream on our pumpkin pie."
😄 😄 😄
How did the pumpkin feel after being carved?
Gutted.
😄 😄 😄
Why don't pumpkins get into arguments?
Because they have no stomach for fighting.
😄 😄 😄
How do you cure someone with a pumpkin spice addiction?
Apply the pumpkin patch.
😄 😄 😄
What do you call a pumpkin that can slam-dunk a basketball?
Michael Gourdan.
😄 😄 😄
Where do pumpkins hold meetings?
In the gourdroom.
😄 😄 😄
How do you repair a broken jack o' lantern?
Use a pumpkin patch.
😄 😄 😄
How do pumpkins get up to the roof?
They use a jack-o-ladder.
😄 😄 😄
What did the orange pumpkin say to the green pumpkin?
"Are you feeling ill?"
😄 😄 😄
Why do pumpkins do poorly in school?
Because eventually they end up with all their brains scooped out.
😄 😄 😄
It is so hot, potatoes cook underground.
😄 😄 😄
It's so hot I saw a squirrel picking up nuts with pot holders.
😄 😄 😄
It's so hot my Iceberg lettuce melted.
😄 😄 😄
Why do bananas use sunscreen?
So they don't peel.
😄 😄 😄
What do you call a cantaloupe in a swimming pool?
A watermelon.
😄 😄 😄
What kind of tropical fruit wants to visit the moon?
A Coco-naut.
😄 😄 😄
I started growing fungi in my garden, but failed miserably.
I guess there is mush-room for improvement.
😄 😄 😄
Why shouldn't you tell a secret on a farm?
Because the potatoes have eyes, the corn has ears, and the beans stalk.
😄 😄 😄
Broccoli: "Hey, I look like a tree."
Mushroom: "Wow, I look just like an umbrella."
Walnut: "I look exactly like a brain."
Banana: "Man, can we change the topic please?"
😄 😄 😄
How come "you're a peach" is a complement, but "you're bananas" is an insult?
Why are we allowing fruit discrimination to tear society apart?
😄 😄 😄
An onion just told me a joke.
I don't know whether to laugh or cry.
😄 😄 😄
Why can't tomatoes win races against lettuce?
Because the lettuce are always a head, and the tomatoes are always trying to ketchup.
😄 😄 😄
The baby tomato was running late for school. Guess what his mommy said?
"Come on, ketch-up!"
😄 😄 😄
Yo momma is so ugly she made an onion cry.
😄 😄 😄
---