Jokes About Exercise
Enjoy our team's carefully selected Exercise Jokes. Laugh yourself and share the funniest jokes with your friends!
---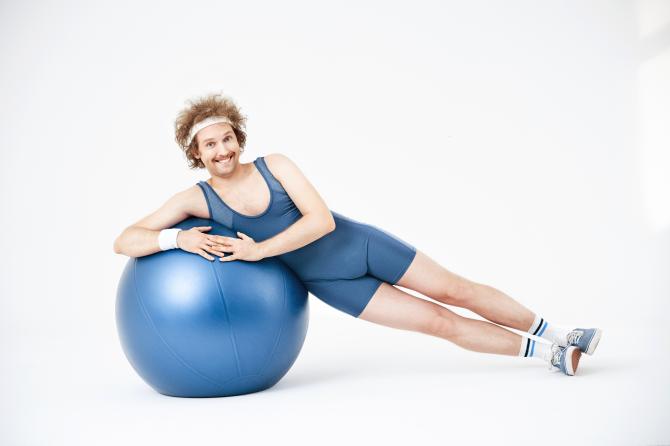 Why did the bodybuilder read the dictionary?
He was trying to learn how to define muscle.
😄 😄 😄
There's a great new machine at my gym.
I felt sick after I'd used it for an hour, but it's got everything: Doritos, Snickers, Mountain Dew...
😄 😄 😄
What do you call someone who's really into stationary biking?
A cyclepath.
😄 😄 😄
I said to the gym teacher, "Can you teach me to do the splits?"
He said, "How flexible are you?"
I said, "I can't make Tuesdays."
😄 😄 😄
I just saw real, a real idiot at the gym.
He put a water bottle in the Pringles holder on the treadmill.
😄 😄 😄
I've been going to the gym for five years now, and I still don't have abs.
It sucks being the cleaner.
😄 😄 😄
I go to the gym religiously.
About twice a year, around holidays.
😄 😄 😄
I'm like a ninja at the gym.
Because you'll never see me there.
😄 😄 😄
I don't hate leg day.
It's the two days after I can't stand.
😄 😄 😄
It's been six months since I joined the gym, and still no progress!
I'm going there in-person tomorrow to see what's going on.
😄 😄 😄
While I was at the gym, I decided to hop on a treadmill.
People started giving me weird looks, so I started jogging instead.
😄 😄 😄
I joined a gym and said to the trainer, "I want to impress beautiful girls, which machine should I use?"
He said, "Try the ATM outside."
😄 😄 😄
A tip to reduce weight: First turn your head to the right and then to the left.
Repeat this exercise whenever you are offered something to eat.
😄 😄 😄
I asked my girlfriend if she does any other exercises...
Other than jumping to conclusions.
😄 😄 😄
A boxer was throwing nothing but right hooks at a punching bag.
His trainer walked up and asked, "What gives?"
The boxer replied, "I'm exercising my rights."
😄 😄 😄
How does a demon workout?
He exorcises.
😄 😄 😄
What is Spider-Man's favorite exercise?
Spin class.
😄 😄 😄
I get plenty of exercise:
jumping to conclusions, pushing my luck, and dodging deadlines.
😄 😄 😄
Yo mama so fat people jog around her for exercise.
😄 😄 😄
Football is a game when 22 big, strong players run around like crazy for two hours while 50,000 people who really need the exercise sit in the stands and watch them.
😄 😄 😄
What kind of exercise do lazy people do?
Diddly-squats.
😄 😄 😄
---