Education Jokes
Enjoy our team's carefully selected Education Jokes. Laugh yourself and share the funniest jokes with your friends!
---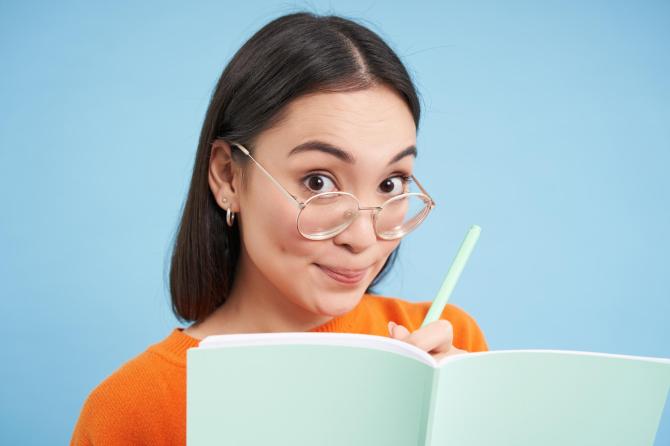 The human brain is amazing.
It functions 24 hours a day, everyday since we were born and only stops when taking an exam.
😄 😄 😄
Teacher: "In the exam, you will be allowed 30 minutes for each question."
Pupil: "How long for the answers, sir?"
😄 😄 😄
A former Sergeant in the Marine Corps took a new job as a high school teacher.
Just before the school year started, he injured his back. He was required to wear a plaster cast around the upper part of his body. Fortunately, the cast fit under his shirt and wasn't noticeable.
On the first day of class, he found himself assigned to the toughest students in the school.
The smart punks, having already heard the new teacher was a former Marine, were leery of him and he knew they would be testing his discipline in the classroom.
Walking confidently into the rowdy classroom, the new teacher opened the window wide and sat down at his desk. When a strong breeze made his tie flap, he picked up a stapler and stapled the tie to his chest.
There was dead silence... The rest of the year went quite smoothly.
😄 😄 😄
How many university graduates does it take to change a light bulb?
One, but it may take up to seven years!
😄 😄 😄
Behind every successful student, there is a deactivated Facebook account.
😄 😄 😄
The English teacher in India.
Teacher: "Tell me a sentence that starts with an 'I'."
Student: "I is the..."
Teacher: "Stop! Never put 'is' after an 'I'. Always put 'am' after an 'I'."
Student: "OK. I am the ninth letter of the alphabet."
😄 😄 😄
Three college graduates—one in Math, one in Engineering, and one in Economics—sit for a job interview.
The question they're all asked is, "What's 2+2?"
The Math graduate goes to the whiteboard, fills it with a proof, and concludes that, "A solution exists."
The Engineering graduate consults his addition tables, writes some calculations down, graphs his results, and says, "3. But we'll make it 5 just to be safe."
The Economics graduate locks the door behind him, closes the curtains over the windows, and finally whispers, "How much do you want it to be?"
😄 😄 😄
Student: "I've been writing my exam for 2 hours but haven't answered a single question!!!"
Politics Teacher: "Well done, that's an A."
😄 😄 😄
A somewhat advanced society has figured out how to package basic knowledge in pill form.
A student, needing some learning, goes to the pharmacy and asks what kind of knowledge pills are available.
The pharmacist says, "Here's a pill for English literature."
The student takes the pill and swallows it and has new knowledge about English literature!
"What else do you have?" asks the student.
"Well, I have pills for art history, biology and world history," replies the pharmacist.
The student asks for these, swallows them and has new knowledge about those subjects.
Then the student asks, "Do you have a pill for math?"
The pharmacist says, "Wait just a moment," and goes back into the storeroom and brings back a whopper of a pill and plunks it on the counter.
"I have to take that huge pill for math?" inquires the student.
The pharmacist replied, "Well, you know... math always was a little hard to swallow."
😄 😄 😄
Where do all planets go for their higher education?
To the universe-ity.
😄 😄 😄
Now that I'm teaching remotely, I can't reward my students for their good work.
So I tell them to visit my website for cookies instead.
😄 😄 😄
Why is it impossible for students to sleep 8 hours every day?
Because school is only 6 hours a day!
😄 😄 😄
Little Johnny had finished his summer vacation and gone back to school.
Two days later his teacher phoned his mother to tell her that he was misbehaving.
"Wait a minute," she said. "I had Johnny with me for three months and I never called you once when he misbehaved."
😄 😄 😄
An accountancy student asks a partner to explain ethics in accountancy.
The partner thinks for a moment and relates the following, "Mr. Jones, one of our clients, came to see me last week and paid me his bill of £1,000 in cash. As he left I counted the notes and they came to £1,100."
The student said, "I see. The ethics question is 'Do I tell the client?'"
"Wrong answer! The question is 'Do I tell my partner?'"
😄 😄 😄
A mugger jumps out in front of a university student and shouts, "Your money or your life!"
The student keeps walking and says, "Sorry mate, I'm a computer science student. I don't have either."
😄 😄 😄
A kid from Mississippi is on Harvard campus for the first time, he stops a student and asks, "Excuse me, can you tell me where the library is at?"
The Harvard student replies, "At Harvard, you don't end a sentence with a preposition."
The kid said, "Sorry about that. Can you tell me where the library is at, asshole?"
😄 😄 😄
Dear Students,
I know when you are texting in class. No one just looks down at their crotch and smiles.
😄 😄 😄
Teachers deserve a lot of credit.
Of course, if we paid them more, they wouldn't need it.
😄 😄 😄
My English teacher used to quote Lord of the Rings to us.
She used to say "You shall not pass!"
😄 😄 😄
In high school, teachers had to raise their hand to speak to Chuck Norris.
😄 😄 😄
Math teacher: "James, what do you get when you subtract 897 from 1824 and add 176 and divide the answer by 3?"
James: "A Headache ma'am."
😄 😄 😄
Mrs. Lewis, a Sunday school teacher, asked her little children one Easter Sunday, as they were on the way to the church service, "And why is it necessary to be quiet in church?"
Rebecca, a bright little girl piped up, "Because people are sleeping!"
😄 😄 😄
During a Sunday school lesson, a child learned about how God created human beings.
The child became especially focused when the teacher explained how Eve was created from Adam's ribs.
Later in the week, the boy's mother saw him lying down on the floor, so she asked him what was wrong.
His reply was priceless, "Mom, I have a pain in my side—I think I'm getting a wife."
😄 😄 😄
Little Johnny's teacher is doing her rounds at lunchtime when she sees little Johnny pulling faces at another child.
She starts to talk sternly to Little Johnny and says, "Johnny, when I was a young girl I was told that if I made ugly faces and the wind changed, my face would stay that way."
Little Johnny looks up to her and says, "Well miss, you can't say that you weren't warned."
😄 😄 😄
A proctologist had been in practice for 20 years and had settled into a very comfortable life with his future very secure. So he decided to fulfill his REAL dream and become an auto mechanic.
Having entered mechanic school, the former physician received the results of his first test back with a score of 200%.
Confused, he asked the teacher why his score was so high.
"Well", said the teacher, "the first part was taking the engine apart and you did that perfectly, so you got 50%. The second was to put it back together again and you did it perfectly and got another 50%. The other 100% was for doing it through the tailpipe."
😄 😄 😄
Teacher: "Which book has helped you the most in your life?"
Student: "My father's checkbook."
😄 😄 😄
---