Easter Bunny Jokes
Enjoy our team's carefully selected Easter Bunny Jokes. Laugh yourself and share the funniest jokes with your friends!
---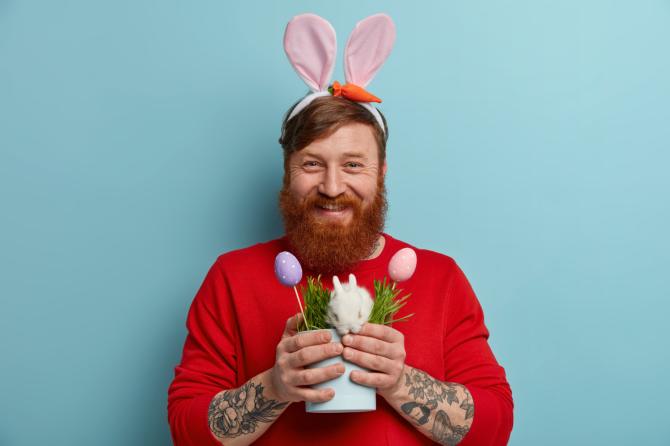 I think if women really got to know me, they'd find my personality a lot like a chocolate Easter Bunny.
On the outside sweet but hollow and disappointing on the inside.
😄 😄 😄
What do you call someone who likes Easter but doesn't believe in the Easter Bunny?
Eggnostic.
😄 😄 😄
Why did the Easter Bunny cross the road?
Because the chicken had his eggs.
😄 😄 😄
How does the Easter Bunny feel after Easter?
Eggs-hausted.
😄 😄 😄
Why does the Easter Bunny drink beer?
He loves the hops.
😄 😄 😄
What is the Easter Bunny's favourite color?
Egg white.
😄 😄 😄
What kind of jewelry does the Easter Bunny wear?
14 carrot gold.
😄 😄 😄
Yesterday I had an Adele chocolate Easter Bunny.
The first half was delicious, but it was hollow from the other side.
😄 😄 😄
What music does the Easter Bunny listen to while hiding eggs?
Hip hop.
😄 😄 😄
What do you call a chocolate Easter Bunny that was out in the sun too long?
A runny bunny.
😄 😄 😄
Public Service Announcement:
"If you get a new baby bunny for Easter, it is not laying little brown chocolate eggs"
😄 😄 😄
At the mall, my five-year-old grandson joined the other children in line waiting to sit on the Easter Bunny's lap.
When it was his turn, Jake didn't move, he just stared.
"Don't you want to sit on the bunny's lap?", I asked.
"No!", he shouted. "There's a man in his mouth!"
😄 😄 😄
---