Dating Jokes
Enjoy our team's carefully selected Dating Jokes. Laugh yourself and share the funniest jokes with your friends!
---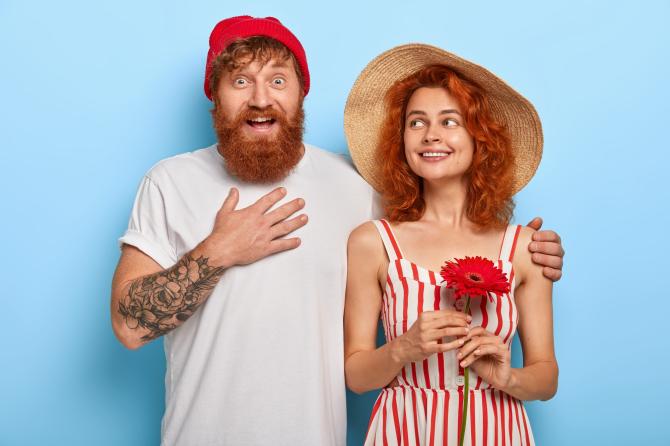 She left the bar because after 45 minutes, the date finally arrived, and he was a gnome.
Too little, too late.
😄 😄 😄
I met my wife while we were working at the same museum.
Our first date was in the geology section, the second in paleontology, and the rest was history.
😄 😄 😄
I went on a date with a dentist last night.
At the end of the date, she said she'd had a great time and she'd like to see me again in 6 month's time.
😄 😄 😄
A little boy had a crush on his teacher, but she was dating a doctor.
So the boy brought his teacher an apple everyday.
😄 😄 😄
Crush: "Why should I trust you? All the guys I've been dating have been dogs."
Me: "..."
Crush: "Well? Aren't you going to say anything?"
Me: "... meow?"
😄 😄 😄
Six years ago, I DMed my facebook crush, telling her that I am going to take her out on a date. Today, I asked her to marry me.
She said no both times and blocked me.
😄 😄 😄
My crush told me, "Come over, no ones home."
I went over... no one was home.
😄 😄 😄
I started a dating site for older people.
OK Boomer.
😄 😄 😄
I started dating this girl in high school just because we had the same class schedule.
What can I say? We had Chemistry together.
😄 😄 😄
A boy was feeling very nervous about his first date, so went to his father for advice.
Father: "My son, there are three subjects that always work with women: food, family, and philosophy."
The boy picks up his date, and they stare at each other for a long time.
The boy's nervousness builds, but he then asks, "Do you like potato pancakes?"
"No," comes the answer, and the silence returns like a suffocating blanket.
Boy: "Do you have a brother?"
Girl: "No."
After giving it some thought, the boy plays his last card, "If you had a brother, would he like potato pancakes?"
😄 😄 😄
What did the grilled cheese sandwich say to their date?
You make me melt.
😄 😄 😄
When I see lovers' names carved in a tree, I don't think it's sweet.
I just think it's surprising how many people bring a knife on a date.
😄 😄 😄
What did people say when the headless horseman started dating a zombie?
He's lost his head!
😄 😄 😄
I went on a date with Spider-Man, but he was super clingy.
😄 😄 😄
Yo momma's so ugly she makes a Gammorrean seem like an attractive date.
😄 😄 😄
What is round, ugly, smeared with chocolate and just showed up unwashed to your first date?
A Tinder surprise.
😄 😄 😄
What did the donuts do on their date?
They glazed into each other's eyes.
😄 😄 😄
What did the butcher say to his girlfriend on their first date?
"Nice to meat you."
😄 😄 😄
Girlfriend: "Do you have a date for Valentine's Day?"
Boyfriend: "Yes, February 14th."
😄 😄 😄
A couple is on a date at a fancy restaurant. The woman tells the man to say something to her that will get her heart racing.
He replies, "I forgot my wallet."
😄 😄 😄
A mushroom walks up to a tomato and asks him out on a date.
As the evening wears on, the tomato is just sitting there, not saying much and looking miserable.
"What's wrong?" the mushroom says. "Aren't you enjoying yourself?"
"I guess I'm just not a fun-gi," says the tomato.
😄 😄 😄
All Bill asked for was a little good-night kiss, but Anne haughtily rebuffed him with, "I don't do that sort of thing on my first date!"
"Well," Bill replied with sarcasm, "how about on your last date?"
😄 😄 😄
---