Cooking Jokes
Enjoy our team's carefully selected Cooking Jokes. Laugh yourself and share the funniest jokes with your friends!
---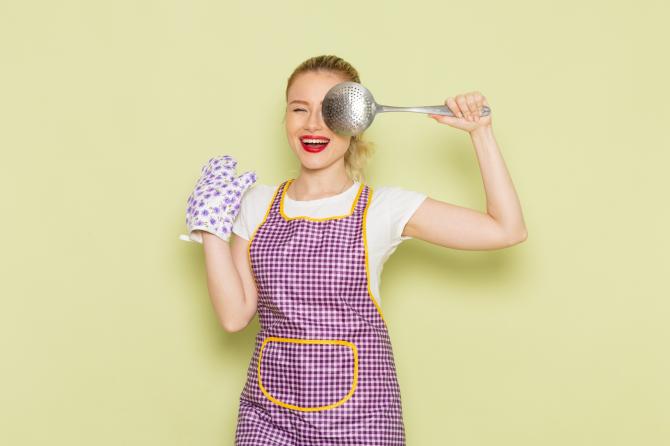 How do you make a recipe pop with ginger?
Play "Spice Girls" songs while you cook.
😄 😄 😄
Why did the chef add extra oregano to the sauce?
He was making up for lost thyme.
😄 😄 😄
What is a pressing thought of every pig?
"Why do all bacons get cooked and cookies get baked?"
😄 😄 😄
When do ghouls and goblins cook their victims?
On Fry Day.
😄 😄 😄
It was so cold that roosters were rushing into Kentucky Fried Chicken and begging to use the pressure cooker!
😄 😄 😄
It is so hot, potatoes cook underground.
😄 😄 😄
It's so hot, that you could actually cook a full English breakfast on my forehead.
😄 😄 😄
Yo momma's cooking is so bad Jabba wouldn't feed it to Salacious Crumb.
😄 😄 😄
Yo momma's so ugly they push her face in the dough to make Ugnaught cookies.
😄 😄 😄
There is a man, he is dying in his bed in his home. He smells something amazing. It's the smell of his favorite chocolate chip cookies.
With his last strength, he gets out of bed and goes to the kitchen, where his wife of 50 years, is cooking these beautiful chocolate chip cookies. They are on a plate, four of them, just out of the oven.
With his last human strength, he reaches over to take one of the cookies.
His wife sees him, rushes over, she slaps his hand, and she says, "No, they are for the funeral."
😄 😄 😄
I went to a church men's campout a few years back. Everyone was sitting around the fire cooking breakfast.
Joe, an old-time rancher, starts cooking some homemade sausage.
A few minutes go by, then someone asks, "Hey Joe, what kind of sausage is that? It smells good."
"To which Joe replies, "Chocolate sausage."
This gets everyone's attention.
When the sausage finished cooking, Joe offers a piece to anyone who wanted to try it.
A few of the guys take a cut and eat it, then get confused looks on their faces.
The same guy asks Joe again, "This doesn't taste any different than normal sausage. Chocolate?.."
Still waking up, Joe clears his throat and says, "The horse was named Chocolate."
😄 😄 😄
How do you accurately guess what you're having for dinner?
You cook it yourself!
😄 😄 😄
Yo mama so dumb she uses Old Spice body wash to cook.
😄 😄 😄
A man was deathly allergic to mushrooms.
After a huge fight, his wife cooked a mushroom into his dinner. He ate it and died.
The morel of the story... killed him.
😄 😄 😄
Sunday school teacher: "Tell me, Johnny. Do you say prayers before eating?"
Johnny: "No, ma'am, I don't have to. My mom's a good cook."
😄 😄 😄
A wife is frying eggs for her husband in the morning.
Suddenly the husband appears behind the wife's back and says:
"Careful, CAREFUL, put more fat in the pan! You're frying too many at a time. TOO MANY! Flip them! FLIP THEM! Come on!
Put more fat in there. Oh dear lord. How are you gonna make space for the fat now, look, they're sticking to the pan! Careful!
Careful now! You never listen to me when I cook! NEVER! Flip them over already. HURRY! ARE YOU CRAZY? Take it easy! EASY! Nooo, don't forget the salt. Put salt on them, SALT!"
The wife stares at her husband:
"What's wrong with you?! You think I can't fry a few eggs?!"
The husband answers calmly:
"I just wanted to show you what it feels like when I'm driving."
😄 😄 😄
A man hunts a deer and takes it home to cook for dinner.
Both he and his wife decide that they'll play a game with the kids. They'll give them a clue and get them to guess what it is.
At mealtime, the kids are eager to know what the meat is on their plates, so they beg their dad for the clue.
"Well," he says, "it's what mommy calls me sometimes".
The little girl screams, "Don't eat it! It's a donkey!"
😄 😄 😄
---