Cookie Puns and Hilarious Cookie Jokes
Enjoy our team's carefully selected Cookie Jokes. Laugh yourself and share the funniest jokes with your friends!
---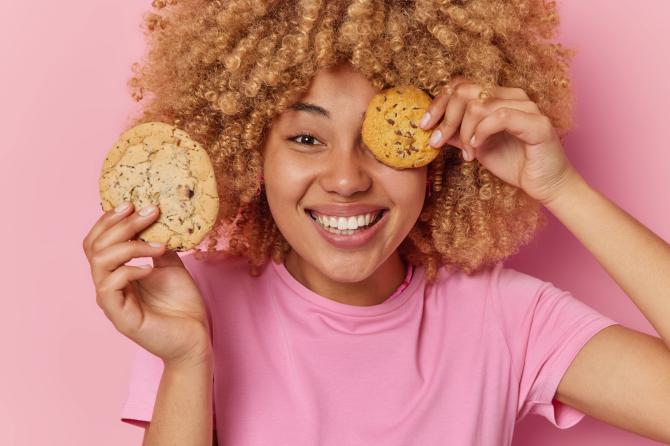 Why wasn't one of the gingerbread men decorated?
He wasn't cut out for the job.
😄 😄 😄
Why are there gingerbread men but not gingerbread women?
It's a pastryarchy.
😄 😄 😄
What do you get when you cross ginger with a Jamaican?
Gingerbreadmon.
😄 😄 😄
What is it called when two redheads have a kid?
Ginger bred.
😄 😄 😄
What is a pressing thought of every pig?
"Why do all bacons get cooked and cookies get baked?"
😄 😄 😄
How do you make a baby computer cry?
Delete his cookies!
😄 😄 😄
Why did the Oreo cookie go to the dentist?
Because he lost his filling.
😄 😄 😄
Why couldn't the Cookie Monster make his bed?
He couldn't find a cookie sheet!
😄 😄 😄
Why did the cookie go to the doctor?
He was feeling crummy.
😄 😄 😄
What is the difference between a cookie and a cracker.
Cookies don't care if you pull down a civil war statue.
😄 😄 😄
The children were lined up in the cafeteria of a Catholic school for lunch. At the head of the table was a large tray of hot dogs.
The nun posted a sign on the hot dog tray "Take only one, God is watching".
Further along the lunch line, at the other end of the table was a large pile of chocolate chip cookies.
One child whispered to another, "Take all you want. God is watching the hot dogs."
😄 😄 😄
Yo momma's so ugly they push her face in the dough to make Ugnaught cookies.
😄 😄 😄
There is a man, he is dying in his bed in his home. He smells something amazing. It's the smell of his favorite chocolate chip cookies.
With his last strength, he gets out of bed and goes to the kitchen, where his wife of 50 years, is cooking these beautiful chocolate chip cookies. They are on a plate, four of them, just out of the oven.
With his last human strength, he reaches over to take one of the cookies.
His wife sees him, rushes over, she slaps his hand, and she says, "No, they are for the funeral."
😄 😄 😄
If you were a food what would you be?
Friend 1: "Pizza because I'm so cheesy."
Friend 2: "Chocolate chip cookie because I have lots of friends."
Me: "Donut because I'm so empty inside."
😄 😄 😄
I'm looking forward to the day we celebrate that chocolate cookie with white icing in the middle.
Mem-Oreo Day.
😄 😄 😄
Now that I'm teaching remotely, I can't reward my students for their good work.
So I tell them to visit my website for cookies instead.
😄 😄 😄
---