Butter Jokes
Enjoy our team's carefully selected Butter Jokes. Laugh yourself and share the funniest jokes with your friends!
---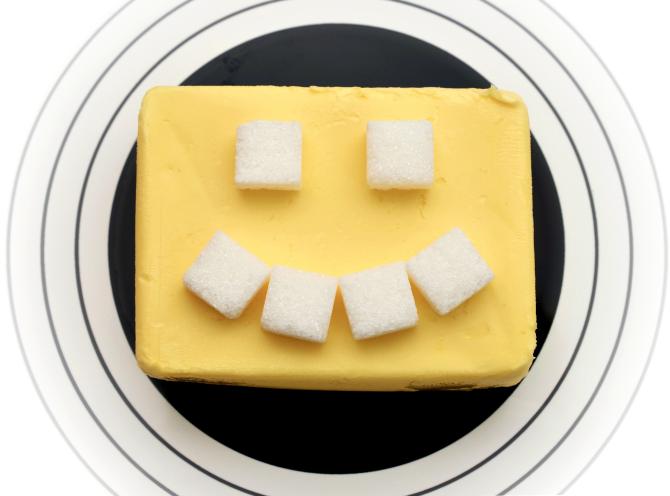 A fly just fell into my butter.
Now it's a butterfly.
😄 😄 😄
Yo Mamas teeth are so yellow I can't believe it's not butter.
😄 😄 😄
Why didn't the butter take the part in the new movie?
Because it didn't like the roll it was being offered.
😄 😄 😄
What do you say to an angry baked sweet potato?
Anything, just butter him up.
😄 😄 😄
What did the butter say to the bread?
"I'm on a roll!"
😄 😄 😄
Why was there peanut butter on the road?
It went with the traffic jam.
😄 😄 😄
Why did the nutty kid throw butter out of the window?
He wanted to see a butterfly.
😄 😄 😄
Someone threw some butter, milk and cheese at me recently.
I thought "how dairy".
Then, they threw some more mild cheese.
I thought "that's not very mature".
😄 😄 😄
I'd tell you a rumor about some butter on a piece of toast, but you might spread it.
😄 😄 😄
Ever had to force your dog into taking its medication?
It's the worst, right? You try to cover it with peanut butter, even then they know you're up to something.
So it gets kinda physical, have to get in there with both hands and hold them open and push it in with your finger, hoping they don't bite you. Turns into a wrestling match, sometimes.
But as it turns out, the trick was we were just using the wrong peanut butter. Ever since we switched to creamy, those suppositories just pop right in.
😄 😄 😄
Yo momma's so stupid that she thinks Jar Jar is filled with Peanut Butter Peanut Butter!
😄 😄 😄
Which is the clumsiest candy bar?
A Butterfinger!
😄 😄 😄
Yo momma's got a peanut butter wig with jelly sideburns.
😄 😄 😄
---