Business Jokes
Enjoy our team's carefully selected Business Jokes. Laugh yourself and share the funniest jokes with your friends!
---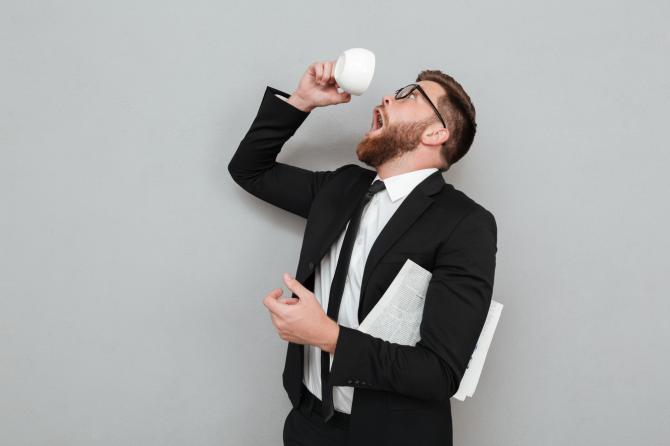 I was sitting in the waiting room of the hospital after my wife had gone into labour and the nurse walked out and said to the man sitting next to me, "Congratulations sir, you're the new father of twins!"
The man replied, "How about that, I work for the Doublemint Chewing Gum Company."
The man then followed the woman to his wife's room.
About an hour later, the same nurse entered the waiting room and announced that Mr. Smith's wife has just had triplets.
Mr. Smith stood up and said, "Well, how do ya like that, I work for the 3M Company."
The gentleman that was sitting next to me then got up and started to leave.
When I asked him why he was leaving, he remarked, "I think I need a breath of fresh air," the man continued, "I work for 7-UP."
😄 😄 😄
Why couldn't the joker enter the shop?
Because there was a board outside stating "No funny business".
😄 😄 😄
A small business owner was dismayed when a brand new corporate chain much like his own opened up next door and erected a huge sign which read BEST BLACK FRIDAY DEALS.
He was horrified when another competitor opened up on his right, and announced its arrival with an even larger sign, reading LOWEST BLACK FRIDAY PRICES.
The small business owner panicked, until he got an idea. He put the biggest sign of all over his own shop. It read MAIN ENTRANCE.
😄 😄 😄
A hotel is a place that keeps the manufacturers of 25-watt bulbs in business.
😄 😄 😄
I asked the bank for a loan to open a pizza delivery by drone business.
They refused. Said my business case was just pie in the sky.
😄 😄 😄
Did you hear about the bread factory burning down?
They say the business is toast.
😄 😄 😄
Which clients do short auditors like best?
Small businessmen.
😄 😄 😄
The shady workers behind the Mexican restaurant...
That's nacho business.
😄 😄 😄
A sixteen-year-old boy came home with a brand-new Ford F150.
His parents look at the truck and ask, "Where did you get that truck?!"
"I bought it today," he says.
"With what money?" says his mother. They knew what a new F150 cost.
"Well," he says, "this one cost me just fifteen dollars."
The father looks at him like he's crazy. "Who would sell a truck like that for fifteen dollars?" he says.
"It was the lady up the street," says the boy. "I don't know her name—they just moved in. She saw me ride past on my bike and asked me if I wanted to buy her F150 for fifteen dollars."
"Oh my Goodness!" says the mother. "Maybe she's mentally ill or has Alzheimer's something. John, you better go see what's going on."
So the boy's father walks up the street to the house where the lady lives and finds her out in the yard calmly planting flowers.
He introduces himself as the father of the boy to whom she had sold a new Ford F150 truck for fifteen dollars and asks to know why she did it.
"Well," she says, "two days ago my husband left on a business trip. Yesterday, I got a phone call from his boss and found out that he really ran off to Hawaii with his secretary and doesn't intend to come back."
"Oh, my goodness, I'm so sorry," the father says. "But what does that have to do with my son and your truck?"
"Well, this morning he called and told me he was stranded because he got robbed of his wallet with all his credit cards and cash. He told me to sell his new F150 and send him the money. So I did."
😄 😄 😄
What do dentists hand out at Halloween?
Candy. It's good for business.
😄 😄 😄
I might have to reconsider my kosher hot dog business...
For some reason, Anne's Franks hasn't been very popular with the target audience.
😄 😄 😄
A good friend of mine—Frank—owns and operates a struggling Hot Dog business.
He recently turned to social media to help boost sales though and is determined to make every post a weiner.
😄 😄 😄
What would Wonder Woman and Spider-Man name their business?
Amazon Web Services.
😄 😄 😄
A shepherd was tending his flock in a remote pasture when suddenly a dust cloud approached at high speed, out of which emerged a shiny silver BMW.
The driver—a young man in an Armani suit, Ferragamo shoes, Cartier sunglasses, and a tightly knotted power tie—poked his head out the window and asked the shepherd, "Hey! If I can tell you how many sheep you have in your flock, will you give me one?"
The shepherd looked at the man, then glanced at his peacefully grazing flock and answered, "Sure."
The driver parked his car, plugged his phone into a laptop and briskly surfed to a GPS satellite navigation system on the Internet and initiated a remote body-heat scan of the area.
While the computer was occupied, he sent some e-mails via his phone and, after a few minutes, nodded solemnly at the responses.
Finally, he printed a 150-page report on the little laser printer in his glove compartment, turned to the shepherd, waving the sheaves of paper, and pronounced, "You have exactly 1,586 sheep."
"Impressive. One of my sheep is yours," said the shepherd.
He watched the young man make his pick and bundle it into his car.
Then the shepherd said, "If I can tell you exactly what your business is, will you give me back my sheep?"
Pleased to meet a fellow sportsman, the young man replied, "You're on."
"You are an auditor," said the shepherd without hesitation.
"That's correct," said the young man, impressed. "However did you guess?"
"It wasn't a guess," replied the shepherd. "You show up completely uninvited. You ask me to pay you for information I already know, answer questions I haven't asked, and you know nothing about my business. Now, please give me my DOG back!"
😄 😄 😄
A businessman is driving through a small town, on his way to an important presentation, when he realizes he needs a haircut and doesn't have much extra time.
He remembers there's a little barbershop on the corner so he stops, and a short while later he's back on his way.
A week or two passes, and he pulls into the little barbershop again.
"Hello again, Sir," the barber says. "What can I do for you?"
"Oh, I'd like another haircut, but I'm awfully particular. Can I make a few requests this time?"
"Of course," says the barber. "Anything you want. Take a seat."
The businessman sits down.
"So what would you like?" asks the barber.
"Well, for starters, I want you to cut my right sideburn an inch shorter than my left.
For my mustache, I want the sides chopped so it looks a little like Hitler's.
Cut the hair on the nape of my neck at a 5-degree angle instead of straight across. Make sure to give me a slight cowlick.
I want my hair parted on the left, but unevenly.
Cut exactly two little divots out on the back of my head.
When you use the clippers, I want the two sides slightly different lengths.
Blend the sides in, but don't blend in the back.
And when you put the hair gel in, comb the front straight forward and the hair on the top of my head to the rear."
The barber is taken aback by all these odd requests.
"I can't do all that!" he says.
"Why not?" the businessman asks. "That's what you did last time."
😄 😄 😄
Why did the bearded man's shaving product business flop?
Because of the razor-thin margins.
😄 😄 😄
Guess what I found in the creepy old professors' closet?
Narnia business
😄 😄 😄
How was the donuts' hole business?
Not at all jam-packed.
😄 😄 😄
Why did the baker stop making donuts?
He got tired of the HOLE business.
😄 😄 😄
During a business meeting yesterday, a very nice guy asked me about my background.
So I told him about my family, education, career, dreams and goals.
Turns out he was asking what's behind me on our Zoom call.
😄 😄 😄
A businessman tells his friend that his company is looking for a new accountant.
His friend asks, "Didn't your company hire a new accountant a few weeks ago?"
The businessman replies, "That's the accountant we're looking for."
😄 😄 😄
A Doctor was chatting at a party with a Chartered Accountant.
He asked, "How do I manage this delicate issue when people even at a party like this ask me about their joint pains and heartburn and gas trouble? Just because I am a doctor. Not fair!"
The CA friend replied coolly, "Just tell them the right things politely, but send them a bill from your clinic the next morning. Only once. Word will soon get around and it will stop immediately."
"Wow! Thanks for the tip," said the doctor.
The next morning the doctor got a bill from his CA friend: "Consulting charges for Business Development".
😄 😄 😄
After being nearly snowbound for two weeks last winter, a Seattle man departed for his vacation in Miami Beach, where he was to meet his wife the next day at the conclusion of her business trip to Minneapolis. They were looking forward to pleasant weather and a nice time together.
Unfortunately, there was some sort of mix-up at the boarding gate, and the man was told he would have to wait for a later flight. He tried to appeal to a supervisor but was told the airline was not responsible for the problem and that it would do no good to complain.
Upon arrival at the hotel the next day, he discovered that Miami Beach was having a heat wave, and its weather was almost as uncomfortably hot as Seattle's was cold.
The desk clerk gave him a message that his wife would arrive as planned.
He could hardly wait to get to the pool area to cool off, and quickly sent his wife an e-mail, but due to his haste, he made an error in the e-mail address.
His message, therefore, arrived at the home of an elderly preacher's wife whose even older husband had died only the day before.
When the grieving widow opened her e-mail, she took one look at the monitor, let out an anguished scream, and fell to the floor dead.
Her family rushed to her room where they saw this message on the screen:
Dearest wife,
Departed yesterday as you know. Just now got checked in. Some confusion at the gate. Appeal was denied. Received confirmation of your arrival tomorrow.
Your loving husband.
PS. Things are not as we thought. You're going to be surprised at how hot it is down here.
😄 😄 😄
A businessman was confused about a bill he had received, so he asked his secretary for some mathematical help.
"If I were to give you $20,000, minus 14%, how much would you take off?", he asked her.
The secretary replied, "Everything but my earrings."
😄 😄 😄
Bula decides it's time to become a businessman, so after reading many chicken jokes, it seems like a chicken farm would be the best idea.
Said and done. First, buy 100 chickens, after the second month another 100, and keep it for a whole year.
After a year, at the New Year's Eve party, he meets Johnny, who used to say the best chicken jokes before.
Johnny: "Well, how's the business going?"
Bula: "Bad brother, sorry about everything!"
Johnny: "Why?"
Bula: "I don't have any chickens anymore!"
Johnny: "Good god, why?"
Bula: "If I know, I think I'm doing something wrong. Either I plant them too deeply or don't water them enough, but one doesn't raise the hen."
😄 😄 😄
---