Jokes on Batman
Enjoy our team's carefully selected Batman Jokes. Laugh yourself and share the funniest jokes with your friends!
---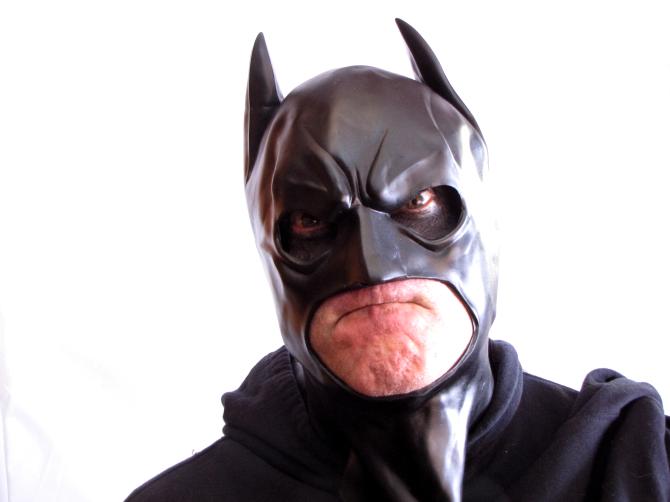 Why don't you hear psychiatrists when they go to the bathroom?
The p is silent.
😄 😄 😄
Where does The Joker get his hair done?
Arkham Hairstylum.
😄 😄 😄
I figured out the ending of Joker.
It's the names of the people who worked on the movie.
😄 😄 😄
If Joker and Harley Quinn have a son.
The name is Joaquin.
😄 😄 😄
The new Joker went to see a doctor for his mental health, but didn't make an appointment.
It was a Joaquin.
😄 😄 😄
When Batman is investigating a crime, the most likely explanation is that the Joker did it.
That's Arkham's Razor.
😄 😄 😄
I heard The Joker just accidentally killed someone.
He was convicted of involuntary man's laughter.
😄 😄 😄
What drink does the Joker hate?
Societea.
😄 😄 😄
Why did The Joker have to sleep with his lights on?
Because he was afraid of the Dark Knight.
😄 😄 😄
Student: "Can I go to the bathroom?"
Teacher: "It's may."
Student: "No, it's January."
😄 😄 😄
What's faster: lightning, light, or diarrhea?
Diarrhea. Because I ran like lightning to the bathroom, turned on the light, but the diarrhea was already there.
😄 😄 😄
I bought a toilet brush since I saw one in pretty much everyone's bathroom.
But after giving it a try for a week I decided to go back to using toilet paper.
😄 😄 😄
A child asks, "Mommy, does God use our bathroom?"
The mother replies, "No, darling. Why do you ask?"
The child says, "Because every morning daddy bangs on the door and shouts, "Oh God, are you still in there?!"
😄 😄 😄
My wife said, "If we ever win the lottery, I want you to buy me something compact, shiny, and can go from 0 to 200 in three seconds."
I figured why wait, so surprised her that night... with a shiny new bathroom scale.
😄 😄 😄
A blind man visits Texas.
When he gets to his hotel room, he feels the bed, "Wow, this bed is big!"
"Everything is bigger in Texas," says the bellhop.
The man heads downstairs to the bar, settles into a huge bar stool and orders a beer.
A mug is placed between his hands, "Wow, these drinks are big!"
The bartender replies, "Everything is big in Texas."
After downing a few drinks, the blind man asks where the bathroom is.
"Second door to the right," says the bartender.
The blind man heads for the bathroom but accidentally enters the third door, which leads to the swimming pool, and he falls in.
Popping his head up from under the water and flailing his arms, he shouts, "Don't flush, don't flush!"
😄 😄 😄
Baby rat and mommy rat were walking down a dirt road when a bat flies by.
Baby rat turns to his mom and says, "Look, ma, an angel."
😄 😄 😄
If bats could talk, what would they say about the coronavirus?
Now you know how it feels to have your world turned upside down!
😄 😄 😄
A group of bats, hanging at the ceiling of a cave, discovers a single bat standing upright underneath on the floor of the cave.
Surprised by this unusual behavior, they ask this fellow, "What the heck are you doing down there?"
And the fellow shouts back, "Yoga!"
😄 😄 😄
A man walks into a bar, then goes to the bathroom. He comes out, goes to the bartender.
He says, "You've got a great place, but my buddy was here last night, and he said you have golden urinals. Where are they?" The bartender turns to the band and yells, "Frank, I've got a lead on the guy who ruined your sax!"
😄 😄 😄
Dracula wanted to know which of his bats was the best. So he organized a little competition. The bat which would drink more blood in less time than others would be the winner.
The first bat went and came back after 10 minutes. Its mouth was full of blood. Dracula was impressed.
He asked, "Nice, how did you do it?"
The bat said, "Do you see that tower? Behind it there is a house. I went inside and drank the blood of all the family."
Dracula said, "Very good."
The second bat went and came back after 5 minutes. He too had blood on all his face.
Dracula was shocked, "How did you do that?"
The bat said, "Do you see that tower? Behind it there is a hotel. I went inside and drank the blood of all the guests."
Dracula said, "Fantastic."
Now the third bat went and came back just after 1 minute. There was blood on all his body.
Dracula couldn't believe his eyes, "How did you do that?"
The bat said, "Do you see that tower?"
Dracula said, "Yes."
And the bat said, "I didn't see it."
😄 😄 😄
Why doesn't Spider-Man like to talk to Bruce Wayne?
Because he has bad breath.
😄 😄 😄
Why America failed to save the world from Coronavirus?
Thor is in Asgard.
Iron Man died.
Captain is now old.
Hulk doesn't have much power.
The rest of the Avengers are suffering from Corona.
And China ate Spider-Man and Batman.
😄 😄 😄
What does for call the moon after a bat flies into it?
A blood moon!
😄 😄 😄
When I was a young boy, my father taught me how to be a bearded man.
He took me into the bathroom, picked up a razor, and ate it.
😄 😄 😄
I am half Spider-Man, half batman and half moon knight...
Poor.
With no powers.
With mental disorders.
😄 😄 😄
Why is Superman stupid?
Because he wears his underwear over his pants.
Why is Batman more stupid?
Because he wears his underwear over his pants and puts on a belt over his underwear.
Why is Robin even more stupid?
Because he followed what batman did.
Why is Wonder Woman stupid?
Because she wears a belt on her head.
Why is Spider-Man the most stupid superhero of them all?
Because he wears his underwear over his head.
😄 😄 😄
Co-worker asked me, "If Batman, who is a regular human but with gadgets, teamed up with Superman, who has supernatural powers, and they fought against Iron Man, another regular human with gadgets, who teamed up with Thor, who has superpowers, who would be the winners?"
Your Parents when you move out.
😄 😄 😄
Batman goes to a party. To his surprise, he sees that the Joker is there too.
"He must be up to something," he thinks. And so he sneaks up behind him, knocks him out, and puts him in a back room.
When walks out, he sees the Joker again.
"How did he recover so quickly?" Once again he knocks him out and puts him in the back room.
Coming out a third time, he sees the Joker yet again.
"How can this be?!" Now furious, Batman confronts him, grabs him by his vest, and shouts, "What are you doing here, Joker?!"
And he replies, "I'm enjoying this Halloween party, dude!"
😄 😄 😄
Why did Batman break up with Catwoman?
He didn't like getting hairballs.
😄 😄 😄
I emailed Netflix and asked if they had Batman Forever.
They said, "No, just until the end of June."
😄 😄 😄
My girlfriend said I'm starting to annoy her because I relate everything to Batman.
What a Joker.
😄 😄 😄
I got a job at a paperless office.
Everything was great until I needed to use the bathroom.
😄 😄 😄
---