Baby Jokes
Enjoy our team's carefully selected Baby Jokes. Laugh yourself and share the funniest jokes with your friends!
---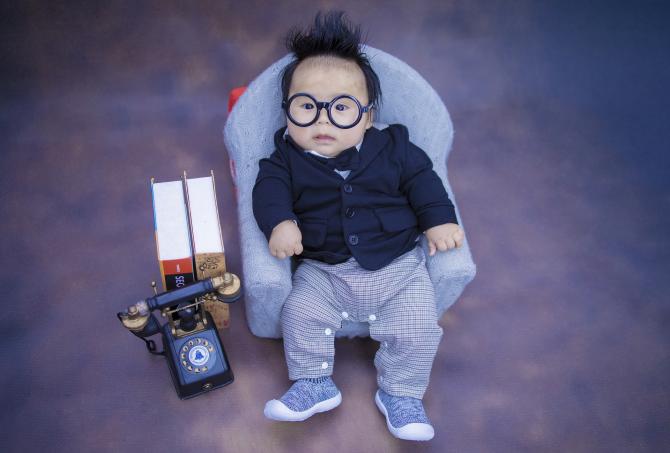 Baby rat and mommy rat were walking down a dirt road when a bat flies by.
Baby rat turns to his mom and says, "Look, ma, an angel."
😄 😄 😄
How do you make a baby computer cry?
Delete his cookies!
😄 😄 😄
When a white person delivers an Asian baby.
White person: "Congratulations, he looks like your husband... mom... cousin... uncle... neighbor..."
😄 😄 😄
Public Service Announcement:
"If you get a new baby bunny for Easter, it is not laying little brown chocolate eggs"
😄 😄 😄
There was a young pregnant woman. Her dream was for her baby to grow up with perfect manners.
She went to the doctor and asked him how she could make her baby nicer, and he told her to sit down for an hour a day and teach her stomach manners, to prep him or her before the baby is even born.
So every day for the next 9 months, the woman would sit quietly and tell her belly, "Be nice to other people, always put others first, and always say please, and thank you."
She never missed a day in 9 months, and the due date came and went, no baby!
The woman continued to wait for her newborn and continued to teach her belly manners and politeness every day, but as days, weeks, months, and years passed, the baby never came!
Finally, 65 years later when the woman finally passed away in her sleep, the doctors performed an autopsy on her body.
They cut open her belly and found 2 little old men with big long white beards, continually saying to each other:
"You go first!"
"No, you go first!"
😄 😄 😄
How would the moon get their baby moon to sleep?
They rocket!
😄 😄 😄
Yo mama so old, her breast milk is powder.
😄 😄 😄
A family was driving in their car through an Arizona desert.
When they ran into a family of skunks.
They stop the car and get out so that they could check on the family of skunks to make sure they were alright.
They found all of the skunks to be ok except for one little baby skunk.
The wife then asked the husband if they could take the baby skunk to the vet to get it the medical attention that it needed.
They come up at the California border checkpoint and the wife starts freaking out, "There's no way they let us take this skunk across the border, what are we gonna do?"
The husband thinks for a second and says, "Hey I got it! Take the baby skunk and put it under your dress."
The wife replies, "Well what about the smell?"
The husband says, "It'll be alright, just hold its nose."
😄 😄 😄
There are three moles at the bottom of their mole hole.
The first mole—daddy mole—wakes up, climbs to the top, sticks his nose out, and says, "Mmmmm... I smell bacon!"
Mommy mole wakes up. She climbs to the top, sticks her nose out, and says, "Mmmmm... I smell pancakes!"
Baby mole wakes up. He climbs up but gets stuck behind his mom and dad.
He takes a big whiff and says, "All I can smell is molasses!"
😄 😄 😄
Before having a kid the most important thing to ask yourself is:
"Am I ready to watch the exact same cartoon on repeat for the next 4 years?"
😄 😄 😄
Three pregnant women are chatting in a cafe.
Heather says, "I got my ultrasound done yesterday. I'm pregnant with triplets!"
"I got mine done yesterday too," says Linda. "I'm pregnant with septuplets!"
"I think I'll get my ultrasound done next week," says Martha.
The three women chat some more.
Finally, Heather says, "I got Disney+ last month. The first movie I watched on it was 'The Three Little Pigs'."
"I got Disney+ last month too," says Linda. "The first movie I watched on it was 'Snow White and the Seven Dwarfs'." When Martha hears this, she instantly goes pale.
"It's okay if you don't have Disney+," says Heather.
"I do have it," says Martha. "It's just that the first movie I watched on it was '101 Dalmatians'."
😄 😄 😄
During a biology exam, a student has to list three pros of breast milk.
He's unprepared, but starts looking for common sense answers and writes down:
– Contains all the nutrients a baby needs.
– Doesn't need heating.
But he still needs one more.
And just as the time is about to run out, the student writes:
– Has great packaging.
😄 😄 😄
I wish love is like a baby shampoo it has "No more tears formula".
😄 😄 😄
Chuck Norris was the fourth wise man, who gave baby Jesus the gift of beard, which he carried with him until he died.
The other three wise men were enraged by the preference that Jesus showed to Chuck's gift and arranged to have him written out of the bible.
All three died soon after of mysterious roundhouse-kick related injuries.
😄 😄 😄
The baby tomato was running late for school. Guess what his mommy said?
"Come on, ketch-up!"
😄 😄 😄
When Chuck Norris was a baby, he farted for the first time, that is when the big bang first happened.
😄 😄 😄
---