Animal Jokes: Funny and Hilarious!
Enjoy our team's carefully selected Animal Jokes. Laugh yourself and share the funniest jokes with your friends!
---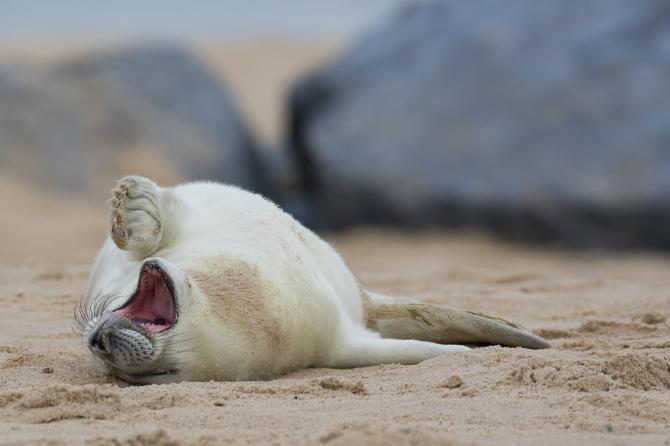 Animal Jokes Funny
---
Two friends are walking their dogs together. One has a big black lab, while the other has a minuscule chihuahua.
They pass a bar and the lab owner says, "Let's get a beer."
The chihuahua walker complains, "That would be great, but we can't take our dogs in there."
The first responds, "Watch me."
The lab owner strolls in with her dog and orders a beer.
The bartender tells her, "Sorry, you can't bring your dog in here."
"He's my seeing-eye dog," the woman replies, feigning offense.
The bartender quickly apologizes and serves her the beer.
The other woman follows, her chihuahua in tow, and orders a beer as well.
Again the bartender says there are no dogs allowed in the bar.
"He's my seeing-eye dog," the woman replies.
"Yeah, right," the bartender says, "A chihuahua? Give me a break."
Without missing a beat, the woman replies, "They gave me a chihuahua?!"
😄 😄 😄
A T-Rex told his girlfriend, "I love you this much," as he stretched out his arms.
To which the girlfriend replied, "That's not very much at all!"
😄 😄 😄
Joe Palmer, the late racing expert, told about a man from Idaho who breezed into Kentucky with a six-year-old horse that had never raced before, but which he entered for a race.
The horse won easily and paid a whopping price.
The racing stewards did not like the look of the thing and questioned the owner.
"Is this horse unsound?" they asked.
"Not a bit," said the owner.
"In that case," asked the stewards, "why have you never raced him before?" "Mister," said the man from Idaho, "we couldn't even catch the critter until he was five years old."
😄 😄 😄
A champion jockey is about to enter an important race on a new horse.
The horse's trainer meets him before the race and says, "All you have to remember with this horse is that every time you approach a jump, you have to shout, "ALLLLEEE OOOP!" really loudly in the horse's ear. Providing you do that, you'll be fine."
The jockey thinks the trainer is mad but promises to shout the command.
The race begins and they approach the first hurdle.
The jockey ignores the trainer's ridiculous advice and the horse crashes straight through the center of the jump.
They carry on and approach the second hurdle.
The jockey, somewhat embarrassed, whispers "Aleeee ooop" in the horse's ear.
The same thing happens: the horse crashes straight through the center of the jump.
At the third hurdle, the jockey thinks, "It's no good, I'll have to do it." And yells, "ALLLEEE OOOP!" really loudly.
Sure enough, the horse sails over the jump with no problems.
This continues for the rest of the race, but due to the earlier problems the horse only finishes third.
The trainer is fuming and asks the jockey what went wrong.
The jockey replies, "Nothing is wrong with me. It's this bloody horse. What is he—deaf or something?"
The trainer replies, "Deaf?? DEAF?? He's not deaf—he's blind!!!"
😄 😄 😄
A jockey is walking down the road leading a racehorse when he bumps into a friend.
"What are you planning to do with that nag?" the man asks.
"Race it," replies the jockey, surprised.
"Well, by the look of it," the man says, "you'll win!"
😄 😄 😄
A woman came home to find her retired husband waving a rolled-up newspaper around his head.
Wife: "What are you doing dear?"
Husband: "Swatting flies. I got three males and two females"
Wife: "How on Earth do you know which gender they were?"
Husband: "Easy: three were on the beer, and the other two were on the phone."
😄 😄 😄
A seaman meets a pirate in a bar, and talk turns to their adventures on the sea.
The seaman notes that the pirate has a peg leg, a hook, and an eye patch.
The seaman asks, "So, how did you end up with the pegleg?"
The pirate replies, "We were in a storm at sea, and I was swept overboard into a school of sharks. Just as my men were pulling me out, a shark bit my leg off."
"Wow!" said the seaman.
"What about your hook?"
"Well," replied the pirate, "we were boarding an enemy ship and were battling the other sailors with swords. One of the enemies cut my hand off."
"Incredible!" remarked the seaman.
"How did you get the eye patch?"
"A seagull dropping fell into my eye," replied the pirate.
"You lost your eye to a seagull dropping?" the sailor asked incredulously.
"Well," said the pirate, "it was my first day with my hook..."
😄 😄 😄
Three women escape from prison—a blonde and two brunettes—and to get away from the cops they hide in an abandoned farmhouse.
Inside the house, there are three sacks that the escapees crawl into when the police search the building.
One of the cops sees the sacks and yells, "There are just three burlap sacks in here!"
To which his partner replies, "Then kick them just to be sure it's not them hiding".
The officer goes and kicks one with a brunette in it and she yells, "MEEEYYOWW!"
The officer says, "Oh, it's just a stupid cat in there."
So he kicks the one with the other brunette in it and she yells, "RUUFFF RUFFF!"
The officer says, "Oh, it's just a stupid dog!"
Then he kicks the sack with the blonde in it and she yells, "POTATOES!"
😄 😄 😄
Roland, an Englishman went to Spain on a fishing trip.
While there, Roland hired a Spanish guide to help him find the best fishing spots. Since Roland was learning Spanish, he asked the guide to speak to him in Spanish and to correct any mistakes of usage.
Together they were hiking on a mountain trail when a very large, purple and blue fly crossed their path.
The Englishmen pointed at the insect with his fishing rod, and announced, "Mira el mosca."
The guide, sensing a teaching opportunity to teach Roland, replied, "No, senor, "la mosca", es feminina."
Roland looked at him in amazement, then back at the fly, and then said, "Good heavens... you must have incredibly good eyesight."
😄 😄 😄
Two dragons walk into a bar.
The first one says, "It sure is hot in here."
His friend snaps back, "Shut your mouth!"
😄 😄 😄
Animal Jokes for Adults
---
A woman was leaving a Cafetaria with her morning coffee when she noticed a most unusual funeral procession approaching the nearby cemetery.
A long black hearse followed by a second long black hearse about 50 feet behind.
Behind the second hearse was a solitary woman walking a pit bull on a leash.
Behind her were 200 women walking single file.
The woman couldn't stand the curiosity.
She respectfully approached the woman walking the dog and said, "I am so sorry for your loss, and I know now is a bad time to disturb you, but I've never seen a funeral like this. Whose funeral is it?"
The woman replied, "Well, that first hearse is for my husband."
"What happened to him?"
The woman replied, "My dog attacked him to death."
She inquired further, "Well, who is in the second hearse?"
The woman answered, "My mother-in-law. She was trying to help my husband when the dog turned on her."
A poignant and thoughtful moment of silence passed between the two women.
"Can I borrow the dog?"
"Get in line!"
😄 😄 😄
Ever had to force your dog into taking its medication?
It's the worst, right? You try to cover it with peanut butter, even then they know you're up to something.
So it gets kinda physical, have to get in there with both hands and hold them open and push it in with your finger, hoping they don't bite you. Turns into a wrestling match, sometimes.
But as it turns out, the trick was we were just using the wrong peanut butter. Ever since we switched to creamy, those suppositories just pop right in.
😄 😄 😄
After 10 years of impeccable policing, Roderick was still only a captain. So Rod went to the prefect and asked for a promotion.
Only the prefect couldn't stand Rod, so he told him, "You will be promoted when you complete an assignment of the highest importance. You must travel to India and bring back... erm... a pair of crocodile shoes!"
Roderick salutes and leaves.
Two years later, a search and rescue team is sent to India, to recover his remains.
After weeks of hacking through the jungle, they finally find him.
With a huge, thick beard and wearing rags, Rod sits on the riverbank holding a huge cudgel in his hands. Behind him is a gigantic pile of dead crocodiles.
A crocodile swims by; Rod whacks it on the head with the cudgel, drags it out of the water, examines its feet, and throws him on the pile with a curse, "Damn, another one without shoes!!"
😄 😄 😄
Do you have solar panels on your home yet? I just had some put on. But I'm not sure if I'll keep them.
The other day I was in my house and the computer and lights are flickering. So I did, what you would do, I went outside to check my new solar cells.
I get outside and look up at the roof, and there is a Gorilla messing with my solar panels.
I grabbed my phone and searched for what to do.
What luck! An ad for "Gorilla removal".
I called the number and they said they were in the neighborhood and would be there in 5 minutes.
5 minutes later a white van showed up and as I approached the van this guy came around and opened the back van door. He pulled out a ladder, boxing gloves, a shotgun, and out jumped a little dog.
At this point, I asked the guy, "Hey what's the plan?"
He said, "Well, I'm going to put the ladder against the house, climb up on the roof, put on the boxing gloves, and box the gorilla off the roof. The little dog will bite him in the nuts and you'll never see that Gorilla again."
To which I asked, "What's the shotgun for?"
"Well, if by chance the Gorilla knocks me off the roof, shoot the dog."
😄 😄 😄
A woman goes to her boyfriend's parents' house for dinner. This is her first time meeting the family and she is very nervous. They all sit down and begin eating a fine meal.
The woman is beginning to feel a little discomfort, thanks to her nervousness and the broccoli casserole. The gas pains are almost making her eyes water.
Left with no other choice, she decides to relieve herself a bit and lets out a dainty little fart. It wasn't loud, but everyone at the table heard the poot. Before she even had a chance to be embarrassed, her boyfriend's father looked over at the dog that had been snoozing at the women's feet, and said in a rather stern voice, "Ginger!"
The woman thought, "This is great!" and a big smile came across her face.
A couple of minutes later, she was beginning to feel the pain again. This time, she didn't hesitate. She let a much louder and longer fart rip.
The father again looked at the dog and yelled, "Dammit, Ginger!"
Once again the woman smiled and thought, "Yes!"
A few minutes later the woman had to let another one rip. This time she didn't even think about it. She let rip a fart that rivaled a train whistle blowing.
Again, the father looked at the dog with disgust and yelled, "Dammit, Ginger, get away from her before she shits on you!"
😄 😄 😄
A family was driving in their car through an Arizona desert.
When they ran into a family of skunks.
They stop the car and get out so that they could check on the family of skunks to make sure they were alright.
They found all of the skunks to be ok except for one little baby skunk.
The wife then asked the husband if they could take the baby skunk to the vet to get it the medical attention that it needed.
They come up at the California border checkpoint and the wife starts freaking out, "There's no way they let us take this skunk across the border, what are we gonna do?"
The husband thinks for a second and says, "Hey I got it! Take the baby skunk and put it under your dress."
The wife replies, "Well what about the smell?"
The husband says, "It'll be alright, just hold its nose."
😄 😄 😄
Two 90-year-old women, Rose and Barb, had been friends all of their lives.
When it was clear that Rose was dying, Barb visited her every day.
One day Barb said, "Rose, we both loved barrel racing all our lives, and we rode until we could hardly walk. Please do me one favor... When you get to Heaven, somehow you must let me know if there's barrel racing there."
Rose looked up at Barb from her deathbed, "Barb, you've been my best friend for many years. If it's at all possible, I'll do this favor for you."
Shortly after that, Rose passed on.
At midnight a couple of nights later, Barb was awakened from a sound sleep by a blinding flash of white light and a voice calling out to her, "Barb, Barb."
"Who is it?" asked Barb, sitting up suddenly. "Who is it?"
"Barb, it's me, Rose."
"You're not Rose. Rose just died."
"I'm telling you, it's me, Rose," insisted the voice.
"Rose! Where are you?"
"In Heaven," replied Rose. "I have some really good news and a little bad news."
"Tell me the good news first," said Barb.
"The good news," Rose said, "is that there's barrel racing in Heaven. Better yet, all of our horses who died before us are here, too. Better than that, we're all young again. Better still, it's always summer, and it never rains or snows. And best of all, we can ride all we want, and our horses never get tired."
"That's fantastic," said Barb. "It's beyond my wildest dreams! So what's the bad news?"
"You're up here in the slack on Friday."
😄 😄 😄
A Preacher wanted to raise money for his church and, being told there were fortunes in racehorses, he decided to purchase one and enter it in the races.
However, at the local auction, the going price for horses was so steep he ended up buying a donkey instead.
He figured that since he had it, he might as well go ahead and enter it in the races, and to his surprise, the donkey came in third.
The next day the racing sheets carried the headlines "Preacher's Ass shows".
The Preacher was so pleased with the donkey that he entered it in the races again and this time he won!
The papers said "Preacher's Ass out in Front". The Bishop was so upset with this kind of publicity that he ordered the Preacher not to enter the donkey in another race.
The newspaper printed this headline "Bishop Scratches Preacher's Ass". This was just too much for the Bishop and he ordered the Preacher to get rid of the animal.
The Preacher decided to give it to a Nun in a nearby convent.
The headlines the next day read "Nun has the Best Ass in Town". The Bishop fainted.
He informed the Nun that she would have to dispose of the donkey and she finally found a farmer who was willing to buy it for $10.00.
The paper states "Nun Peddles Ass for Ten Bucks". They buried the Bishop the next day.
😄 😄 😄
The trainer was giving last-minute instructions to the jockey and appeared to slip something into the horse's mouth just as a steward walked by.
"What was that?" inquired the steward.
"Oh nothing," said the trainer, "just a polo".
He offered one to the steward and had one himself.
After the suspicious steward had left the scene the trainer continued with his instructions, "Just keep on the rail. You are on a certainty. The only thing that could possibly pass you down the home straight is either the steward or me."
😄 😄 😄
A wealthy racehorse owner gets very attached to his champion horse.
It has a very successful racing career and is then retired to stud duties, where it is again very successful. Earning a fortune in stud duties.
Sadly one day the champion dies and the owner decides to give it a proper burial.
He approaches the local Anglican minister who tells him that he is only interested in saving human souls.
He then approaches the Catholic priest who tells him the same thing.
As a last resort, he asks a Rabbi who gives him the same sermon. As he is about to leave he says that he was going to donate $100,000 to the Synagogue.
"Hold on", says the Rabbi, "you never told me it was a Jewish horse."
😄 😄 😄
A rabbit walks into a pharmacy and asks, "Do you sell carrots?"
The pharmacist, surprised, responds, "No, this is a pharmacy."
The rabbit leaves only to return the next day and ask the same question.
This time, the man responds, "As I said before, no. Go to a grocery store."
Again, the rabbit leaves and returns the following day with the same question.
Annoyed, the pharmacist says, "Look, rabbit, for the last time, we do not sell carrots. If you ask this once more, I swear I will punch you in the face."
On the next day, the rabbit returns and asks, "Do you sell carrots?"
Furious, the pharmacist punches the rabbit so hard that its teeth get completely shattered.
The rabbit leaves... and comes back the next day,
"Do ya seh cahot juys?"
😄 😄 😄
One day little Johnny was digging a hole in his backyard.
The next-door neighbor spotted him and decided to investigate.
"Hello Johnny, what are you up to?" he asked.
"My goldfish died and I'm gonna bury him," Johnny replied.
"That's a really big hole for a goldfish, isn't it?" asked the neighbor.
"That's because he's inside your cat!"
😄 😄 😄
A farmer plays a prank on Easter Sunday.
After the egg hunt, he sneaks into the chicken coop and replaces every white egg with a brightly colored one.
Minutes later, the rooster walks in.
He spots the colored eggs, then storms out and beats up the peacock.
😄 😄 😄
Three guys are in the woods: a really smart guy, an average and a really dumb guy.
They are bored so the smart guy decides to go hunting.
A little while later he comes back with a deer.
The average guy asks, "How did you do that?"
The really smart guy says, "I see deer tracks, I follow deer tracks, I see deer and I shoot deer."
The average guy says, "I think I understand," and leaves.
A little bit later he comes back with a raccoon.
He really dumb goes gasp, "How did you do that!?"
And the average looks at him funny and says, "Well I see raccoon tracks, I follow raccoon tracks, I see raccoon and I shoot raccoon.
The super dumb guy thinks for a second and says, "Oooohh ok, I think I can do that…," and leaves.
Hours pass and the guy finally returns hurt, bloody and horribly mingled. They run to help him.
Finally one of the guys asked him what happened.
This is what he said, "I see train tracks, I follow train tracks, I see train and I shoot train, but train keeps coming.
😄 😄 😄
Yesterday I saw a guy spill all his Scrabble letters on the road.
I asked him, "What's the word on the street?"
"Once my dog ate all the Scrabble tiles. For days he kept leaving little messages around the house."
😄 😄 😄
A man hunts a deer and takes it home to cook for dinner.
Both he and his wife decide that they'll play a game with the kids. They'll give them a clue and get them to guess what it is.
At mealtime, the kids are eager to know what the meat is on their plates, so they beg their dad for the clue.
"Well," he says, "it's what mommy calls me sometimes".
The little girl screams, "Don't eat it! It's an asshole!"
😄 😄 😄
Wild Animal Jokes
---
Dracula wanted to know which of his bats was the best. So he organized a little competition. The bat which would drink more blood in less time than others would be the winner.
The first bat went and came back after 10 minutes. Its mouth was full of blood. Dracula was impressed.
He asked, "Nice, how did you do it?"
The bat said, "Do you see that tower? Behind it there is a house. I went inside and drank the blood of all the family."
Dracula said, "Very good."
The second bat went and came back after 5 minutes. He too had blood on all his face.
Dracula was shocked, "How did you do that?"
The bat said, "Do you see that tower? Behind it there is a hotel. I went inside and drank the blood of all the guests."
Dracula said, "Fantastic."
Now the third bat went and came back just after 1 minute. There was blood on all his body.
Dracula couldn't believe his eyes, "How did you do that?"
The bat said, "Do you see that tower?"
Dracula said, "Yes."
And the bat said, "I didn't see it."
😄 😄 😄
Two falcons are watching an air show where fighter pilots are racing their jets against one another.
One falcon turns to the other and says, "Man, I thought we were fast, but those guys are insane."
The second falcon turns back and says, "You'd also fly that fast if your ass was on fire."
😄 😄 😄
Two men went bear hunting.
While one stayed in the cabin, the other went out looking for a bear.
He soon found a huge bear, shot at it but only wounded it.
The enraged bear charged toward him, he dropped his rifle and started running for the cabin as fast as he could.
He ran pretty fast but the bear was just a little faster and gained on him with every step.
Just as he reached the open cabin door, he tripped and fell flat.
Too close behind to stop, the bear tripped over him and went rolling into the cabin.
The man jumped up, closed the cabin door and yelled to his friend inside, "You skin this one while I go and get another one!"
😄 😄 😄
Two campers are walking through the woods when a huge brown bear suddenly appears in the clearing about 50 feet in front of them.
The bear sees the campers and begins to head toward them.
The first guy drops his backpack, digs out a pair of sneakers, and frantically begins to put them on.
The second guy says, "What are you doing? Sneakers won't help you outrun that bear."
"I don't need to outrun the bear," the first guy says. "I just need to outrun you."
😄 😄 😄
Farm Animal Jokes and Puns
---
A shepherd was tending his flock in a remote pasture when suddenly a dust cloud approached at high speed, out of which emerged a shiny silver BMW.
The driver—a young man in an Armani suit, Ferragamo shoes, Cartier sunglasses, and a tightly knotted power tie—poked his head out the window and asked the shepherd, "Hey! If I can tell you how many sheep you have in your flock, will you give me one?"
The shepherd looked at the man, then glanced at his peacefully grazing flock and answered, "Sure."
The driver parked his car, plugged his phone into a laptop and briskly surfed to a GPS satellite navigation system on the Internet and initiated a remote body-heat scan of the area.
While the computer was occupied, he sent some e-mails via his phone and, after a few minutes, nodded solemnly at the responses.
Finally, he printed a 150-page report on the little laser printer in his glove compartment, turned to the shepherd, waving the sheaves of paper, and pronounced, "You have exactly 1,586 sheep."
"Impressive. One of my sheep is yours," said the shepherd.
He watched the young man make his pick and bundle it into his car.
Then the shepherd said, "If I can tell you exactly what your business is, will you give me back my sheep?"
Pleased to meet a fellow sportsman, the young man replied, "You're on."
"You are an auditor," said the shepherd without hesitation.
"That's correct," said the young man, impressed. "However did you guess?"
"It wasn't a guess," replied the shepherd. "You show up completely uninvited. You ask me to pay you for information I already know, answer questions I haven't asked, and you know nothing about my business. Now, please give me my DOG back!"
😄 😄 😄
It's so hot that farmers are feeding ice to the chickens so they won't lay boiled eggs.
😄 😄 😄
A blonde buys two horses and she can't tell them apart.
So she asks the farmer next door what to do. He says to cut one of their tails off.
So she does. But then the other horse's tail gets caught in a bush and rips off.
So she can't tell them apart again.
She asks the farmer for advice a second time. He tells her to cut one of the horses' ears.
So she does. But then the other horse gets its ear ripped in a barbed wire fence. She is still confused.
She asks the farmer what to do. He tells her to measure them.
She comes back and says, "The white horse is 2 inches taller than the black horse!"
😄 😄 😄
A horse walks into a bar.
The bartender says, "Hey."
The horse said, "Nah, just beer, please. I just ate."
😄 😄 😄
A horse walks into a bar.
The bartender asked him, "Why the long face?"
😄 😄 😄
"Dad, I don't want to go to school today," said the boy.
"Why not, son?"
"Well, one of the chickens on the school farm died last week and we had chicken soup for lunch the next day. Then three days ago one of the pigs died and we had roast pork the next day."
"But why don't you want to go today?"
"Because our English teacher died yesterday!"
😄 😄 😄
If cows laughed, milk would come out of their noses.
I guess that's why they moo.
😄 😄 😄
Bula decides it's time to become a businessman, so after reading many chicken jokes, it seems like a chicken farm would be the best idea.
Said and done. First, buy 100 chickens, after the second month another 100, and keep it for a whole year.
After a year, at the New Year's Eve party, he meets Johnny, who used to say the best chicken jokes before.
Johnny: "Well, how's the business going?"
Bula: "Bad brother, sorry about everything!"
Johnny: "Why?"
Bula: "I don't have any chickens anymore!"
Johnny: "Good god, why?"
Bula: "If I know, I think I'm doing something wrong. Either I plant them too deeply or don't water them enough, but one doesn't raise the hen."
😄 😄 😄
A chicken and an egg walk into a bar.
The barman says, "Who's first?"
😄 😄 😄
Psychiatrist: "What seems to be the problem?"
Patient: "I think I'm a chicken."
Psychiatrist: "How long has this been going on?"
Patient: "Ever since I came out of my shell."
😄 😄 😄
A blonde and a redhead have a ranch. They have just lost their bull.
The women need to, buy another, but only have $500.
The redhead tells the blonde, "I will go to the market and see if I can find one for under that amount. If I can, I will send you a telegram."
She goes to the market and finds one for $499.
Having only one dollar left, she goes to the telegraph office and finds out that it costs one dollar per word. She is stumped on how to tell the blonde to bring the truck and trailer.
Finally, she tells the telegraph operator to send the word "comfortable".
Skeptical, the operator asks, "How will she know to come with the trailer from just that word?"
The redhead replies, "She's a blonde so she reads slow: 'Come for ta bull'."
😄 😄 😄
Zoo Animal Jokes
---
A man enters a pet shop and wants to buy a polar bear.
The shop assistant takes the man to the bear's cage and says, "The polar bear is absolutely tamed, but whatever you do, don't touch his nose."
The man goes home with his new pet and everything is OK.
Until the man can't no longer withstand, "I have to try what happens when I touch his nose!"
So he touches the nose and the polar bear leaps towards him and chases the man throughout the house.
Finally, the man runs out of breath and the polar bear catches him.
With his paw, the bear taps the man's shoulder and says, "You are it!"
😄 😄 😄
An anteater walks into a bar.
"Having a nice day?" asks the barman.
"Noooooooo, noooooo, noooooo!" says the anteater.
"Why the long nos?" asks the barman.
"It's always been like this," says the anteater.
😄 😄 😄
A small boy tells his mum that his dad's taken him on an outing to the zoo. His mum doesn't believe him.
"Your dad has never taken anyone to the zoo in his whole life," she says.
"Well he did," the boy replies, "and one of the animals paid us £50."
😄 😄 😄
A policeman stops a man in a car with a lynx in the passenger seat.
"What are you doing with a lynx? You should take him to the zoo!" The policeman says.
The next week he stops the same car to see that the man still has the lynx, "I thought you were going to take the cat to the zoo." He says.
"I did! We had such a good time we are going to the beach this weekend!"
😄 😄 😄
An old lady walked into a pet store, found a parrot, and asked the owner if she could buy it.
The owner said, "Heck no! That parrot has a bad mouth! Trust me, you do not want that parrot!"
She said, "I can teach it good manners."
But, when she got home the parrot said a bad word, so she put it in the freezer for 10 seconds.
She took it out and said, "Did you learn your lesson?"
It said another bad word so she put it back in for 30 seconds.
She took it out and asked if it learned its lesson yet.
The parrot said "Brr... Yes, I learned my lesson, but what did the chicken do?"
😄 😄 😄
After a prolonged drought when the rain came, all the animals in the forest were happy except the Kangaroo.
When the others asked him what the reason was for such sadness, the Kangaroo revealed that the rain meant that all its kids would now be playing inside.
😄 😄 😄
Student: "503 bricks are on a plane. 1 falls off. How many are left?"
Teacher: "502."
Student: "How do you put an elephant in a fridge?"
Teacher: "No you can't fit an elephant in a fridge!"
Student: "Just open the door, put the elephant in, close the door."
Student: "How do you put a giraffe in the fridge?"
Teacher: "Open the door, put the giraffe in, close the door."
Student: "No! Open the door, take the elephant out, put the giraffe in, close the door."
Student: "The Lion King is having a B-day party. All the animals are there, except one. Which one?"
Teacher: "The lion?"
Student: "No! The giraffe because he's in a fridge."
Student: "Sally has to get across a large river home to many alligators. They are very dangerous, but Sally swims across safely. How?"
Teacher: "Sally stepped on the alligator's mouth?"
Student: "The gators are at the party."
Student: "But Sally dies anyway. Why?"
Teacher: "She drowned?!"
Student: "No! She got hit in the head by a flying brick."
😄 😄 😄
Zoo Animal Puns Short
---
What's the best thing about being an anteater?
You're born with a built-in straw!
😄 😄 😄
What's black and white and green in the middle?
Two zebras, fighting over a pickle.
😄 😄 😄
What do you get when you cross a giraffe with a hedgehog?
A six-foot toothbrush.
😄 😄 😄
Why do anteaters never get colds?
Because their noses are full of anty-bodies!
😄 😄 😄
Why do gorillas have big nostrils?
Because they have big fingers!
😄 😄 😄
Funny Animal Jokes One-Liners
---
The bad news: I took the wrong medication today.
The good news: For the next 3 months I'm protected against heartworms and fleas.
😄 😄 😄
It's so hot that the clams were already steamed when I dug them up.
😄 😄 😄
It's so hot I saw a squirrel picking up nuts with pot holders.
😄 😄 😄
It's so hot the birds are using oven mitts to pull worms out of the ground.
😄 😄 😄
My poor dog doesn't have a big nose.
That makes him smell terrible.
😄 😄 😄
Many years ago Chuck Norris and a brown bear had a fight.
The loser had to go live in the North Pole.
😄 😄 😄
Usually, when kids go to sleep they sleep with a teddy bear.
Chuck Norris sleeps with an actual bear.
😄 😄 😄
President Roosevelt once rode his horse 100 miles.
Chuck Norris carried his the same distance in half the time.
😄 😄 😄
The best way to keep a skunk from smelling is to hold its nose.
😄 😄 😄
My wife told me to stop impersonating a flamingo.
I had to put my foot down.
😄 😄 😄
Yo mama's appetite is so huge even after eating an elephant for breakfast she demanded a whale as dessert.
😄 😄 😄
It's a good thing snakes and dogs don't interbreed.
Nobody wants a loyal snake.
😄 😄 😄
TOP 10 Funniest Animal Puns List
---
Why do birds fly south for the fall?
Because it's quicker than walking.
😄 😄 😄
Which side of a racehorse has more hair?
The outside.
😄 😄 😄
What do you call a gigantic polar bear?
Nothing, you just run away!
😄 😄 😄
What do you get when you cross a dog and a calculator?
A friend you can count on.
😄 😄 😄
What did one flea say to the other?
"Shall we walk or take the cat?"
😄 😄 😄
If Martians live on Mars and Venusians live on Venus, who lives on Pluto?
Fleas.
😄 😄 😄
What do you call a bear with no teeth?
Gummybear.
😄 😄 😄
What do you call a pig that does karate?
A pork chop.
😄 😄 😄
Who is never hungry at Christmas?
The turkey—he's always stuffed.
😄 😄 😄
Can a dog jump higher than a house?
Well, duh. Houses can't jump.
😄 😄 😄
Animal Puns Funny
---
As the animals left the ark, Noah told them to go forth and multiply.
After some time, Noah came upon two snakes who were just lying there sunning themselves...
So Noah asked them, "Why aren't you multiplying?"
The snakes replied, "We can't, we're adders."
😄 😄 😄
How can you tell a police horse from a normal horse?
The police horse goes "Neigh-naw-neigh-naw-neigh-naw".
😄 😄 😄
Why don't fish like playing basketball?
They are terrified of nets.
​
😄 😄 😄
How do you make a small fortune out of horses?
Start with a large fortune.
😄 😄 😄
What do you call a woman with a frog on her head?
Lilly.
😄 😄 😄
What do you call a man who has cat scratches all over his face?
Claude.
😄 😄 😄
Wanna know a way for werewolves to howl other than the full moon?
Make them stub their toe.
😄 😄 😄
Why are hockey players like goldfish?
You could tap on the glass and you'd get their attention.
😄 😄 😄
Why did the cat like eating lemons?
Because he was a sourpuss.
😄 😄 😄
What does a cat have that no other animal has?
Kittens.
😄 😄 😄
Why don't dogs make good dancers?
Because they have two left feet.
😄 😄 😄
Short Bad Animal Puns, Jokes and One-Liners
---
What's the difference between men and pigs?
Pigs don't turn into men when they drink.
😄 😄 😄
It is so hot the trees are whistling for the dogs.
😄 😄 😄
It's so hot that I saw a fire hydrant chasing a dog.
😄 😄 😄
It's so hot fire ants are really on fire.
😄 😄 😄
Public Service Announcement:
"If you get a new baby bunny for Easter, it is not laying little brown chocolate eggs"
😄 😄 😄
Yo mama so hairy she found herself in a cage at the zoo.
😄 😄 😄
Yo mama so old her first pet was from Jurassic Park.
😄 😄 😄
Everyone knows about Rudolph the Red Nose Reindeer.
But few know about Harold the Brown Nose Reindeer.
He was as strong as the rest, and could fly as high... he just couldn't stop as fast.
😄 😄 😄
There are three moles at the bottom of their mole hole.
The first mole—daddy mole—wakes up, climbs to the top, sticks his nose out, and says, "Mmmmm... I smell bacon!"
Mommy mole wakes up. She climbs to the top, sticks her nose out, and says, "Mmmmm... I smell pancakes!"
Baby mole wakes up. He climbs up but gets stuck behind his mom and dad.
He takes a big whiff and says, "All I can smell is molasses!"
😄 😄 😄
How did Garfield stop the rooster from waking him on Monday morning?
He ate him on Sunday night!
😄 😄 😄
A man was sitting on a park bench eating a hot dog.
A woman with a small dog walked up to sit on another bench across from the man. Almost immediately, the little dog began barking incessantly at the man while he ate.
The man asked, "Would you mind if I throw him a bit?"
"Not at all," the woman replied.
The man picked the dog up and tossed him over a wall.
😄 😄 😄
Two immigrants have just arrived in the United States and one says to the other, "I hear that the people of this country actually eat dogs."
"Odd," her companion replies, "but if we shall live in America, we might as well do as the Americans do."
Nodding emphatically, one of the immigrants points to a hot dog vendor and they both walk toward the cart.
"Two dogs, please," she says.
The vendor is only too pleased to oblige, wraps both hot dogs in foil and hands them over the counter.
Excited, the companions hurry to a bench and begin to unwrap their "dogs".
One of them opens the foil and begins to blush.
Staring at it for a moment, she turns to her friend and whispers cautiously, "What part did you get?"
😄 😄 😄
The worst part about being a giraffe...
Is having a lot of time to think about your mistakes when you're sinking into quicksand.
😄 😄 😄
You're riding a horse full speed, there's a giraffe beside you, and you're being chased by a lion. What do you do?
Get your drunk ass off the carousel!
😄 😄 😄
Chuck Norris invented the Giraffe when he roundhouse kicked a spotted Horse in the chin.
😄 😄 😄
Chuck Norris eats gummy bears and poops out grizzly bears.
😄 😄 😄
Chuck Norris is so powerful that when he goes fishing, the fish are so scared they drown.
😄 😄 😄
What's the worst thing about having a big nose?
Birds are always perching on it!
😄 😄 😄
Your nose is so big that when you lie on your back in the pool, people think it's a shark!
😄 😄 😄
Yo mama so old she rode dinosaurs to school.
😄 😄 😄
Yo Mama's so disgusting she keeps maggots as pets.
😄 😄 😄
What is a Jews' biggest dilemma?
Free Pork.
😄 😄 😄
What's the difference between an orchestra and a bull?
On the bull the horns are in the front and the asshole is in the back.
😄 😄 😄
Yo mama so stupid she tried to save a fish from drowning.
😄 😄 😄
Why didn't the chicken cross the road?
Because there was a KFC on the other side.
😄 😄 😄
Why are cats better than babies?
Because you only have to change a litter box once a day.
😄 😄 😄
Clean Animal Puns, One-Liners and Jokes for Office Colleagues
---
It's so hot the cows are producing evaporated milk.
😄 😄 😄
Did you hear what happened at the racetrack yesterday?
One horse was so slow, they had to pay the jockey overtime.
😄 😄 😄
A cowboy went to a chiropractor complaining of back trouble.
The Doc looked him over and could see he'd suffered some rough life.
"Have you been in any accidents lately?" he asked.
The cowboy thought about it for a moment, "No, no real accidents, I guess. Well, I been kicked by a mule last week, yesterday I got throwed by my mustang and last month a got bit by a snake."
"You don't call those accidents?" said the doctor with incredulity.
"Nah. Pretty sure they meant to do it on purpose."
😄 😄 😄
A woman asks a waiter, "What is this fly doing in my Ice cream?!"
The waiter says, "Shivering, madam."
😄 😄 😄
A racehorse owner takes his horse to the vet.
"Will I be able to race this horse again?" he asks.
The vet replies: "Of course you will, and you'll probably win!"
😄 😄 😄
Why did the owner name his racehorse "Bad News"?
Because bad news travels fast.
😄 😄 😄
A woman called an airline customer-service desk asking if it was possible to fly with her dog on board.
"Sure," the airline agent said, "as long as you provide your own kennel."
She continued to explain that the kennel needed to be large enough for the dog to stand up, sit down, turn around, and roll over.
The customer was perplexed.
"I'll never be able to teach him all of that by tomorrow!"
😄 😄 😄
A man in a French restaurant asks the waiter, "Do you have frog legs?"
The waiter looks offended, "No, I've always walked like that!"
😄 😄 😄
A man feels terrible after running over a cat, he walks up to an old lady's door.
She answers and he says, "I'm so sorry, I ran over your cat. I'd like to replace it."
The old woman says, "Okay, how good are you at catching mice?"
😄 😄 😄
When is it bad luck to be followed by a black cat?
When you're a mouse.
😄 😄 😄
One-Word Animal Puns
---
A newborn pony walks into a pharmacy.
He asks the pharmacist, "Do you have any Cepacol lozenges? I'm a little hoarse."
😄 😄 😄
Guess what horses, donkeys, cows, goats, and sheep all have in common?
They're all very stable animals.
😄 😄 😄
Two monkeys are sharing an Amazon account, guess what are they called?
Prime mates.
😄 😄 😄
Scientists experimented on a rabbit and a bug, guess what they get?
A bugs bunny.
😄 😄 😄
What kind of bread does a racehorse eat?
Thoroughbred.
😄 😄 😄
What sort of racehorses come out after dark?
Night-mares.
😄 😄 😄
Which type of cheese do racehorses like best?
Masc-a-pony.
😄 😄 😄
Why did a dog enter the church in the middle of a religious mass?
Because he was a German shepherd.
😄 😄 😄
A skunk fell into the river and stank to the bottom.
😄 😄 😄
Why do seagulls fly over the sea?
Because if they flew over the bay they would be bagels.
😄 😄 😄
What do you call a sleeping bull?
A bulldozer.
😄 😄 😄
Why are spiders so smart?
They can find everything on the web.
😄 😄 😄
What insect comes from the moon?
A Luna Tick!
😄 😄 😄
I can't take my dog to the park because the ducks keep trying to bite him.
I guess that's what I get for buying a pure-bread dog.
😄 😄 😄
Animal Jokes Clean
---
A boss was waiting in his office one day when he noticed that all of his workers were missing.
He waits a few more minutes before the first worker comes in.
"Why were you late?" asked the boss.
Sounding exhausted, the worker says, "Sorry boss, but my car broke down on the way to work so I tried the bus, but the bus broke down so I hailed a cab, but the cab broke down, but fortunately I was near a stable, but the horse ran so fast it had a heart attack and I had to jog the rest of the way."
The boss thinks nothing of it and sends the worker off.
The next 2 workers come in to check in and the boss asks them the same question, "Why were you late?"
The workers give the boss the exact same reason, "Sorry boss, but my car broke down on the way to work so I tried the bus, but the bus broke down so I hailed a cab, but the cab broke down, but fortunately I was near a stable, but the horse ran so fast it had a heart attack and I had to jog the rest of the way."
The boss thinks that he must be losing his mind, but sends the workers off anyways.
Finally, the last worker comes in and the boss says, "Let me guess, your car broke down on the way to work so you tried the bus, but the bus broke down so you hailed a cab, but the cab broke down, but fortunately, you were near a stable, but the horse ran so fast it had a heart attack and you had to jog the rest of the way?"
The worker said, "No boss, you got it all wrong, you see, there were so many broken down cars, buses, cabs, dead horses and crazed joggers in the streets, it was impossible to get through."
😄 😄 😄
A bear walks into an ice cream shop.
Ice cream man: What can I get for ya?
Bear: Hi, I'd like a scoop of chocolate...
Ice cream man: ...
Bear: ...
Ice cream man: ...
Bear: ...chip.
Ice cream man: Alright! One scoop of chocolate chip coming right up! By the way, what's with the pause?
Bear (waving paws in the air): I'm a bear!
😄 😄 😄
A jockey is talking to the trainer ahead of the race.
"You got to ride him to win," the trainer says, "because I've got a monkey on this horse, and so has my wife."
"Will there be any room for me?" the jockey asks.
😄 😄 😄
A group of country friends from the Wildwood Church wanted to get together on a regular basis, socialize, and play games. The lady of the house was to prepare the meal.
When it came time for Tom and Karen to be the hosts, Karen wanted to outdo all the others. Karen decided to have mushroom-smothered steak. But mushrooms are expensive.
She then told her husband, "No mushrooms. They are too high."
He said, "Why don't you go down in the pasture and pick some of those mushrooms? There are plenty in the creek bed."
She said, "No, some wild mushrooms are poison."
He said, "Well, I see varmints eating them and they're OK."
So Karen decided to give it a try. She picked a bunch, washed, sliced, and diced them for her smothered steak.
Then she went out on the back porch and gave Ol' Spot (the yard dog) a double handful. Ol' Spot ate every bite.
All morning long, Karen watched Ol' Spot and the wild mushrooms didn't seem to affect him, so she decided to use them.
The meal was a great success, and Karen even hired a helper lady from town to help her serve. She had on a white apron and a fancy little cap on her head.
After everyone had finished, they relaxed, socialized, and played 42 and dominoes.
About then, the helper lady from town came in and whispered in Karen's ear.
She said, "Mrs. Grim, Ol' Spot just died."
Karen went into hysterics. After she finally calmed down, she called the doctor and told him what had happened.
The doctor said, "That's bad, but I think we can take care of it. I will call for an ambulance and I will be there as quick as possible. We'll give everyone enemas and we will pump out everyone's stomach. Everything will be fine. Just keep them calm."
Soon they could hear the siren as the ambulance was coming down the road.
The EMTs and the doctor had their suitcases, syringes, and a stomach pump. One by one, they took each person into the bathroom, gave them an enema, and pumped out their stomach.
After the last one was finished, the doctor came out and said, "I think everything will be fine now," and he left.
They were all looking pretty weak sitting around the living room and about this time the helper lady came in and said, "You know, that fellow that ran over Ol'Spot never even stopped."
😄 😄 😄
The science teacher lecturing his class in biology said, "Now I'll show you this frog in my pocket."
He then reached into his pocket and pulled out a chicken sandwich.
He looked puzzled for a second, thought deeply, and said, "That's funny. I distinctly remember eating my lunch."
😄 😄 😄
At the mall, my five-year-old grandson joined the other children in line waiting to sit on the Easter Bunny's lap.
When it was his turn, Jake didn't move, he just stared.
"Don't you want to sit on the bunny's lap?", I asked.
"No!", he shouted. "There's a man in his mouth!"
😄 😄 😄
A family was having dinner once when the youngest boy asked his father whether worms tasted nice when we eat them. Both the parents reprimanded the little boy and told him that these things shouldn't be discussed over the dinner table.
When the father asked the boy after dinner why he had asked such a question, he replied, "Papa, I think worms taste okay because there was one in your spaghetti."
😄 😄 😄
Punny Animal Jokes for Kids
---
What's green and hangs from trees?
Giraffe snot.
😄 😄 😄
Knock! Knock!
"Who's there?"
"Horsp."
"Horsp, who?"
Did you just say "horse poo?"
😄 😄 😄
Once there was a bear with no ears, guess what they call it?
A "B".
😄 😄 😄
How can you tell if an ant is a boy or a girl?
They're all girls! If they were boys, they'd be uncles.
😄 😄 😄
Knock! Knock!
"Who's there?"
"Interrupting cow."
"Interrup..."
"Moooooooo!"
😄 😄 😄
Why do cats always win video games?
Because they have nine lives!
😄 😄 😄
What do you call a cow in an earthquake?
A milkshake!
😄 😄 😄
More Animal Jokes
---
A man sees a boy with a box of kittens. He goes over and says, "Oh, what cute kittens!"
The boy replies, "Yes, they are Christian kittens."
About a week later, the man sees the boy again with the same batch of kittens.
Once again he walks over and says, "My, those are just adorable!"
The boy replies, "Yes, they are atheist kittens."
The man asks, "Wait, weren't they Christian before?"
The boy looks at the man and says, "Yeah, but they have their eyes open now."
😄 😄 😄
Three soccer players—one plays for Manchester United, one for Liverpool and one for Arsenal—are lost in the desert.
They come across a dead camel and are having trouble deciding who gets what.
So the guy from Manchester says, "Well, since I'm from ManCHESTer, I'll get the chest.
The player from Liverpool goes, "Well, in that case I'll eat the liver.
Then guy from ARSEnal says, "I'm not hungry..."
😄 😄 😄
An ant approaches an elephant and asks, "Would you like to play?"
"Sure," replies the elephant.
"So, what's your favorite game?" the ant inquires.
"Squash," says the elephant.
😄 😄 😄
Why can't you take a picture with a cat in Alabama?
You can't take a picture with a cat anywhere. You have to use a camera!
😄 😄 😄
What do you call a dog, with one eye and one leg?
Lucky.
😄 😄 😄
You know you're 50 when your face has more wrinkles than an elephant's backside.
😄 😄 😄
---