Jokes About Alcohol
Enjoy our team's carefully selected Alcohol Jokes. Laugh yourself and share the funniest jokes with your friends!
---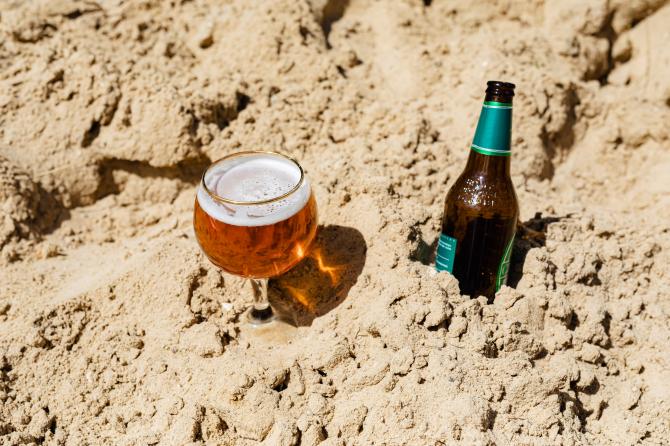 Alcohol is a perfect solvent.
It dissolves marriages, families and careers.
😄 😄 😄
What do alcoholics and chemists have in common?
They both view alcohol as a solution.
😄 😄 😄
An alcoholic wakes up in jail on New Year's Eve.
He asks the first police officer he sees, "Why am I here?"
"For drinking," replies the officer.
"Great," says the man, "When do we start?"
😄 😄 😄
Alcoholics don't run in my family.
But sometimes they fall down the stairs.
😄 😄 😄
"Hi, my name is Bob, and I'm an alcoholic."
"Sir, this is Triple A, not Alcoholics Anonymous."
"I know, I'm just trying to explain why my car is in a lake."
😄 😄 😄
If you drink too much alcohol you are an alcoholic.
If you drink too much Fanta, does that make you Fantastic?
😄 😄 😄
Two friends are walking their dogs together. One has a big black lab, while the other has a minuscule chihuahua.
They pass a bar and the lab owner says, "Let's get a beer."
The chihuahua walker complains, "That would be great, but we can't take our dogs in there."
The first responds, "Watch me."
The lab owner strolls in with her dog and orders a beer.
The bartender tells her, "Sorry, you can't bring your dog in here."
"He's my seeing-eye dog," the woman replies, feigning offense.
The bartender quickly apologizes and serves her the beer.
The other woman follows, her chihuahua in tow, and orders a beer as well.
Again the bartender says there are no dogs allowed in the bar.
"He's my seeing-eye dog," the woman replies.
"Yeah, right," the bartender says, "A chihuahua? Give me a break."
Without missing a beat, the woman replies, "They gave me a chihuahua?!"
😄 😄 😄
"Alcohol may intensify the effects of this medication"
I never know if this is a warning or a suggestion...
😄 😄 😄
A man walks into a bar sporting the worst haircut you've ever seen.
"Give me two shots of Jack Daniels," he says to the bartender. "One for me, and one for you."
"You know, I don't drink on the job," the bartender says, pouring the man a shot.
Downing the drink, the man replies, "And that's why I like you better than my barber!"
😄 😄 😄
What do you call a mushroom that goes into a bar and buys drinks for everyone all night long?
Fun-gi to be around!
😄 😄 😄
Priest: Don't drink too much liquor. You will go to Hell."
Alcoholic: "Really? What about the guy who sells the liquor?"
Priest: "He will also go to Hell." Alcoholic: "Ok, what about the girl who sells Al Pastor tacos, and puts out in the food truck outside the Liquor Store?" Priest: "She too will go to Hell." Alcoholic: "In that case, I have no problem going to Hell."
😄 😄 😄
A policeman pulls a man over for speeding and asks him to get out of the car.
After looking the man over he says, "Sir, I couldn't help but notice your eyes are bloodshot. Have you been drinking?"
The man gets really annoyed and says, "Officer, I couldn't help but notice your eyes are glazed. Have you been eating doughnuts?"
😄 😄 😄
A horse walks into a bar.
The bartender says, "Hey."
The horse said, "Nah, just beer, please. I just ate."
😄 😄 😄
Every Friday a guy would walk into a bar and order 3 beers.
Then he'd sit at a table, drink each one by himself and leave.
He does this every Friday for a few weeks until the bartender becomes so curious he has to ask the guy about this routine.
"Well, you see I have two buddies and we always would have a beer with each other when we were together. But now they've both moved to different parts of the country.
We still keep up the tradition, where we're at, and have just one beer for each of us on Friday nights."
His curiosity satisfied the bartender goes back to serving his other customers.
This goes on for several months until one day the guy comes in and orders only 2 beers.
Seeing how sad the fellow is the bartender brings him his 2 beers and offers condolences for his loss.
Confused the guy asks why the bartender was offering condolences.
"It's just that since you normally order 3 beers, but tonight you only ordered 2, I just figured something must have happened to one of your buddies."
"Oh no, we're all just fine. It's just that it's Lent and I gave up drinking till Easter."
😄 😄 😄
Reverend Clive Morgan was completing his homily in St John's Church about the dangers of alcohol and the need for moderation and temperance.
He announced at the end of the sermon in a loud, clear voice, "If I had all the beer in the world, I'd take it and throw it into the river."  
With even greater emphasis he added, "And if I had all the wine in the world, I'd take it and throw it into the river."
Finally, he intoned in an extremely serious manner, "And if I had all the whiskey in the world, I'd take it and throw it into the river."
The Reverend Morgan then sat down.
Jerry, St John's leading chorister stood up and announced with a smile, "For our closing hymn this Sunday, let us sing together hymn number 109: Shall We Gather at the River."
😄 😄 😄
Me: "What's the Wi-Fi password?"
Bartender: "You need to buy a drink first."
Me: "OK, I'll have a Coke."
Bartender: "Three dollars."
Me: "There you go. So what's the Wi‑Fi password?"
Bartender: "You need to buy a drink first. No spaces, all lowercase."
😄 😄 😄
---