Airplane Jokes
Enjoy our team's carefully selected Airplane Jokes. Laugh yourself and share the funniest jokes with your friends!
---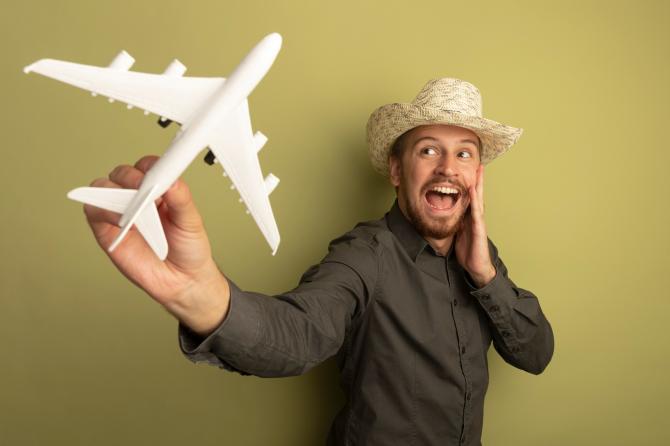 Two hunters hired a pilot to fly them to Canada to hunt moose.They bagged six.
As they started loading the plane for the return trip home, the pilot tells them the plane can take only three moose.
The two hunters objected strongly, stating, "Last year we shot six moose and the pilot let us put them all on board and he had the same plane as yours."
Reluctantly, the pilot gave in and all six were loaded.
Unfortunately, even on full power, the little plane couldn't handle the load and went down a few minutes after take off.
Climbing out of the wreck, one hunter asked the other, "Any idea where we are?"
He replied, "I think we're pretty close to where we crashed last year."
😄 😄 😄
A Karen boards the plane for her trip to Paris. She decides to take a seat in first class even though her ticket is in economy.
The first flight attendant politely asks her to transfer to her seat in coach.
The Karen smugly replies, "I am travelling to Paris, and I will sit wherever I please."
The second flight attendant approaches her sternly and demands that she move to coach to take her proper seat.
The Karen responds by shouting loudly, "I am going to Paris, and I will sit wherever I damn well please!"
The most senior flight attendant then approaches the Karen, bends down and whispers something in her ear.
The Karen immediately jumps up and shouts, "Well, why didn't you say so sooner?!" and storms off to her seat in coach.
Surprised, the first flight attendant asked what he whispered, to which the senior flight attendant replies, "We've just checked, and someone is sitting in your economy seat."
😄 😄 😄
In 1945 Chuck Norris drank a Redbull and jumped out a plane.
For image results, Google the word Hiroshima.
😄 😄 😄
A group of terrorists hijacked a plane full of drummers.
They called ground control with a list of demands. Then they told the negotiator if their demands aren't met they will release one drummer an hour.
😄 😄 😄
My wife was talking about funeral plans.
My Wife: "I said we'll give you a military send off like the sailors on a ship."
Me: "I was in the Air Force."
My Wife: "OK, we'll toss you out of an airplane."
😄 😄 😄
I caught bird flu while waiting for a flight at the airport.
I have since found out it is a terminal illness.
😄 😄 😄
Your head is so big, the airlines charge you an extra $25 to bring it aboard.
😄 😄 😄
Dave and Jim were a couple of drinking buddies who worked as aircraft mechanics in Melbourne, Australia. One day the airport was fogged in, and they were stuck in the hangar with nothing to do.
Dave said, "Man, I wish we had something to drink!"
Jim says, "Me too. You know, I've heard you can drink jet fuel and get a buzz. You want to try it?"
So they pour themselves a couple of glasses of high octane booze and get completely smashed.
The next morning, Dave wakes up and is surprised at how good he feels. In fact, he feels GREAT! NO hangover! NO bad side effects. Nothing!
Then the phone rings. It's Jim.
Jim: "Hey, how do you feel this morning?"
Dave: "I feel great, how about you?"
Jim: "I feel great, too. You don't have a hangover?"
Dave: "No, that jet fuel is great stuff no hangover, nothing. We ought to do this more often."
Jim: "Yeah, well there's just one thing."
Dave: "What's that?"
Jim: "Have you farted yet?"
Dave: "No."
Jim: "Well, DON'T—because I'm in New Zealand."
😄 😄 😄
Scarlett Johansson is on a plane that crashes on a remote island.
She and some regular guy are the only two survivors.
They make the best of their situation, scavenge what supplies they can from the plane, and try to keep going.
They build a little hut on the beach and—both of them having certain "needs"—eventually start hooking up.
This keeps going as months turn into years and they fall in love.
One day she notices he looks depressed.
Scarlett says to him, "Listen, that plane crash was the best thing that ever happened to me because it means that the two of us are together. If there is anything at all I can do to cheer you up, please let me know."
He tells her, "Actually, there is something. Put on a set of my clothes and tuck your hair up under one of my hats. Rub mud on your face so it looks like a beard and start walking down the beach."
Scarlett thinks this is weird but, wanting to make him happy, goes along with it.
Once she gets about 200 yards down she turns around and sees her boyfriend running up to her shouting, "BRO! BRO! You'll never believe who I'm sleeping with!"
😄 😄 😄
I sued the airport the other day because they didn't want to give me my luggage.
Guess what, I lost the case.
😄 😄 😄
Yo mama so stupid she put her phone in airplane mode and thought she could fly.
😄 😄 😄
Two falcons are watching an air show where fighter pilots are racing their jets against one another.
One falcon turns to the other and says, "Man, I thought we were fast, but those guys are insane."
The second falcon turns back and says, "You'd also fly that fast if your ass was on fire."
😄 😄 😄
A woman called an airline customer-service desk asking if it was possible to fly with her dog on board.
"Sure," the airline agent said, "as long as you provide your own kennel."
She continued to explain that the kennel needed to be large enough for the dog to stand up, sit down, turn around, and roll over.
The customer was perplexed.
"I'll never be able to teach him all of that by tomorrow!"
😄 😄 😄
Once I pulled a job, I was so stupid.
I picked a guy's pocket on an airplane and made a run for it.
😄 😄 😄
---