50th Birthday Jokes
Enjoy our team's carefully selected 50th Birthday Jokes. Laugh yourself and share the funniest jokes with your friends!
---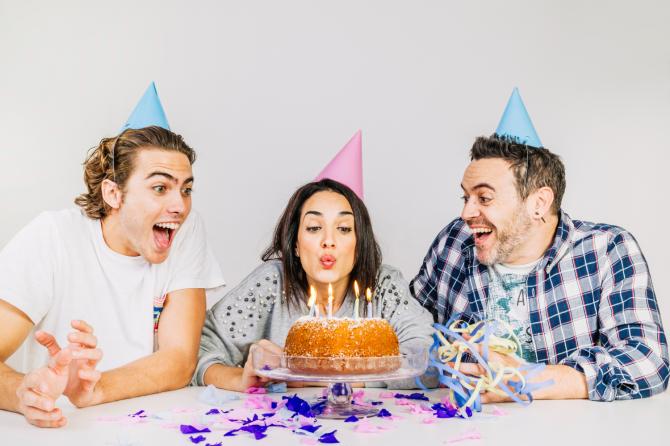 If you add the two numbers in your chronological age, you get your true age.
So you're 5 now, and you can't really argue the similarities. Five-year-olds have a tough time tying their shoes, can barely spell their own name, and need help reading!
😄 😄 😄
"It's your birthday? How old are you?" asks the man's friend.
"I'm seven and one-seventh," replies the man.
"How's that, you look about 50 to me?" asks the friend.
"Every time I chat up a nice lady she calls me an old dog, so I figure I get to count age in dog years now!"
😄 😄 😄
Why can you trust your friends more after turning 50?
Because you can't even remember each other's names, let alone your deepest secrets!
😄 😄 😄
What do you call a 50-year-old soldier guarding a building?
Half a sentry.
😄 😄 😄
Knock! Knock!
"Who's there?"
"Me."
"Me, who?"
"Oh no, the forgetfulness has started already!"
😄 😄 😄
You know you're 50 when that come hither look you used to have in your eyes just doesn't look as enticing through your bifocals.
😄 😄 😄
You know you're 50 when you're thankful when someone tells you that you have lipstick on your teeth because it means you still have teeth.
😄 😄 😄
You know you're 50 when your face has more wrinkles than an elephant's backside.
😄 😄 😄
You know you're 50 when you and your teeth have decided that a separation is the best thing for your relationship.
😄 😄 😄
You know you're 50 when you have to use your GPS to locate your feet because you can't see over your belly.
😄 😄 😄
You know you're 50 when you now have more hair on your knuckles than you do on your head.
😄 😄 😄
---